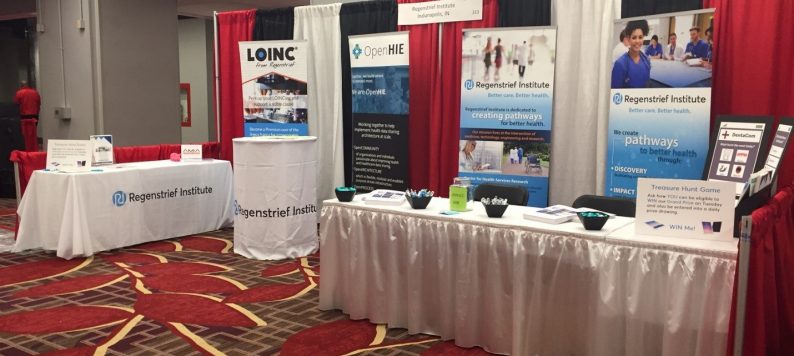 Submitted by Sandy Poremba
The American Medical Informatics Association (AMIA) recently held their 40th annual conference in the windy city. This Chicago conference was well-attended with over 2300 registrants. Kudos to the AMIA staff who once again put on an excellent conference. Your dedication to excellence and hard work is greatly appreciated by all participants.
Regenstrief Institute's booth in the exhibit hall was expanded to a large space which allowed us to sh
owcase the Regenstrief Center for Biomedical Informatics (CBMI) in a more appealing and welcoming way. We wanted to celebrate AMIA's 40th year for the symposium by showcasing Regenstrief/IU participation over the years.
As we planned strategy for the Regenstrief booth, we came up with an idea to introduce AMIA attendees to our faculty a little bit differently than ever before. We set up the Regenstrief Treasure Hunt game in an effort to enable AMIA participants to find our faculty (our treasures) and strike up a conversation or to reconnect. With QR codes on the game cards, players were given clues
about the treasures, their names and photos. Players found a treasure and had their game card QR code scanned and then received an achievement for that scan. So the more treasures you found the more achievements you had. (Thank you Burke Mamlin for your programming skills to make the game come to life. You are the best!)
The top 25% of players who had the most achievements were entered into a drawing for our grand prize – an iPad Air 2. Congratulations to Keelan Tuel, our grand prize winner. All participants were put into a daily prize drawing of the LOINC Essentials book, the Clinical Informatics Study Guide, and Regenstrief swag as well. We had 126 players and 201 scans which isn't bad for the first time.
The players really thought the game was a great idea and an easy way to learn more about Regenstrief. One person said he had hoped to network with our faculty and the game gave him the opportunity and introduction he was looking for. Another told us it was about time there was something new at AMIA. Overall, this proved to be an innovative way to connect the attendees to the amazing people and work being done at the Institute.
The faculty got into the game as well, especially Terry Cullen who refused to let the guys have more scans than she did. Before the game closed Terry was actively
looking for people with game pieces so she could scan them. Terry accomplished her goal with 26 scans, well above the others. Because she worked so hard to speak to people and scan their game pieces we wanted to reward Terry as the winner of the most faculty achievements.
We have already begun to plan for next year's Regenstrief Treasure Hunt Game. We expect more players, more scans, and a lot more introductions. We are even planning a way to identify the Regenstrief treasures better. So look for another exciting game November 2017 in DC.