Announcements
September 15, 2017
Welcome to the Opioid Collaboratory
In answer to the call to address the opioid abuse and addiction crisis that Indiana is currently facing, we have come together to form the Opioid Collaboratory in partnership with Purdue University, Indiana CTSI, and the Regenstrief Center for Healthcare Engineering. We are joined by leaders from the academic, clinical, and nonprofit communities, and partnering with local, state, and federal government leaders to share and develop evidence-based responses and policies. The Collaboratory's focus is on data collection and analysis, and translating discoveries into real solutions to combat this crisis.
We welcome your contribution to this community. To join, please contact us, selecting the "Opioid Collaboratory" subject line. You will be added to our listserv and will have access to our collaborative workspace.
For those who have already joined, you may access the Opioid Collaboratory workspace by clicking the button below
Opioid collaboratory workspace on slack
July 13, 2017
The headlines are heartbreaking, the latest statistics alarming.
91 Americans die every day from an opioid overdose, and the number of lives lost from overdose of prescription opioids and heroin has quadrupled between 2000 and 2015 [1]. In recent years, the sharp increase in the prescription of these pain medications has shown to be associated with an increase in heroin use [2], and there is little evidence of any significant change in the overall pain experienced by patients [1].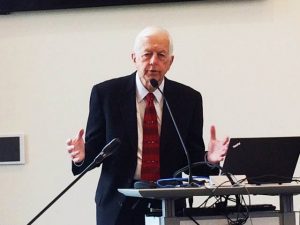 Globally, it is estimated that between 26.4 and 36 million people currently suffer from substance abuse disorders stemming from prescription opioid pain relievers [3]. The consequences of this growing public health crisis are devastating, and they happen close to home in our Indiana communities. In 2015, the small town of Austin in Scott County, Indiana, became the site of one of the largest HIV outbreaks in decades due to the high prevalence of needle sharing to inject a powerful opioid painkiller [4], and the state's emergency rooms handle more than 400 overdose cases every week according to the Indiana State Department of Health [5].
The Regenstrief Institute is proud to join a community of organizations committed to helping end the opioid epidemic, and that effort begins right here at home. In July 2017, we hosted a kickoff meeting for an opioid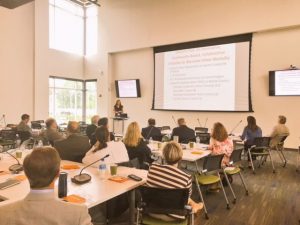 task force collaboratory, bringing together the academic, clinical and non-profit community as well as leaders in the local, state and federal government to discuss the current clinical and research efforts to address the use and/or abuse of opioids. We are currently working with these partners, combining our efforts and expertise to evaluate and implement evidence-based policy to aid those suffering from addiction, prevent substance abuse disorders, and save lives. For more information or to find out how to join this effort, please contact us with the subject line "opioid collaboratory."
[1] Understanding the Epidemic. (2016, December 16). Retrieved from https://www.cdc.gov/drugoverdose/epidemic/index.html
[2] Muhuri, P. K., Gfroerer, J. C., & Davies, M. (n.d.). Associations of Nonmedical Pain Reliever Use and Initiation of Heroin Use in the United States. Retrieved from http://archive.samhsa.gov/data/2k13/DataReview/DR006/nonmedical-pain-reliever-use-2013.htm
[3] Valkow, N. D., M.D. (2014, May 14). America's Addiction to Opioids: Heroin and Prescription Drug Abuse. Retrieved from https://www.drugabuse.gov/about-nida/legislative-activities/testimony-to-congress/2016/americas-addiction-to-opioids-heroin-prescription-drug-abuse
[4] NPR Staff. (2016, March 31). Inside A Small Brick House At The Heart Of Indiana's Opioid Crisis. Retrieved from http://www.npr.org/sections/health-shots/2016/03/31/469525114/inside-a-small-brick-house-at-the-heart-of-indianas-opioid-crisis
[5] Rudavsky, S. (2017, May 18). 'The crisis we're currently facing': How Indiana plans to fight opiate scourge. Retrieved from http://www.indystar.com/story/news/2017/05/18/indiana-drug-czar-lays-out-battle-plan-fight-opioid-heroin-scourge/327635001/