Johanne Eliacin, PhD, a Regenstrief Institute and U.S. Department of Veterans Affairs research scientist, received a Congressional Black Caucus Veterans Braintrust Award for her research to reduce healthcare disparities for minority veterans.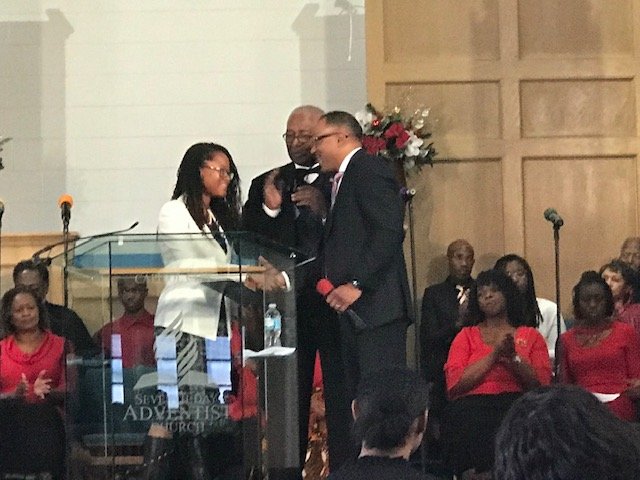 Dr. Eliacin presented her work on improving minority veterans' experience with VA mental health services to the Congressional Black Caucus Veterans Braintrust (CBCVB) during its legislative week in 2017. The CBCVB is an advisory group for the Congressional Black Caucus on issues specifically related to black/African American veterans. During the annual Congressional Black Caucus Legislative Week, the group engages national legislators in a discussion on challenges faced by these veterans. Dr. Eliacin was chosen to present at the event because of the impact of her work to improve mental healthcare for black/African American veterans.
"Receiving this award and the opportunity to present to national leaders working to improve the lives of minority veterans was truly an honor," said Dr. Eliacin. "I will continue to work to end healthcare disparities for veterans by developing interventions that serve their unique, unmet needs."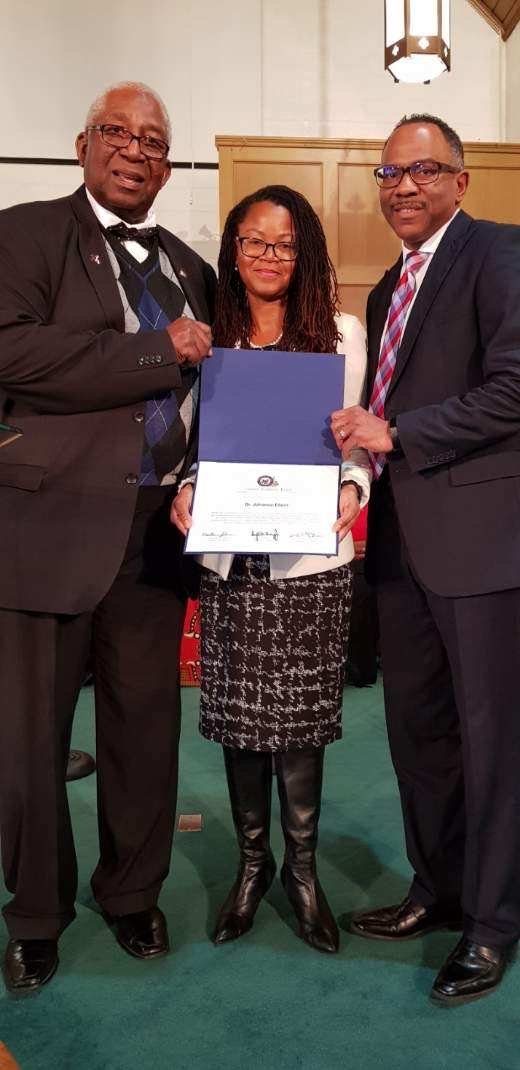 Dr. Eliacin is a clinical psychologist and psychological anthropologist. As a researcher, she focuses on advancing the understanding of sociocultural determinants of mental health and illness and using innovative processes to facilitate patient-centered care and effective communication between patients and their providers. She is currently developing a peer-led patient navigator program for VA mental health services.
Mr. Thomas Harris, a founding board member of the CBCVB, presented the award to Dr. Eliacin in December 2019 rather than during legislative week due to scheduling conflicts.
About Regenstrief Institute
Founded in 1969 in Indianapolis, the Regenstrief Institute is a local, national and global leader dedicated to a world where better information empowers people to end disease and realize true health. A key research partner to Indiana University, Regenstrief and its researchers are responsible for a growing number of major healthcare innovations and studies. Examples range from the development of global health information technology standards that enable the use and interoperability of electronic health records to improving patient-physician communications, to creating models of care that inform practice and improve the lives of patients around the globe.
Regenstrief Institute is celebrating 50 years of healthcare innovation. Sam Regenstrief, a successful entrepreneur from Connersville, Indiana, founded the institute with the goal of making healthcare more efficient and accessible for everyone. His vision continues to guide the institute's research mission.
More about Johanne Eliacin, PhD
In addition to being a research scientist at Regenstrief Institute, Johanne Eliacin, PhD, is a core investigator at the U.S. Department of Veterans Affairs Health Services Research and Development Center for Health Information and Communication at Richard L. Roudebush VA Medical Center. She is also an assistant scientist in the Department of Psychology, Purdue School of Science IUPUI.