Search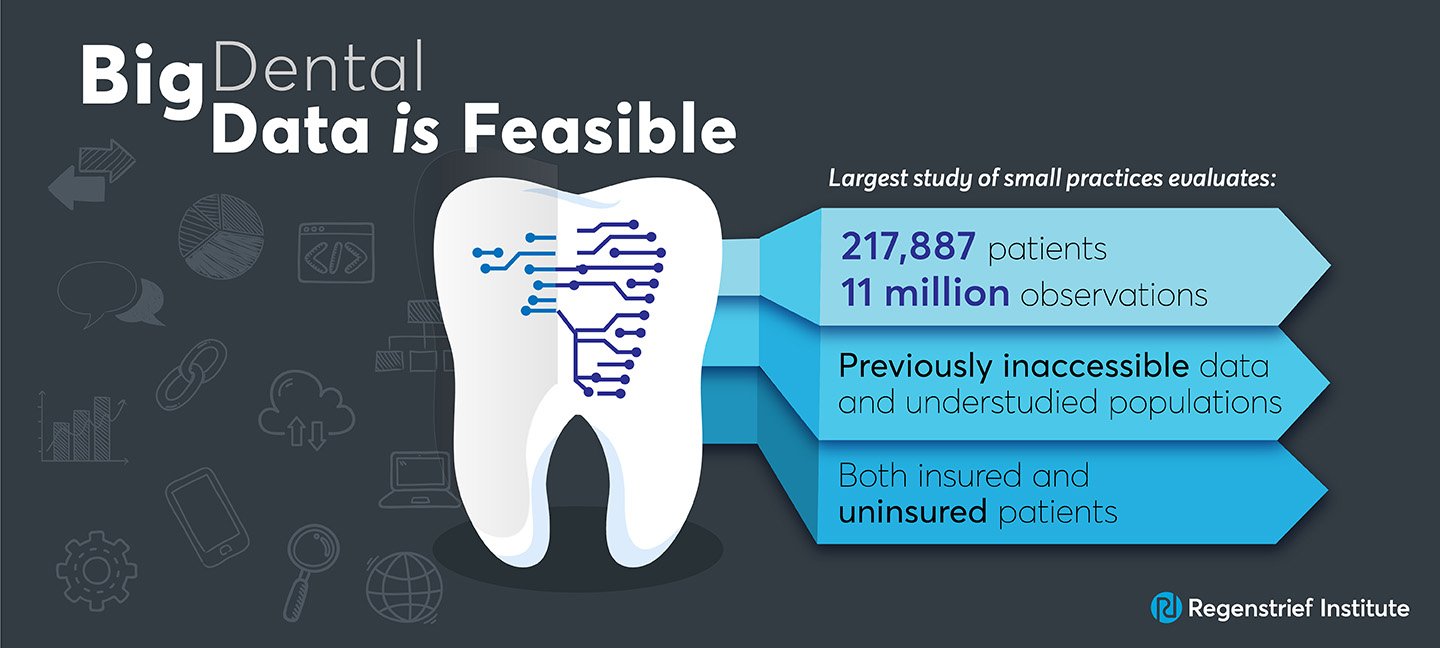 Dental

Informatics

In 2019, the Regenstrief Institute and Indiana University School of Dentistry (IUSD) launched the joint Dental Informatics program to expand research on using informatics approaches to integrate dental and medical care and thus make oral health an integral part of a person's overall health. This partnership is one of only a few in the U.S. and is perhaps the only dental informatics program in the country linked to a clinical data repository managed by a regional health information exchange and is led by Regenstrief Institute Research Scientist Thankam Thyvalikakath, DMD, PhD, professor in the IU School of Dentistry.

At IUSD, the dental informatics program was established in 2013 with Dr. Thyvalikakath as the founding director. It is one of the few nationally recognized dental informatics programs in the country. Additionally, Dr. Thyvalikakath is a widely recognized and respected health informatician. An accomplished researcher, professor and clinician, Dr. Thyvalikakath is  leading the effort to establish a health information exchange between medical and dental providers.

It is the ambition of the partnership, under the expert guidance of Dr. Thyvalikakath, to continue advancing health informatics as a significant tool for producing computable knowledge that can facilitate new research and, subsequently, treatments for oral health diseases. IUSD and Regenstrief, through its federal and non-federal funded projects, continue to pioneer efforts in oral health research. Using informatics heightens the use of patient data for oral health analysis and patient care strategic planning. The data collection, analysis, and outcomes studies will propel oral health care to the next level of overall patient care.
Program Team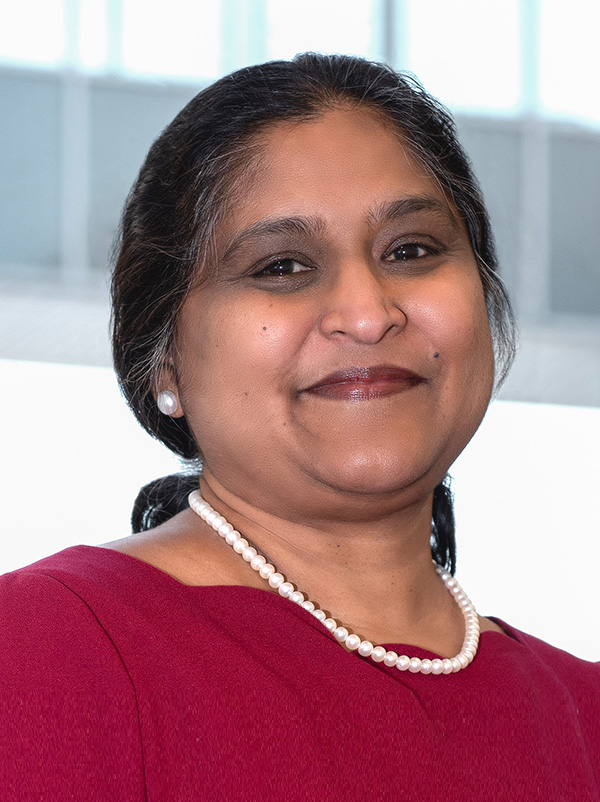 Thankam Thyvalikakath, DMD, PhD
Thankam Thyvalikakath, DMD, PhD
Program Director
Dr. Thyvalikakath received her Bachelor of Dental Surgery degree from the University of Kerala, India. Following that course of study, she earned a Master of Dental Sciences degree in Oral and Maxillofacial Surgery, from the University of Calicut, India. She received her Doctor of Medicine in Dentistry and Doctor of Philosophy degrees in Biomedical Informatics from the University of Pittsburgh School of Medicine. 
Dr. Thyvalikakath's career goal has been to establish a successful and sustainable dental informatics program that focuses on advancing patient care through research, teaching, and service. She is the first and founding director of the Dental Informatics Program at The Regenstrief Institute and the Indiana University School of Dentistry (IUSD). The efforts from these programs focus on enhancing patient care through improved data capture, documentation, and analysis of electronic health records. Since she was appointed Director of Dental Informatics at IUSD in 2013, she achieved her goal. The program she created is designed to pursue the school's mission with research, teaching, information technology services and clinical care. Dr. Thankam believes that dental informatics, when done the right way, has the potential to improve patient outcomes and access to care and reduce dental care costs. 
Dr. Thyvalikakath is a respected health informatician and data scientist throughout the United States and the world. She has served as Principal Investigator, co-investigator, or consultant on multiple National Institute of Health grants. She is the recipient of two career development awards from the NIH. Her research projects include 1) leveraging electronic health record data for clinical research and quality improvement purposes, 2) applying user-centered design and cognitive engineering methods to design clinical systems that support clinicians' decision-making processes; 3) using electronic health record data to characterize and determine periodontal disease risk, 4) linking electronic dental and health record data to assess the oral health and treatment outcomes of medically compromised patients, and 4) facilitating a health information exchange to enhance care-coordination between medical and dental care providers. She has published extensively in peer-reviewed journals and written textbook chapters. She is also co-editor of the second edition textbook, "Integration of Medical and Dental Care and Patient Data" that describes the pathway to integrate dental and medical data to improve population health. 
Shuning Li
Shuning Li, PhD, MS
Assistant Research Scientist
Dr. Shuning Li received her Bachelor of Science in Mechanical Engineering from Hebei University of Technology, Tianjin, China. She received two Master of Science degrees in Mechanical Engineering: first from Tsinghua University, Beijing, China and the second one from Indiana University Purdue University Indianapolis (IUPUI). Dr. Li completed her Doctor of Philosophy degree (PhD) at Purdue University. After her PhD completion, she assumed the role of IUPUI Postdoctoral Associate in Mechanical Engineering. 
Dr. Li is the technical expert in the Dental Informatics Division at Indiana University School of Dentistry (IUSD). She is proficient in HL7 FHIR® standard. Her major contributions include interpreting clinical needs and converting them into technical specifications, workflow analyses, and information system development and implementation. Before starting her PhD study, Dr. Li provided consultation for manufacturing companies to optimize their business processes and implement complex information systems. She brings these previous industry experiences to the healthcare domain for improving the efficiency of information management and exchange of information. Dr. Li's current research interests are clinical workflow optimization, clinical data management, and FHIR® based integrated dental and medical information platform development and implementation.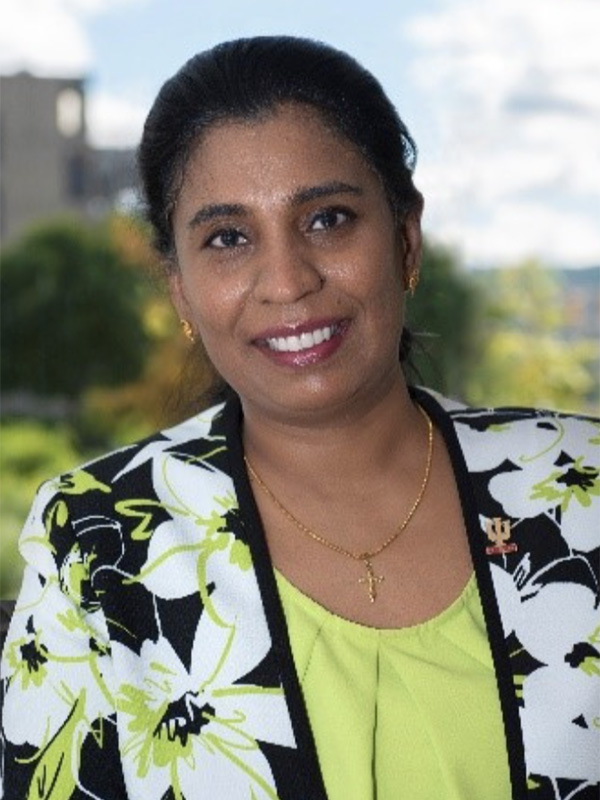 Grace F. Gomez, PhD, MPH
Grace Felix Gomez, PhD, MPH
Assistant Professor
Dr. Gomez received her Bachelors in Dental Surgery degree from M.G.R. Medical University, Chennai, Tamilnadu, India. She completed her Master of Public Health Degree at the University of Toledo, Ohio. Subsequently, she completed her Doctor of Philosophy in Dental Sciences at Indiana University School of Dentistry (IUSD). Dr. Gomez completed her Dental Public Health residency at Case Western Reserve University, School of Dental Medicine following which, she joined IUSD in September 2020 as a postdoctoral research fellow. She currently serves as Visiting Assistant Research Professor in the Dental Informatics Division of the Department of Cariology, Operative Dentistry, and Dental Public Health at IUSD. 
Dr. Gomez's long-term career goal is to expand the field of dental research by utilizing informatics approaches, teaching, and service through new learning and collaborative research. She incorporates her basic science research and informatics knowledge to translate bench science evidence to the point of care.  
Dr. Gomez also uses informatics approaches to promote oral and overall health. Her work incorporates informatics into epidemiologic surveillance, disease prevention, the promotion of oral health for overall systemic health improvement, and for providing access to oral health care services for socially and economically disadvantaged populations.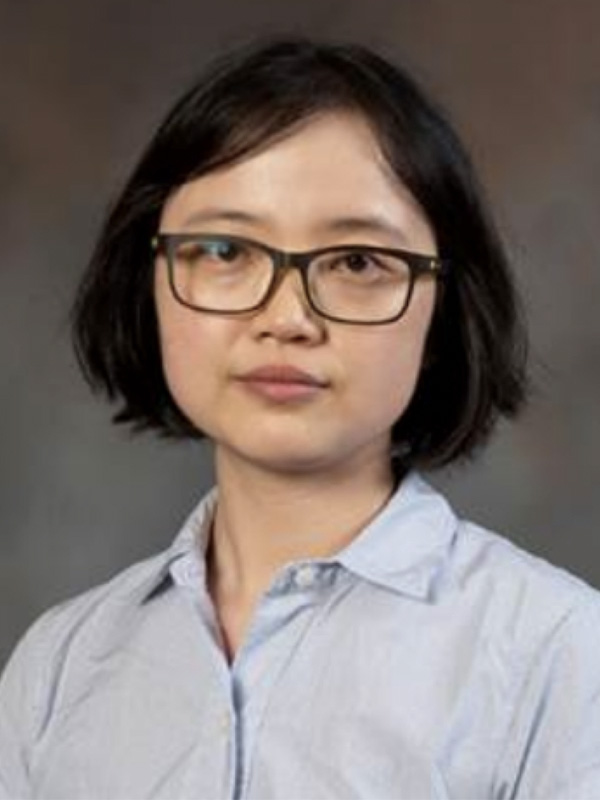 Mei Wang, MS
Mei Wang, MS
Data Analyst/Programmer
Ms. Wang received her Bachelor of Arts degree from Beijing Jiaotong University. She completed her Master of Science degree in Data Analytics from the Georgia Institute of Technology.
Mei Wang's Master of Science in Data Analytics provided the needed training to wrangle, process, analyze and interpret data. Her prior undergraduate experience studying linguistics provides Ms. Wang with a unique perspective to explore data and kindles her enthusiasm for Natural Language Processing. In pursuit of finding a professional environment to apply her skills, Ms. Wang joined the Dental Informatics Division of the Department of Cariology, Operative Dentistry and Dental Public Health at the Indiana University School of Dentistry (IUSD). She manages, processes and analyzes copious amounts of electronic dental record and electronic health record data. These responsibilities allow her to fulfill the data requirements for IUSD staff, faculty and student research projects, data mining, data analysis and data stewardship. Currently, she is engaged in text mining from clinical notes  and establishing a  pipeline to analyze unstructured medical data. Ms. Wang's skills allow her to engage with  the Dental Informatics team to help clinicians and researchers advance the oral and overall health of people home and abroad.