Search
Research

Experts

Regenstrief Research Scientist Linda S. Williams, M.D., addressed how teleneurology...

A national leader in improving the quality of healthcare provided...

Opportunities

About

Regenstrief envisions a world where better information empowers people to end disease and realize true health.
Harnessing Big Data
Indiana is home to the nation's largest inter-organizational clinical data repository. Regenstrief can combine public and private sector data to give more complete pictures of disease states throughout the state, like the examples below.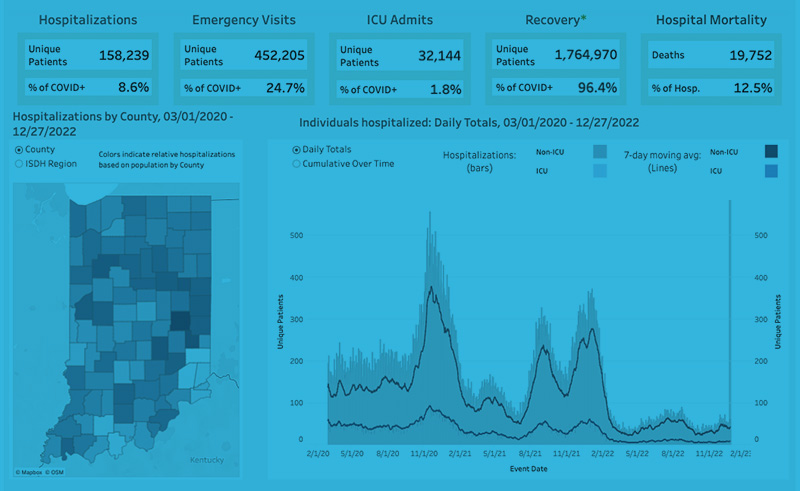 COVID-19 Dashboard
Regenstrief's COVID-19 Dashboard has been recognized by Indiana Governor Eric Holcomb and State Health Commissioner Kristina Box, M.D., as an essential decision-making tool for state officials throughout the pandemic. It features accessible trends visualizations as well as in-depth data on hospitalizations, mortality, testing and recovery can be parsed by county dating back to March 1, 2020.
Visit Regenstrief's COVID Dashboard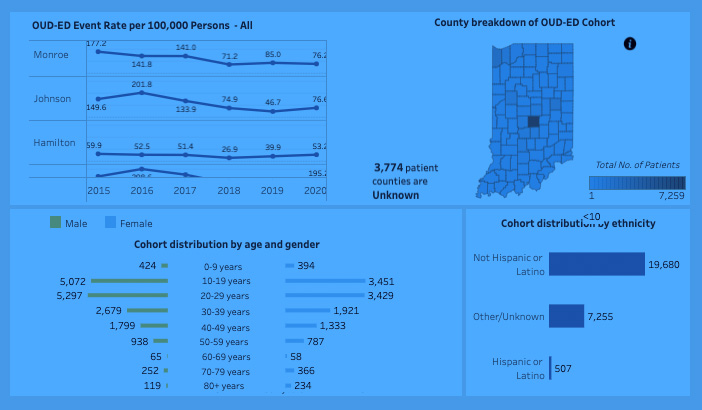 IADC Dashboards
The Indiana Addiction Data Commons is a streamlined mechanism for researchers to obtain both clinical and non-clinical data elements on opioid addiction, which used to be largely "siloed" among various organizations. The IADC has created public dashboards that provide statistics on Opioid Use Disorder, Neonatal Abstinence Syndrome and Long-Term Opioid Therapy in the State of Indiana.
Visit the IADC Dashboards