INDIANAPOLIS — Indiana University Center for Health Innovation and Implementation Science Chief Operating Officer Nadia Nguyen Adams, MHA is working to empower doctors, nurses and other clinicians with the information, services, and support needed to provide the best care, at a lower cost, for better health outcomes for over 10 million residents of Indiana, Illinois, Kentucky, Michigan and Ohio and ultimately for all Americans.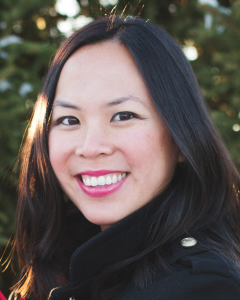 In recognition of her efforts, Adams has been selected by the Indianapolis Business Journal as a Forty Under 40 honoree. IBJ's Forty Under 40 program recognizes Central Indiana men and women who have become leaders in their fields before reaching their fifth decade, individuals who will continue to influence their city, region and nation in the future.
As the COO of the IU Center for Health Innovation and Implementation Science, Adams uses the tools of implementation science in support of the goal of producing high-quality, patient-centered and cost-efficient health care delivery solutions. To accomplish this mission she is helping partner innovative researchers with healthcare systems, matchmaking evidence-based knowledge with healthcare delivery needs.
The Great Lakes Practice Transformation Network, a major project of the center, seeks to improve health outcomes, reduce unnecessary hospitalizations and generate at least $1 billion in cost savings to payers. The practice network is successfully achieving better care, lower cost and improved outcomes. It is part of a national effort to work alongside healthcare professionals — from physicians and nurses to social workers and pharmacists — to improve the quality and reliability of care.
"Nadia is a leader with the ability to foster successful collaborations among traditionally disparate stakeholders — clinicians and hospital administrators — to benefit the patients they serve," said Malaz Boustani, MD, MPH, founding director of the Center for Health Innovation and Implementation Science and Great Lakes Practice Transformation Network and associate director of the Indiana University Center for Aging Research. "This ability is key to quality improvement that patients need and deserve."
Adams, a native of Fort Wayne and currently a resident of Boone County, is a graduate of Indiana University in Bloomington and received a master of health administration degree from Indiana University-Purdue University Indianapolis.  She is a member of the American College of Healthcare Executives and the Indiana Healthcare Executives Network. A long-time activist for the disabled, she recently became a member of the board of directors of the ARC of Indiana.
Adams joined the IU Center for Health Innovation and Implementation Science, which is part of the IU School of Medicine and of the Indiana Clinical Translational Sciences Institute, at the center's inception in 2013 as executive director and became chief operating officer in 2015.
"As the daughter of immigrants who needed help navigating the health care system with their special needs son, health care access and the delivery of the best care possible have been pressing concerns to me for as long as I can remember," said Adams. "I am honored to receive IBJ's Forty under 40 award and it's acknowledgement that working with clinicians and administrators to improve health care matters."
Media contact:
Cindy Fox Aisen
Center for Health Innovation and Implementation Science
caisen@iupui.edu