U.S. Dept. of Health and Human Services Leaders Met with Hoosier Entrepreneurs
Indiana health innovators and entrepreneurs got a unique opportunity to meet with leaders from the U.S. Department Health and Human Services to talk about collaboration during Indiana Startup Day. The program spotlighted some of the latest and most promising innovations in Indiana.
The event was put on by KSM Consulting, TechPoint, LifeOmic and Regenstrief Institute.
Startup Days are hosted around the country to give local innovators an opportunity to discuss the hottest topics in healthcare and technology with national leaders and to explore how the two groups can work together. Indianapolis is just the ninth city to host the event. Past locations include Boston, Chicago and Seattle.
HHS Chief Technology Officer and acting Chief Information Officer Ed Simcox led the event, which included discussions on the Indiana health startup ecosystem, patient empowerment, crowdsourced innovation, precision medicine and population health. Simcox is from Indiana. He attended high school in Indianapolis, then received his undergraduate degree from DePauw University and his law degree from the Indiana University Robert H. McKinney School of Law. He also held several leadership roles at IU Health.
"This is a great opportunity for HHS to get out of the walls of our facilities and meet innovators, entrepreneurs, venture capitalists and all kinds of people involved in the health sector," said Simcox. "Indianapolis has a strong startup culture. We're really seeing a strong emergence of healthcare sectors here in the city. "
The goal of the event was to help people figure out how they can better interact with HHS and move their products forward.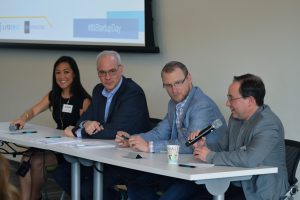 Several Indiana startups made presentations. Their innovations included everything from an app for families to manage their healthcare to a platform connecting acute and post-acute providers.
"There is an amazing cluster of innovation in Indianapolis," said Stephen Konya, a senior innovation strategist with the Office of the National Coordinator for Health IT. "Getting to know more about the innovation ecosystem that's growing here, getting to see the energy, learning about some of the companies that are doing groundbreaking work, seeing there's a support system that we can easily plug into is really exciting."
Attendees also got the chance to network with other local entrepreneurs and ask questions of HHS officials about the potential for partnerships.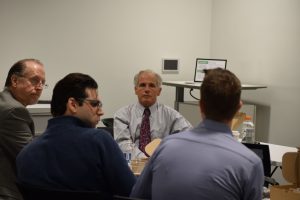 "I think this is a fantastic opportunity to get people together talking about data and get us to collaborate," said Jasmine Gonzalvo, PharmD, a clinical associate professor in the School of Pharmacy at Purdue University.
"This conference was amazing because it opened doors to data sets we didn't know about. We also made a lot of contacts with different agencies and startup groups that might be interested in working with academia," said Olga Scrivner, PhD, a research scientist in the Cyberinfrastructure for Network Science Center at Indiana University.
"I've learned so much today," said attendee Chaz Cox. Cox is a co-founder of ProjectDW, a new social network focused on protecting data. "When Ed Simcox said that data is for the people, that really struck my heart because that's one of the main things we are focused on."
"Events like this are very important to pushing healthcare into the future. Innovation does not happen in a vacuum– it takes sharing ideas and resources. This event was the perfect forum to exchange ideas, make connections and discuss partnerships," said Peter Embi, M.D., president and chief executive officer of Regenstrief Institute. "Regenstrief hopes to continue facilitating innovation and improvements in healthcare locally, nationally and globally. Thank you to HHS and our partners for helping us put on this successful event."