Regenstrief Institute hosted leaders from public and population health organizations for a discussion about informatics solutions for disease monitoring, social services and other population health challenges. The Advancing Population Health Through Informatics workshop was an opportunity for representatives from public health departments and healthcare systems to learn about innovations in public health informatics.
Research scientist Brian Dixon, PhD, led the event. Dr. Dixon is the director of public health informatics at Regenstrief and Indiana University Richard M. Fairbanks School of Public Health at IUPUI.
"This workshop was an excellent opportunity to engage in conversations about public health informatics and where the field is headed," said Dr. Dixon. "There are many exciting opportunities on the horizon, and we hope this event will help foster new collaborations to improve the health of Hoosiers."
Featured speaker, David Buckeridge, M.D., PhD, from McGill University in Montreal, Canada, spoke about several public health informatics projects he directs as a chair in e-health interventions for the Canadian Institutes of Health Research. Dr. Buckeridge discussed the development and use of electronic population health records to improve surveillance of disease as well as health outcomes for communities.
Several Indiana researchers gave an overview of the work happening at Regenstrief and the Fairbanks School of Public Health. Research scientist Suranga Kasthurirathne, PhD, explained Uppstroms, a social risk prediction machine learning app in use at Eskenazi Health clinics. The app creates a risk score based on social determinants of health, which allows clinicians to refer patients to community-based services with the hope of preventing problems such as living in a 'food desert' from impacting the patient's health.
Indiana Public and Population Health Informatics Fellows Nate Apathy and Yenling Ho, who are doctoral students at the Fairbanks School of Public Health, presented on their research. Apathy presented his work analyzing state consent policies and the challenges they can pose to health information exchange. Ho spoke on provider adherence to syphilis testing guidelines for pregnancies that end with a stillbirth.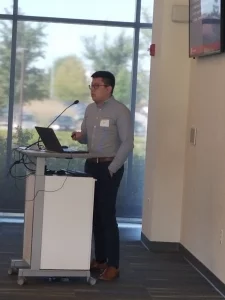 Following the presentations, participants engaged in an open discussion about the challenges in the field of public health and informatics.
The workshop was held September 26 in conjunction with National Health Information Technology Week.