Institute recognized for work on COVID-19 dashboard and contributions to public health
Regenstrief Institute received the Indiana State Health Commissioner Award for Excellence in Public Health for its contributions to promoting and protecting the health of the people in Indiana during the COVID-19 pandemic through the Regenstrief COVID-19 dashboard.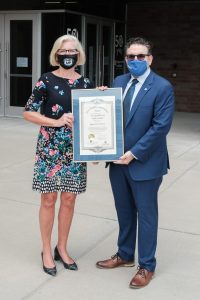 State Health Commissioner Kristina Box, M.D., presented the award to Regenstrief President and Chief Executive Officer Peter Embí, M.D., M.S., and his team of experts that created the COVID-19 Dashboard.
The Regenstrief dashboard tracks COVID-19 patients within Indiana hospitals and healthcare systems, providing additional data and a wider view of the outbreak in the state. The dashboard makes information on the pandemic easily accessible and understandable for both public health leaders and citizens.
The State has relied upon the information to inform its response to the virus. Additionally, the dashboard has been cited by dozens of media outlets in their coverage of the pandemic.
This valuable resource was created in partnership with Indiana State Department of Health, Indiana Family Social Services Administration, Indiana Management Performance Hub, Indiana Health Information Exchange, Indiana University Richard M. Fairbanks School of Public Health at IUPUI and Indiana University School of Medicine. Dr. Embí; Regenstrief Vice President for Data and Analytics Shaun Grannis, M.D., M.S. and Regenstrief Director of Public Health Informatics Brian Dixon, PhD, MPA, were all instrumental in the development of the dashboard.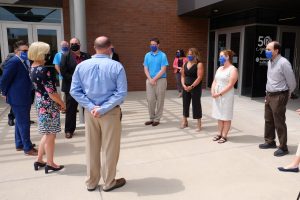 This award highlights just one of the numerous contributions to improving health that Regenstrief has provided during its 50-year history. The institute's work has made an impact locally, nationally and globally.
About Regenstrief Institute
Founded in 1969 in Indianapolis, the Regenstrief Institute is a local, national and global leader dedicated to a world where better information empowers people to end disease and realize true health. A key research partner to Indiana University, Regenstrief and its research scientists are responsible for a growing number of major healthcare innovations and studies. Examples range from the development of global health information technology standards that enable the use and interoperability of electronic health records to improving patient-physician communications, to creating models of care that inform practice and improve the lives of patients around the globe.
Regenstrief Institute is celebrating 50 years of healthcare innovation. Sam Regenstrief, a successful entrepreneur from Connersville, Indiana, founded the institute with the goal of making healthcare more efficient and accessible for everyone. His vision continues to guide the institute's research mission.