Alexia Torke, MD was appointed associate division chief for the Division of General Internal Medicine and Geriatrics for the Indiana University School of Medicine effective July 1, 2017. The announcement was made by Greg Sachs, MD, chief of the Division of General Internal Medicine and Geriatrics.
Torke will be assuming responsibility to assist the Division Chief in recruitment of new faculty, organizational management, and other administrative duties. Alongside these duties, Torke will continue ongoing projects within the Regenstrief Institute and the Indiana University Center for Aging Research, and will remain focused on the mentorship and development of junior faculty.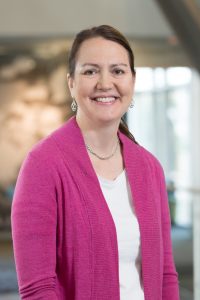 "With her career pathway including clinical roles in primary care, geriatrics, and palliative care, as well as her research interests in ethics, decision making, and spiritual issues in health care, it's hard to imagine someone better suited to this role than Lexy" said Sachs.
Since joining the IU School of Medicine's faculty in 2007, Torke has overseen advancements made by the Evans Center for Religious and Spiritual Values in Healthcare, acted as Innovations Officer at the Regenstrief Institute, and served as faculty at the Fairbanks Center for Medical Ethics at IU Health.
Torke is currently working on mentorship of junior faculty, as well as research in advanced care planning, surrogate decision making, and spiritual care. Funding for her projects is secured through the National Institutes of Health, the Richard M. Fairbanks Foundation, and IU Health.
The Division of General Internal Medicine and Geriatrics is also celebrating the promotions of Rafael Rosario to medical director of palliative care at Eskenazi Health, Cathy Schubert to Interim Director for IU Geriatrics, and Shilpee Sinha to Service Line Leader for IUHP Palliative Care.
Media Contact:
Phil Lofton
Communications Manager
(317) 274-9111
plofton@iu.edu