Studies explore frailty evaluation and deprescription for older adults in the ED
Even before the COVID-19 pandemic, more than 100 million hospital emergency department (ED) visits took place annually in the U.S. In two studies, Regenstrief Institute Research Scientist Sharmistha Dev, M.D., MPH, and colleagues characterize an ED visit as part of a continuum of care, exploring how an ED visit is a valuable arena to support care beyond the issue that motivated the visit.
"Many people view a patient's ED visit as a moment of acute care and a moment of dealing with just one issue and then the patient is either admitted or discharged. But if you analyze it, you'll see that the emergency visit is actually part of a continuum of care," said Dr. Dev, an emergency medicine and internal medicine physician. "An ED visit affects the trajectory of the patient's care down the line and is influenced by the type of primary care received prior to the trip to the ED. It's not just a moment in time. It's part of the whole continuum of care." In addition to her Regenstrief appointment, Dr. Dev also is on faculty with IU School of Medicine and is affiliated with the Roudebush VA Medical Center in Indianapolis.
The two studies, both published in the peer-reviewed Academic Emergency Medicine, focus on issues involved in care for older adults — evaluation of frailty in at-risk ED patients and the impact of ED deprescribing of potentially inappropriate medications for aging patients.
"For the geriatric patient population, the ED visit is not just something that happens in a vacuum. It happens because they have certain chronic medical conditions that make them more susceptible to certain acute illnesses or incidents – such as a fall — that may cause them to present in the emergency department," said Dr. Dev. "So having a line of communication open between the emergency department and the primary care doctor is beneficial because it provides a more complete picture for subsequent care whether on the inpatient or outpatient setting."
Care in an ED is provided by collaborative teams including physicians, nurses, social workers, pharmacists, physical therapists and others. In addition to assessing and often treating acute illnesses and injuries, EDs frequently serve as safety net care providers for uninsured or underinsured patients.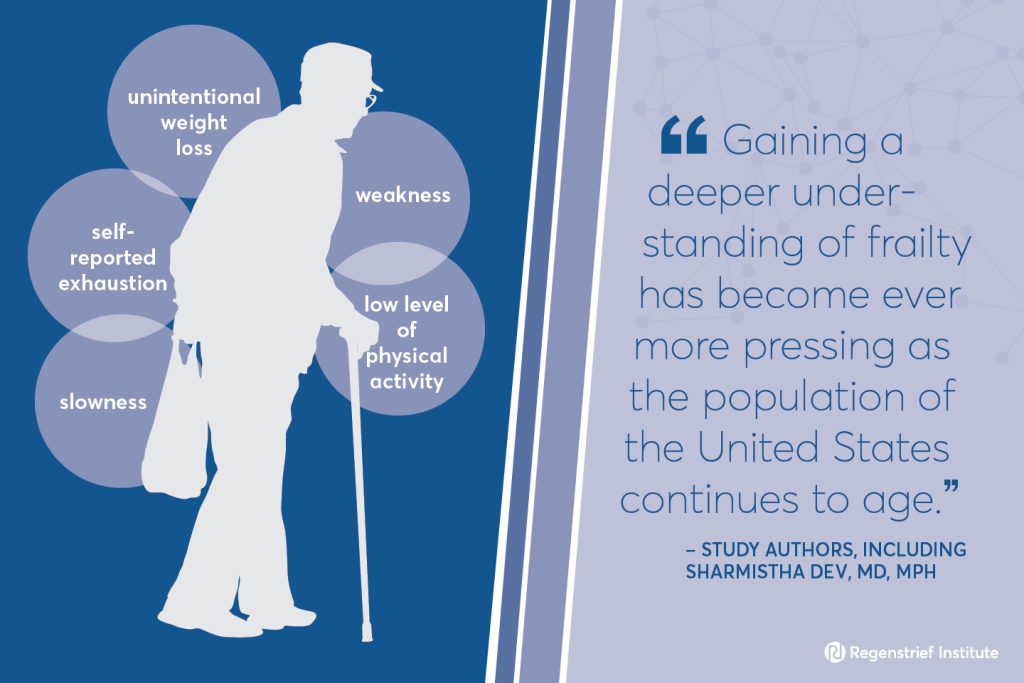 Evaluating frailty: condition is concern for growing number of ED patients
Frailty is a clinical syndrome that diminishes response to stressors posed by acute illness. Increased frailty is strongly associated with hospitalization and death. Mild, moderate or severe frailty can be identified via clinician assessment.
Signs of frailty:
weakness
slowness
low level of physical activity
self-reported exhaustion
unintentional weight loss
Dr. Dev led a study that analyzed the electronic health records (EHRs) of patients who made a total of more than 9 million visits between 2017 and 2020 to all Veterans Health Administration (VA) EDs nationally. Co-authors of this study of nationwide data included Regenstrief Institute research scientists Andrew A. Gonzalez, M.D., J.D., MPH, and Dawn Bravata, M.D. The researchers reported that frailty was common within the aging VA population. They evaluated frailty screening tools and assessed their administration within the fast-paced ED environment.
The study authors write that VA EDs represent key sites for frailty recognition and identification of individuals at high risk for adverse outcomes. They conclude that identifying individuals in the ED may allow for better targeting of scarce resources.
"Our study indicates that evaluating frailty in the ED with one or both of two administratively derived assessment tools that can be efficiently administered in the ED is beneficial to both patients and healthcare systems," said Dr. Dev. "While we looked only at VA EDs, as EDs across the U.S. become more geriatric friendly, we would hope to see the same beneficial outcome in non-VA EDs."
The paper notes, "… previous studies have shown a strong correlation between age and increased frailty. Gaining a deeper understanding of frailty has become ever more pressing as the population of the United States continues to age."
"Validating administratively derived frailty scores for use in Veterans Health Administration emergency departments" was funded by Indiana Clinical and Translational Sciences Institute.
Study authors and affiliations
Sharmistha Dev, M.D., MPH1,2,3, Andrew A. Gonzalez, M.D., JD, MPH2,4, Jessica Coffing, MPH1, James E. Slaven, M.S.5, Shantanu Dev, BS2,6, Stan Taylor, M.A.1, Carrie Ballard1, S. Nicole Hastings, M.D., MHSc7 8,9, and Dawn M. Bravata, M.D.1,2
1Center for Health Information and Communication, Roudebush VA Medical Center, Indianapolis, Indiana, USA
2Regenstrief Institute, Indianapolis, Indiana, USA
3Department of Emergency Medicine, Indiana University, Indianapolis, Indiana, USA
4Department of Surgery, Indiana University, Indianapolis, Indiana, USA
5Department of Biostatistics, Indiana University–Purdue University Indianapolis, Indianapolis, Indiana, USA
6Department of Computer Science, The Ohio State University, Columbus, Ohio, USA
7Center of Innovation to Accelerate Discovery and Practice Transformation, Durham VA Health Care System, Durham, North Carolina, USA
8Department of Medicine, Duke University School of Medicine, Durham, North Carolina, USA
9Department of Medicine, Indiana University, Indianapolis, Indiana, USA
Pharmacists in the ED: deprescribing potentially harmful medications
Many prescription and over-the-counter drugs are harmful to the aging brain. In a second study, Dr. Dev was a member of a team that assessed the impact on adults ages 75 or older of ED recommendation for the deprescribing of potentially inappropriate medications.
The 298 study participants had an average age of 82 years, were 98 percent male and had a medication list available in their electronic health record (EHR). Patients without a primary care provider were excluded from the study since there was no one for the pharmacists in the ED to communicate medication recommendations.
The research team determined that pharmacist-led medication reconciliation was associated with both deprescribing of potentially inappropriate medications and with improved post-ED engagement with primary care.
"Implementation of a compulsory clinical pharmacist-led medication deprescribing intervention in high-risk seniors in the emergency department" is a pilot study conducted in the ED of an urban VA.
The authors call for future investigation of long-term patient outcomes and assessment of the implementation of ED pharmacist-led medication reconciliation within other hospitals and healthcare systems beyond the VA.
Study authors and affiliations
Joshua J. Jovevski1, Cole R Smith1, Justin L. Roberts1, Sharmistha Dev1,2,3, Tochukwu C. Iloabuchi1, Erica A. Gruber1, Maxwell J. Williams1, James E. Slaven4, Alice M. Mitchell1,2.
1Veteran Health Indiana, Indianapolis, Indiana, USA.
2Department of Emergency Medicine, Indiana University, Indianapolis, Indiana, USA.
3Regenstrief Institute, Indianapolis, Indiana, USA.
4Indiana University School of Medicine, Indianapolis, Indiana, USA.
Putting two and two together for more tailored care in the future
"Having a frailty score that's automatically calculated and allows us to say that this person has a higher risk of dying within the next 30 days, 60 days, a year; enables us to identify an at-risk population and provide more tailored care," said Dr. Dev. "Similarly, we're deprescribing medications that may make older adults more susceptible to falls or dizziness and may be beneficial to discontinue so they don't suffer quality of life conditions or have an adverse event later down the line."
"The ED is a target setting for assessing frailty since we encounter patients when they are having an acute event. If we're able to assess their frailty, review their medication list and see that some of these situations — like falls — are being contributed to by their medications, it's a good way to put two and two together and make recommendations that can be acted upon later down the line by the primary care provider, hopefully preventing such a situation from occurring again."
About Sharmistha Dev, M.D., MPH
In addition to her role as a Regenstrief Institute research scientist, Sharmistha Dev, M.D., MPH, is an assistant professor of emergency medicine at Indiana University School of Medicine and an affiliate investigator in the VA Health Services Research and Development Center for Health Information and Communication and an attending physician at the Roudebush VA Medical Center emergency department.
About Regenstrief Institute
Founded in 1969 in Indianapolis, the Regenstrief Institute is a local, national and global leader dedicated to a world where better information empowers people to end disease and realize true health. A key research partner to Indiana University, Regenstrief and its research scientists are responsible for a growing number of major healthcare innovations and studies. Examples range from the development of global health information technology standards that enable the use and interoperability of electronic health records to improving patient-physician communications, to creating models of care that inform practice and improve the lives of patients around the globe.
Sam Regenstrief, a nationally successful entrepreneur from Connersville, Indiana, founded the institute with the goal of making healthcare more efficient and accessible for everyone. His vision continues to guide the institute's research mission.
About Richard L. Roudebush Veterans Affairs (VA) Medical Center
Established in 1932, the Richard L. Roudebush VA Medical Center serves Veterans from across Indiana and western Illinois. The Roudebush VAMC is one of the largest and most complex medical centers in the Department of Veterans Affairs, and provides acute inpatient medical, surgical, psychiatric, rehabilitation, and neurological care to more than 60,000 Veterans annually. Some of the many services available to Veterans include emergency medicine, primary care, cardiac care, radiation oncology, audiology, community-based extended care and community VA clinics.
About IU School of Medicine
IU School of Medicine is the largest medical school in the U.S. and is annually ranked among the top medical schools in the nation by U.S. News & World Report. The school offers high-quality medical education, access to leading medical research and rich campus life in nine Indiana cities, including rural and urban locations consistently recognized for livability.