Photo courtesy of Eskenazi Health
By NiCole Keith, PhD, Regenstrief Institute Research Scientist
February is the celebration of Black History Month, which began when Black Americans from all over the United States traveled to Washington, D.C., to commemorate the 50th anniversary of the Emancipation Proclamation that freed Black people from institutional servitude and to celebrate the contributions of Black people that benefitted American society. What does Regenstrief Institute have to do with Black history? A lot – and I'm going to explain that.
Since joining Regenstrief Institute 18 years ago, I understood the innovation of Sam Regenstrief, nicknamed "the Dishwasher King," who brought his knowledge of manufacturing to healthcare. Last year, during the 50th Anniversary of Regenstrief Institute, I learned more about this down-to-earth, yet amazing man. When I started thinking about Black History and Regenstrief, a parallel between the two 50th anniversaries came to mind, one commemorating the freedom of Black people and our impact on America, and the other how Mr. Regenstrief began addressing health equity before that term existed.
I remember watching the documentary honoring the 50th Anniversary of Regenstrief Institute, seeing the pictures of the Marion County General Hospital patients in the huge waiting area, and thinking, "There are Black and white people in that picture. Sam Regenstrief sought care in the same place as Black people and that hospital wasn't segregated at all." For me, this revelation was stunning. This was the 1960s. I thought about how in many Southern U.S. states, people were still ignoring the Civil Rights Act of 1957. Many whites refused to sit in restaurants, send their children to school, or even share the same public restrooms with Black people. Black people, the descendants of the slaves who literally built America, had suffered through generations of mistreatment and that behavior was normal. It was also clear, back then and now, that without white people, these harmful practices would never change.
I started wondering about Sam Regenstrief in that hospital with Black and white people in Indianapolis. I decided that he was like one of the Freedom Riders, those were the Black and white students from the Northern U.S. states who took multiple buses to the South to protest segregation. Mr. Regenstrief was like that, except he wasn't protesting the segregation of Black people, he was solving the problem of inefficient care. It didn't matter that some of the patients were Black. But that really matters to me.
Then the documentary delivered this quote from Sam Regenstrief that said,
"I can go anywhere in the world to get health care. I can pay and get the best there is. But these people have no choice. They have to sit here and wait all day. Surely to God there is something we can do about this!"
Oh, he was definitely a civil rights activist, it's just that nobody called him that. First, this wealthy man who could get world-class care did not hesitate to go to the closest hospital, regardless of who else was receiving care there. Second, he decided that Black people at Marion County General deserved world-class care.
Today, Marion County General Hospital is Eskenazi Health. Eskenazi Health's primary care system is a designated federally qualified health center or FQHC. FQHCs are instrumental in providing sufficient health care to medically disadvantaged patients. Of the approximately 16.5 million people served by FQHCs across the U.S. annually, 62% are racial or ethnic minorities, which includes Black people. Today, many Regenstrief Institute investigators enroll Eskenazi patients in our research studies to identify innovative ways to improve patient health outcomes and quality of life. I specifically examine Black and white differences in health outcomes in an effort to achieve health equity – a problem Sam Regenstrief identified and began to address more than 60 years ago and a problem which my colleagues and I continue to address today. This month, as we celebrate Black history, let's remember what Sam Regenstrief did and what his legacy continues to do to improve the lives of Black people, including those of us who research care, deliver care, and benefit from care and innovation.
About NiCole Keith, PhD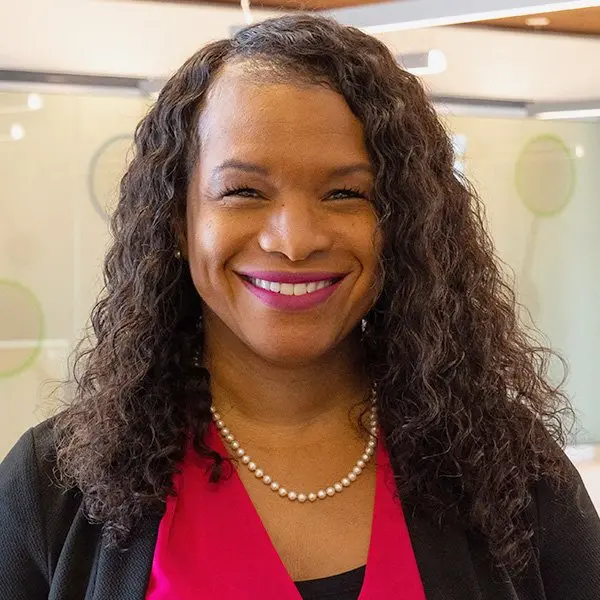 In addition to her role as a Regenstrief research scientist, NiCole Keith, PhD, is the associate dean of faculty affairs and a professor at the Indiana University School of Health and Human Services at IUPUI. Dr. Keith is also the president of the American College of Sports Medicine.