Regenstrief Institute research scientist Theresa Cullen, M.D., has won a Leading for Impact, Women in Leadership award. The award recognizes women who are creating impact and leading programs across the federal technology, health and consulting community.
The award is given by FedHealthInnovation & Technology (FedHealthIT), which is a consolidated news source for information related to federal health agencies.
Dr. Cullen also is the associate director of the Regenstrief Institute Global Health Informatics program and the interim director of strategic planning and communications for LOINC. She recently led a project to help the United States government's Indian Health Service identify and define its needs for a new health information technology system.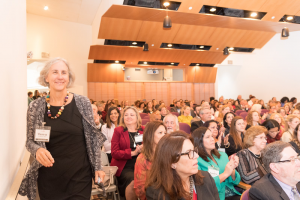 Before coming to Regenstrief, Dr. Cullen served as chief information officer for IHS, leading multiple software development and deployment initiatives. She also spent three years as a chief medical information officer for the Veterans Health Administration.
Dr. Cullen was nominated and chosen for the Impact Award by her peers for driving transformation in health IT through leadership.
"I am honored to receive this recognition," said Dr. Cullen. "I hope my work continues to make a difference in the effort to achieve health equity throughout the world."
The honor will be presented at the 2019 Leading for Impact, Women in Leadership Conference on October 30 in Arlington, Virginia.
Dr. Cullen is also participating in the conference as an executive keynote panelist. She and her daughter, Shannon Sartin, will be featured in a fireside chat about leadership and driving the transformation of the healthcare system. Sartin is the executive director of digital service at the U.S. Department of Health and Human Services.
In addition to her role at Regenstrief, Dr. Cullen is an associate professor at the Indiana University School of Medicine. Dr. Cullen lives in Tucson, Arizona.