January 27, 2016
INDIANAPOLIS — With support from a three-year $1.2 million grant from the National Institute of Dental and Craniofacial Research's National Dental Practice-Based Research Network, researchers from the Regenstrief Institute and the Indiana University School of Dentistry will conduct an analysis of electronic dental records of patients treated by community dentists across the United States to explore the feasibility of using electronic dental records data for clinical research, with the ultimate goal of improving oral health care nationwide.
For the first time, investigators will use data mined from electronic dental records of thousands of individual dental-practice members of the NIH-supported National Dental Practice-Based Research Network to assess treatment outcomes for posterior composite restorations and for root-canal procedures. Both are tooth-conserving measures. The Regenstrief Institute and IU School of Dentistry researchers will also explore the feasibility of combining data from different electronic dental record systems with their varying formats and operating systems, a process that has proved difficult with electronic medical record systems.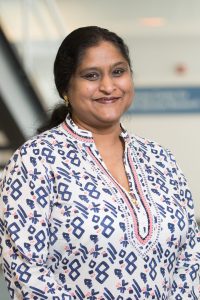 "This work is very timely in terms of the future of patient care. Dental research has not been as robust as medical research. With this study of electronic dental records, that gap will narrow," said Regenstrief Institute investigator Thankam Thyvalikakath, associate professor and director of the Dental Informatics Core of the Indiana University School of Dentistry, the principal investigator on the new grant. "We will be closing the circle between data acquisition and data use at the point of care to ultimately improve clinical practice. This will enable dentists to examine both their recordkeeping practices and clinical outcomes."
Among the de-identified data to be collected will be demographics, reason for visit, medical and dental history, social history, tooth characteristics and treatment, as well as practice and practitioner characteristics.
"Better management and analysis of electronic dental record data are essential to improving the oral health of the public in the digital age," Thyvalikakath said. "With this work, we and other researchers will gain a better understanding of what's going on at the dental offices where most Americans receive care. And if in the future, community dentists can query anonymous data on their patients — as well as the patients of thousands of other providers — and search, for example, the long-term success of root canals or how long restorations last, they will have information critical to quality improvement, a goal that all patients support."
Thyvalikakath is the founding director of the IU School of Dentistry's Dental Informatics Core. The core's primary objective is to enhance patient care through improving data capture and documentation, designing clinical systems to support clinicians' and patients' needs, and facilitating communication to promote coordinated care among medical providers.
"In the emerging climate of 'big data,' this coordinated data mining will be a huge leap forward in dental informatics, enabling us to have access to clinical outcomes that was not possible before," said John N. Williams, dean of the IU School of Dentistry. "The results could affect how we educate oral health care providers in designing the most effective, evidence-based treatments."
The Regenstrief Institute's Center for Biomedical Informatics is focused on the mission "better health through informatics." The center is a global collaborative research-and-learning organization, developing and evaluating innovative informatics solutions.
"This project is another example of groundbreaking research that uses data from electronic patient records to inform what works and what doesn't in clinical practice. The 'Learning Healthcare System' closes the loop between generating and learning from data on a day-to-day basis. I am happy to see Dr. Thyvalikakath help lead that charge in dentistry," said Regenstrief Institute investigator Titus Schleyer, former director of the Institute's Center for Biomedical Informatics.
Media contacts:
Cindy Fox Aisen
Regenstrief Institute
317-843-2276
caisen@iupui.edu
Terry Wilson
IU School of Dentistry
317-278-4844
tw1@iu.edu