INDIANAPOLIS — Peter J. Embi, MD, MS, who joins the Regenstrief Institute as president and CEO on December 15, has been selected as the chair-elect of the board of directors of the American Medical Informatics Association, the largest international professional biomedical and health informatics association. The four-year term includes a one-year term as chair-elect, two years as the chair of the association's 21-person board of directors, and a final year as chair-emeritus.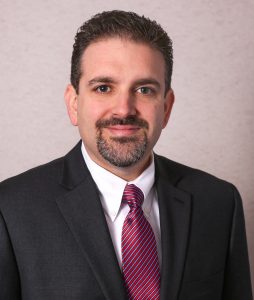 Dr. Embi is an internationally respected expert in biomedical informatics — the application of computer and information sciences to health care and biomedical research. He has been a member of the American Medical Informatics Association since October 2000, and a board member since January 2015. In 2012 he was also inducted as a fellow of the American College of Medical Informatics, joining a select elected group of individuals who have made significant and sustained contributions to the field of biomedical informatics.
"This is a critical time for health care in our country and for informatics in particular," Dr. Embi said. "As informaticians we are working to improve health care through the optimal use of information and information technology.
"That couldn't be more important than it is today. We need to improve quality of care for individuals, accelerate biomedical discoveries, and keep our populations healthier. By leveraging health IT and health care data, we can better prevent, diagnose and treat disease — with more precision and at lower cost to society – and learn from every patient to improve care well into the future. Informatics professionals are key to achieving this vision for a learning health care system."
Dr. Embi notes that as a professional society, the American Medical Informatics Association is uniquely positioned to draw upon the expertise of its varied informatician membership — physicians, nurses, pharmacists, computer scientists, technologists, physicists, biologists and others — to determine how to optimize the use of health information technology and biomedical computing to improve health and the delivery of care.
This fall he chaired the association's 2016 Annual Health Policy Invitational Meeting on health information policy. He anticipates that he, like past AMIA board chairs, will represent the association in many settings, including on Capitol Hill, and across a range of issues including electronic medical record systems, health information exchange, patient participation in their care, and accelerating biomedical research and innovation.
Dr. Embi joins the Regenstrief Institute following six years at the Ohio State University, most recently as associate dean for research informatics at Ohio State's medical school. Regenstrief is recognized for pioneering work in the fields of medical informatics, aging, and health services research and for the practical application of this research to global needs — present and future.
The institute is composed of three research centers — the William M. Tierney Center for Health Services Research, the Indiana University Center for Aging Research and the Clem McDonald Center for Biomedical Informatics. The institute's new Industry Research Office facilitates and supports industry-funded research partnerships leveraging Regenstrief's extensive resources.
The institute's focal areas currently include applied health information technology, patient outcomes and safety, population and public health, precision medicine, global health informatics, brain health, health data standards, healthcare data analytics, patient outcomes, implementation science, drug safety, decision making, symptom management, nursing home care, physical fitness and health communication.
Regenstrief's faculty and affiliated scientists include representatives of numerous disciplines including medical informatics, geriatrics, general internal medicine, pediatrics, family medicine, public health, emergency medicine, gastroenterology, psychiatry, neurology, sociology, global health, palliative care, communications and a variety of engineering disciplines including software and human factors engineering.
In addition to his leadership position at the Regenstrief Institute, commencing next month Dr. Embi will serve as Sam Regenstrief Professor of Informatics and Health Services and as associate dean for informatics and health services research at Indiana University School of Medicine, associate director for informatics at the Indiana Clinical and Translational Sciences Institute and vice president for learning health systems at Indiana University Health.
Media contact:
Cindy Fox Aisen
Regenstrief Institute                                                                                                                 caisen@iupui.edu
317-843-2275