Regenstrief Institute has an impressive portfolio of research, ranging from invention to implementation. The myriad discoveries, analyses and validations led by our investigators continue to make significant impacts in a wide variety of healthcare environments, including hospitals, outpatient clinics, doctors' offices, nursing facilities and even homes. I am continuously impressed and inspired by the breadth of the research led by our teams, their expertise and the documented impact their work has locally, nationally and globally.
Publishing our research findings in peer-reviewed journals and further disseminating them via articles written by reporters in the mainstream and trade media are key ways of getting the word out about our findings.
Another important, and perhaps underappreciated, channel for disseminating our discoveries involves our teams' contributions to national and international conferences and proceedings. Indeed, oral and poster presentations by our research scientists and staff at professional meetings, symposia, conferences and similar gatherings across the nation and the globe are important ways of sharing our work with those who might learn and further our impact, and represent a critical part of our mission to improve health and healthcare for diverse populations.
In the past few weeks, many of our research scientists and staff have continued this tradition by making impressive contributions to national conferences, providing education to fellow researchers and practitioners, eliciting interest from potential collaborators, discussing with other researchers examining the same or similar topics and participating in wide-ranging discussions about key issues facing health and healthcare today.
Influence on aging
Aging research is a cornerstone of Regenstrief's identity. The American population continues to age, creating a significant challenge for the country, and our scientists are doing important work to address the difficulties faced by older adults and their families. Several of our research scientists shared their latest work at the annual meeting of the American Geriatrics Society, the premier venue for geriatrics researchers.
Noll Campbell, PharmD, M.S., presented in multiple sessions, leading a symposium on communicating with patients and caregivers about the important topic of deprescribing as well as providing an update on current research on the pharmacological management of delirium. He also co-chaired the meeting's Special Interest Group for Research in Dementia, bringing together experts from across the country to present the latest research and the future direction of inquiries related to caring for those with dementia.
Kathleen Unroe, M.D., MHA, was joined by other practitioners from the OPTIMISTIC team in a panel discussing how to manage patient infections within the nursing home and avoid unnecessary hospitalizations. They detailed the lessons they learned from the OPTIMISTIC program regarding treatment of the most common ailments that lead to hospitalization. In its first phase, OPTIMISTIC significantly decreased the number of avoidable hospitalizations by embedding a specially trained nurse in long-term care facilities. The project is in its second phase, which is testing a new payment model for care. Jennifer Carnahan, M.D., also presented a poster on the project.
At the AGS meeting, Dr. Unroe assumed the role of chair of the American Geriatrics Society Public Policy Committee. She will guide the committee as it provides strategic oversight of AGS public policy efforts.
Regenstrief affiliated scientists Susan Hickman, PhD, and Steven Counsell, M.D., also made presentations.
Influence in health services research
Health services research is another pillar of our work here at Regenstrief. A strong core of Regenstrief researchers attended the Society of General Internal Medicine (SGIM) annual meeting to share their research on patient-provider communication, patient advocacy and more. SGIM counts more than 3,000 physicians as members. These physicians are the primary internal medicine faculty of every medical school and major teaching hospital in the United States and are an important audience for our researchers.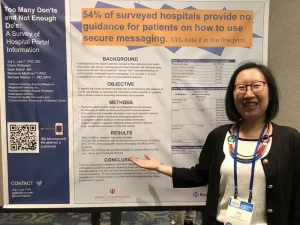 With the support of Marianne Matthias, PhD, and Michael Weiner, M.D., MPH, Joy Lee, PhD, led a workshop at the SGIM gathering on effective communication with patients in primary care.  Dr. Lee continues to educate others on the current status of medical electronic communication, presenting two posters, one on hospital patient portals and another on secure messaging between clinicians and patients.
In addition to her poster presentation at the AGS meeting, Dr. Carnahan attended the SGIM conference, participating in a discussion on advocating for patients while navigating ethical and moral dilemmas.
Matthew Bair, M.D., presented on his Care Management for the Effective Use of Opioids (CAMEO) trial. As the opioid crisis worsens, research on effective use of these powerful drugs is crucial to inform clinicians and patients. Kurt Kroenke, M.D., and Teresa Damush, PhD, were also involved in this research.
David Haggstrom, M.D., served on the meeting program committee as chair of veterans affairs liaisons. He helped to facilitate the hosting of five peer-reviewed Veterans Affairs Special Series workshops on topics including social and behavioral determinants of health, interprofessional teamwork, trainees as change agents and opioid use disorder treatment in primary care. He is also part of an effort to develop a new research program curriculum with the VA for SGIM investigators interested in partnered research within learning healthcare systems. As part of his leadership role on the committee, he assisted in the initiation of planning activities on behalf of the new SGIM-VA Innovation and Implementation Interest Group.
These presentations only touch on a small segment of the massive body of research Regenstrief conducts. I'm very proud of Regenstrief and its researchers' work within their professional societies through which they provide insight into our groundbreaking work and facilitate important discussions about the search for solutions to healthcare's most pressing problems.
We are all well aware that knowledge cannot simply live within the walls of Regenstrief. Meetings like those of the AGS and SGIM as well as AMIA, various clinical specialty meetings like gastroenterology, sports medicine and delirium, and gatherings like the International Stroke Conference in which our research scientists participate, are a key mechanism enabling us to amplify the impact of our work.