Regenstrief President and Chief Executive Officer Peter Embí, M.D., M.S., led a learning showcase at the American Medical Informatics Association (AMIA) 2019 Annual Symposium, highlighting Regenstrief Institute's 50 years of innovation in health and healthcare.
Regenstrief Institute has been on the cutting edge of informatics since its founding in 1969. More than a dozen Regenstrief researchers participated in panels and workshops and presented abstracts and posters at the AMIA annual symposium, which is the foremost meeting for the science and practice of biomedical informatics, bringing together informatics professionals from diverse backgrounds.
This year's theme was "Informatics: From Data to Knowledge to Action," with panels and presentations focusing on how to turn data into actionable solutions to improve health and healthcare.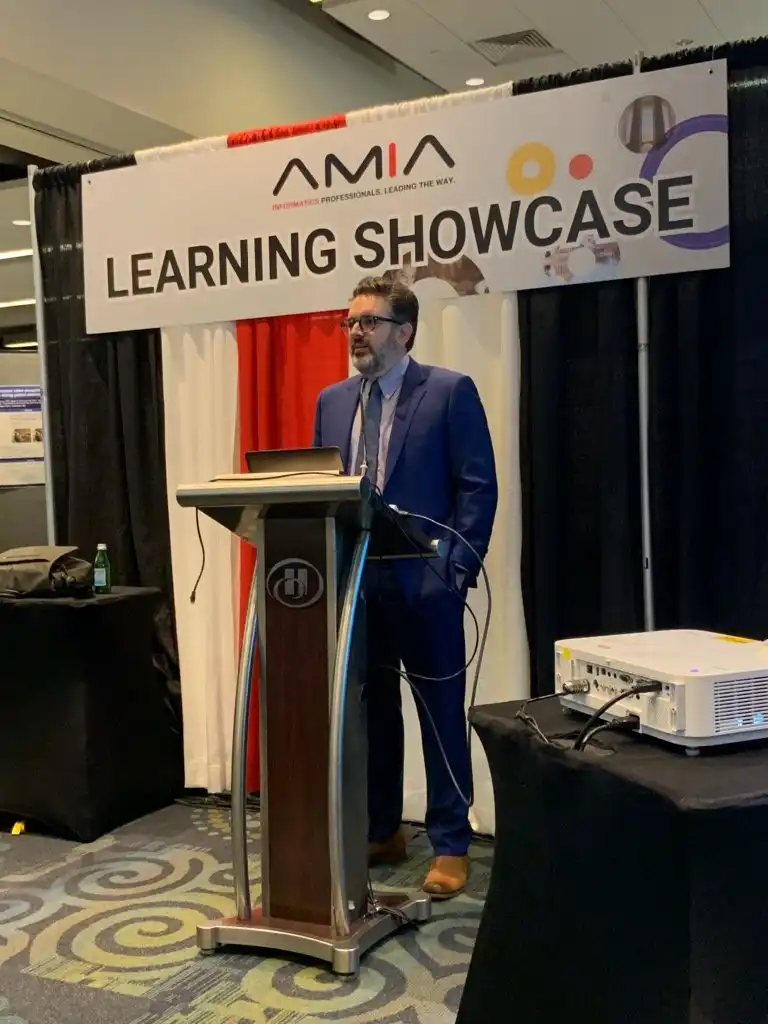 During the learning showcase, Dr. Embí spoke about Regenstrief's five decades of innovative work. For example, Regenstrief built one of the first electronic medical record systems and launched one of the first computerized physician order entry systems in the United States. The institute is also home to LOINC® (Logical Observation Identifiers Names and Codes), a universal standard for coding health measurements, observations and documents, that is used all over the world.
Regenstrief continues to lead the way in informatics and artificial intelligence. Its researchers are working on innovative solutions to improve patient matching, decision support tools, and public health reporting, among many other projects.
AMIA is the leading professional association for informaticians, and its mission is to use informatics to transform health care. AMIA and its members play a leading role in assessing the effect of health innovations on health policy and advancing the field of informatics. Dr. Embí served chair of the AMIA board from 2018-2019, handing off to the newly elected chairwoman during the symposium.
About Regenstrief Institute
Founded in 1969 in Indianapolis, the Regenstrief Institute is a local, national and global leader dedicated to a world where better information empowers people to end disease and realize true health. The Regenstrief Institute, a key research partner to Indiana University, and its researchers are responsible for a growing number of major healthcare innovations and studies. Examples range from the development of global health information technology standards that enable the use and interoperability of electronic health records to improving patient-physician communications, to creating models of care that inform practice and improve the lives of patients around the globe.
Regenstrief Institute is celebrating 50 years of healthcare innovation. Sam Regenstrief, a successful entrepreneur from Connersville, Indiana, founded the institute with the goal of making healthcare more efficient and accessible for everyone. His vision continues to guide the institute's research mission.