Regenstrief & IU to offer unique public and population health informatics training program
INDIANAPOLIS — The Regenstrief Institute, internationally recognized for its research and training programs in clinical informatics, will now train researchers in the increasingly important fields of public and population health informatics. The unique new program, in collaboration with Indiana University School of Medicine and IU's Richard M. Fairbanks School of Public Health at Indiana University-Purdue University Indianapolis, is supported by a five-year, $2.5 million award from the National Library of Medicine, an institute of the National Institutes of Health.
The Indiana Training Program in Public and Population Health Informatics, commencing in July 2017, will prepare graduate students and post-doctoral fellows to work in a broad spectrum of entities in the healthcare industry and academia, as well as for local, state and federal public health departments. These trainees will fill a need — forecasted to grow over the next decade and beyond — for informaticians who can design, validate and implement solutions key to the maintenance and improvement of human health.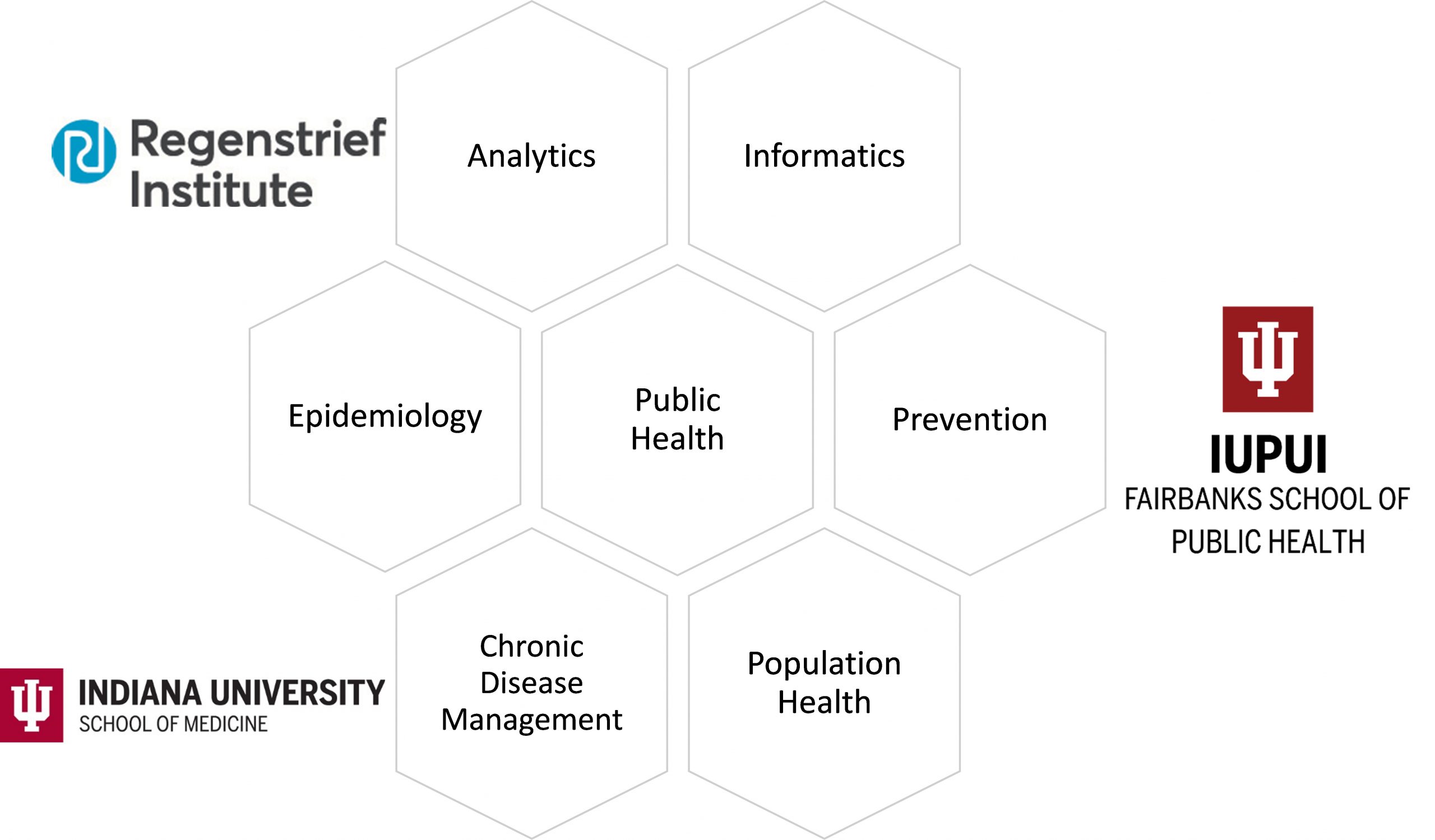 "There is a pent-up demand for informaticians with new skill sets in both public health and population health, but there has been a lack of educational and training programs to meet this need," said Regenstrief Institute investigator Brian E. Dixon, PhD, associate professor of epidemiology in the Fairbanks School of Public Health, who co-directs the new program with Regenstrief Institute investigator Titus Schleyer, DMD, PhD, the Clem McDonald Professor of Biomedical Informatics at IU School of Medicine.
"As the healthcare industry transitions to population health, it will take new scientists who can employ machine learning, big data mining, predictive modeling, as well as other skills and core concepts from informatics at the population level to help health systems manage cohorts of individuals who have a particular disease, providing routine care for individuals with acute or chronic illnesses at a level that is consistent with trends in reimbursement going forward. Similar skills are needed to help public health departments meet the burgeoning demands that they face," Dr. Dixon said.
"The US healthcare system is trying to learn how to do two things these days: how to take care of populations, not just patients, and, how to keep people healthy instead of waiting until they get sick. To achieve both these goals, we need the kind of public and population health informatics researchers and practitioners that our unique program will train," co-director Dr. Schleyer said.
Individuals with bachelors or masters degrees in a quantitative science, such as mathematics, statistics, computer science, or informatics, or in a health science, such as public health, genetics, nursing or dentistry, will be considered for the PhD program. Doctoral degrees will be awarded by the Fairbanks School of Public Health.
"To truly change the health of entire populations you need a deep understanding of public health," said Paul Halverson, DrPH, founding dean of the Richard M. Fairbanks School of Public Health. "The partnership with the Fairbanks School of Public Health will equip trainees with the population health knowledge they need to understand the complex data of health care."
Recent graduates with PhD degrees in epidemiology, health services research, health policy and management, social science, decision science, information science, computer science, or informatics who desire careers in public health informatics or population health informatics may apply for post-doctoral fellowship training. Health professionals with doctorates, such as MDs, DMDs or PharmDs who desire a Master of Public Health (MPH) degree with a concentration in informatics to be awarded by the Fairbanks School of Public Health or a Master's of Science (MS) degree in informatics to be awarded by the IU School of Informatics and Computing are also eligible to apply for a post-doctoral fellowship.
"Given the rapid growth in health-related data, from clinical and genomic data, to a wide array of social and behavioral determinants of health, it's more important than ever that we train experts in informatics who can lead efforts to improve the health and health care of individuals and populations," said Peter Embi, MD, Regenstrief Institute president and CEO; associate dean, IU School of Medicine and vice-president for Learning Health Systems at IU Health. "As one of the nation's leading informatics institutions, the Regenstrief Institute is proud to continue the important work of training future informaticians through this NLM-supported program."
The Regenstrief Institute's Center for Biomedical Informatics has been training informaticians for over two decades and is home to an Accreditation Council for Graduate Medical Education approved program in clinical informatics. Working in partnership with the Regenstrief Institute's informaticians and IU faculty, the new trainees in public and population health informatics will position themselves to make significant, lasting impacts on the health of populations in Indiana and around the world. The cadre of scientists who complete the new program will become game changers in public and population health.
Information for potential applicants can be found at the program website.
Media contact:
Cindy Fox Aisen
Regenstrief Institute
317-843-2275
caisen@iupui.edu