More than 30 students spent the summer at Regenstrief Institute working closely with Regenstrief faculty on research projects. Undergraduate and medical students enrolled in various summer scholarship programs, allowing them a unique opportunity to explore the fields of aging, informatics and health services research.
Founded in 1969, Regenstrief Institute, located in Indianapolis, is a world-renowned medical research organization known for innovations in pain treatment, healthcare delivery, artificial intelligence, dementia and more.
Depending on the project, students learned many different skills, including how to design protocols, recruit participants for studies, collect and manage data, perform qualitative data analysis, and write scientific abstracts.
Just like the faculty at the institute, students were given the chance to showcase their work to institute employees and peers during "Work in Progress" sessions.
IMPRS students
Ten of the summer scholars were part of the Indiana University Medical Student Program for Research and Scholarship (IMPRS). The program connects students with research opportunities between the first and second years of medical school.
The IMPRS students were involved in projects such as validating a postoperative delirium prediction model, reviewing the success of animal-assisted interventions to treat pain, and comparing three methods for parameterizing health record linkage algorithms.  Students presented a poster about their work in the 2019 IMPRS Poster Symposium, competing against dozens of other IMPRS students whose summer internships were at other IU facilities.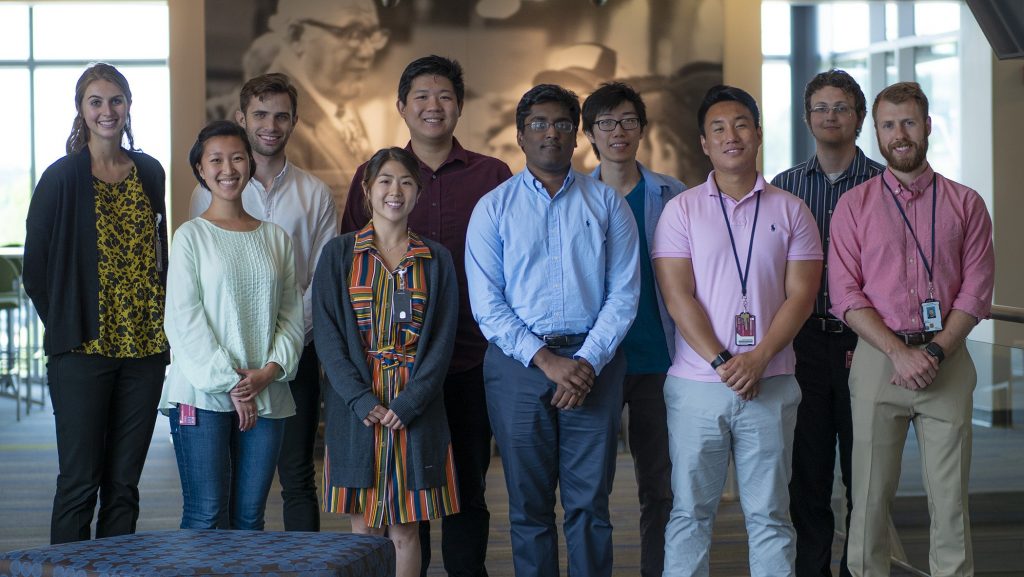 Regenstrief-hosted IMPRS scholar Griffin Selch was selected as one of the top 20 posters and went on to a competitive round of oral presentations, where he received the Hazel and Tommy Thompson Cardiac Research Scholarship award. Regenstrief research scientist Linda Williams, M.D., mentored Selch as he analyzed data from the U.S Department of Veterans Affairs telestroke program. The title of his project was "Telepresence and Provider Communication Predict Veteran Satisfaction with Telestroke."
In addition, Regenstrief IMPRS scholars Christopher Miao and Jacob Graham won second and third place in the Health Research Outcomes category of the poster session. Jessica Chiang was awarded third place in the Community Health Partnership category.
Nurturing future researchers
The Regenstrief Institute has upheld a long tradition of academic research mentorship. Over the years, graduate trainees have completed intensive pre- and post-doctoral fellowships and gone on to become leaders in healthcare systems and health-related research fields. Regenstrief mentors have come to recognize the value of reaching students even earlier in their educational trajectory and the summer scholarship program has evolved to meet that goal.
"Regenstrief is such a vibrant research environment. We are thrilled to be able to offer a summer research opportunity to so many students," said Lori Losee, M.A., assistant director of Regenstrief's William M. Tierney Center for Health Services Research. Losee coordinated the summer research scholars. "Sparking and nurturing an interest in research is a crucial first step in developing future clinicians and research scientists who are prepared and equipped to tackle the complex issues encountered in delivering safe, effective health care. We hope this experience will heighten students' awareness of the important contributions of informatics, aging and health services research, and that one day they may join us in our shared mission to improve health and healthcare for everyone and end disease."
Research wasn't the only activity students participated in. Losee led the organization of various events for students to network with each other and Regenstrief employees. They also were encouraged to dive into the Institute's learning culture by attending Regenstrief-hosted presentations by renowned scientists and training by research administration experts.
"Spending time in a mission-driven organization and engaging with researchers who can provide insight and advice are prominent reasons students pick Regenstrief," said Losee. "We worked to give them a comprehensive and enjoyable experience and a solid foundation for considering research as a meaningful and viable career path."
In addition to IU School of Medicine, students were from IUPUI, IU Bloomington, DePauw University, Marian University, Earlham College, Purdue University, Belmont University, Washington University in St. Louis, Butler University, University of Iowa and University of Dayton.
Sophie Bair-University of Dayton
Sarah Banks- IUPUI
Ashok Biju- IU School of Medicine
Ashwin Biju- IU Bloomington
Kayla Brown- IU School of Medicine
Jessica Chiang- IU School of Medicine
Brittany Kate Chong- Earlham College
Hannah Davis- DePauw University
Luke Elsener- Marian University
Michael Grady- Earlham College
Jake Graham- IU School of Medicine
Lucas Huffman- Marian University
Nick Imperiale- IU Bloomington
Kayla Jones- Purdue University
Alexandria "Lex" Juarez- IU Bloomington
Jennifer King- Belmont University
Zeba Kokan- Purdue University
Justin Kryshak- IU School of Medicine
Albert Liu- IU School of Medicine
Hallie Martin- IUPUI
Andrew McNutt- Purdue University
Chris Miao- IU School of Medicine
Isabel Miller- IU Bloomington
Sang Yoon Na- IU School of Medicine
Julia Otteson- BioCrossroads Xtern program
Lobsang Palmo- Earlham College
Layna Paraboschi- Washington University St. Louis
Griffin Selch- IU School of Medicine
Mary Stazinski- Butler University
Karly Van Slyke- IUPUI
Claire Williams- University of Iowa
Jenna Wright- Marian University
Maddie Wright- Butler University
Sen Xiong- IU School of Medicine