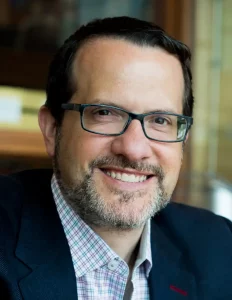 Aaron E. Carroll, M.D., a nationally recognized research scientist, research team leader and a New York Times writer and book author, has been selected as Regenstrief Institute's first-ever vice president for faculty development.
The appointment leverages and complements Dr. Carroll's experience and continuing position as associate dean for research mentoring at Indiana University School of Medicine. He will lead Regenstrief's faculty development strategy and implementation efforts by closely partnering with IU School of Medicine and other partner leadership and faculty.
"The success of our applied researchers is fundamental to our impact as an Institute, especially at this time when faculty must remain resourceful and productive in an increasingly competitive and fast-moving health care landscape," said Peter Embi, M.D., president and chief executive officer of Regenstrief. "The Regenstrief Institute has some of the most distinguished and accomplished research faculty in the nation, and it's exciting to have someone of Dr. Carroll's reputation, caliber and experience join our team. Dr. Carroll is a proven leader, and is an outstanding fit for this new leadership role."
Located in Indianapolis, Indiana, the Regenstrief Institute is an applied research institute affiliated with the Indiana University School of Medicine. Regenstrief is internationally recognized as a leader in applied health care research, built on decades-long innovation and impact in the fields of biomedical informatics, health services research, and aging research.
As he takes on this new role, Dr. Carroll also will continue as a professor and vice chair for health outcomes research faculty development in the Department of Pediatrics at IU School of Medicine and director of the Center for Pediatric and Adolescent Comparative Effectiveness Research. He earned a bachelor of arts degree in chemistry from Amherst College, an M.D. from the University of Pennsylvania School of Medicine, and a master's of science in health services from the University of Washington, where he was also a Robert Wood Johnson Clinical Scholar.
The author of "The Bad Food Bible: How and Why to Eat Sinfully," a writer for The Upshot — data-driven reporting and analysis for the New York Times — and for the Incidental Economist health services research blog, Dr. Carroll is a health services investigator with a keen interest in improving pediatric outcomes. Dr. Carroll's research focuses on the study of information technology to improve pediatric care and areas of health policy including physician malpractice, the pharmaceutical industry/physician relationship, and health care financing reform.
In addition to "The Bad Food Bible," published last year, he has co-authored three books on medical myths. As well as being a regular contributor to The New York Times, he has written for many other major media outlets. He also has a popular YouTube channel called Healthcare Triage, where he talks about health research and health policy.
The Regenstrief Institute and its researchers are responsible for a growing number of major health care innovations and studies. Examples range from the development of global health information technology standards that enable the use and interoperability of electronic health records to improving patient-physician communications, to the creation of models of care that inform practice and better the lives of patients around the globe.