Mask usage has been difficult to measure; new app available in 15 languages
A new app will allow anyone to contribute real-world data to the effort to understand COVID-19. "MaskCountTM," from Regenstrief Institute, lets users document the number of people they see wearing or not-wearing masks, all without identifying anyone. This information will be combined for display and analyzed with other COVID-19 data, such as case counts and hospitalizations, to better understand outbreaks.
To access the MaskCount app and learn how to Swipe for ScienceTM go to maskcount.com
MaskCount is free and currently available as a web app in 15 languages that can run across platforms, including on Apple, Android and other smart devices. After registering, users can easily start sessions and count mask-wearing activity they see around them. Regenstrief research scientists will then analyze the observations and present the combined data online. They also plan to merge the submitted data with other information to assess the effects of public health policies and analyze whether mask-wearing is associated with other COVID-19 trends. The data will be made available via privacy-preserving dashboards to inform the public about what people are seeing near them. Public health professionals may also benefit from the data as they make decisions about public health policies.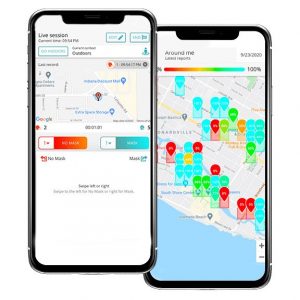 The app protects privacy by allowing users to simply and discreetly tap or swipe on their screens to capture counts of people either wearing or not wearing masks. Location data for each observation is automatically captured and sent to secure servers. Only aggregate information is displayed to the public. Importantly, the app does not allow people to take pictures or enter any identifying information about those they observe. Users can return to the app and enter the information as frequently as they choose. They can also view data from their previous sessions as well as see cumulative data on masking trends from others around them.
"Masks are one of the best ways we have to reduce the spread of COVID-19 and the harm it does to people and our economies. However, mask usage has been difficult to measure," said Peter Embí, M.D., M.S., Regenstrief president and chief executive officer, Indiana University School of Medicine professor and creator and leader of the MaskCount project. "We built this app using state-of-the-art crowd-sourcing technologies that let anyone submit anonymous data to help researchers and public health professionals develop new evidence about the use and effectiveness of masks. The more people use it, the more we hope to learn and work together to help end this pandemic."
Since the pandemic is global, Dr. Embí worked with an app development company based in Chile, to create the user-friendly interface and prepare the app for use across platforms and in multiple languages, to enable widespread use.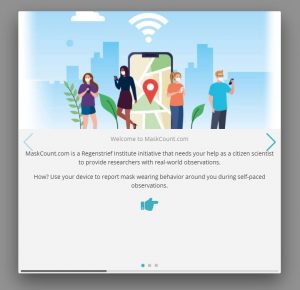 Donations to support the app
The MaskCount app from Regenstrief is intended to be an accessible resource and the data shared and collaboratively applied for the benefit of Indiana, the U.S. and around the world. Overarching goals include compiling information to be shared for research, policy, safety and anyone interested in the effects masks have on the coronavirus. To contribute to continuing development of this app, go here.
About Regenstrief Institute
Founded in 1969 in Indianapolis, the Regenstrief Institute is a local, national and global leader dedicated to a world where better information empowers people to end disease and realize true health. A key research partner to Indiana University, Regenstrief and its research scientists are responsible for a growing number of major healthcare innovations and studies. Examples range from the development of global health information technology standards that enable the use and interoperability of electronic health records to improving patient-physician communications, to creating models of care that inform practice and improve the lives of patients around the globe.
Regenstrief Institute is celebrating 50 years of healthcare innovation. Sam Regenstrief, a successful entrepreneur from Connersville, Indiana, founded the institute with the goal of making healthcare more efficient and accessible for everyone. His vision continues to guide the institute's research mission.
About Peter Embí, M.D., M.S.
In addition to serving as the president and CEO of Regenstrief Institute, Peter Embí, M.D., M.S. is the Leonard Betley Professor of Medicine and associate dean for informatics and health services research at Indiana University School of Medicine, associate director of informatics with Indiana Clinical and Translational Sciences Institute and vice president for Learning Health Systems with Indiana University Health.
About MaskCount
MaskCount™ was created by project leader and principal investigator: Peter J. Embi, M.D., M.S.
Thanks go out to our many advisors, beta testers, language translators, and others who gave us feedback along the way, including in particular, the following individuals who went above and beyond: Brian Dixon, PhD, MPA; Umberto Tachinardi, M.D., M.S.; Jennifer Williams, M.S.; Sara Minard, M.A.; Marcelo Lopetegui, M.D., M.S.; Eneida Mendonca, M.D., PhD; Todd Saxton, PhD; Kun Huang, PhD; Sarah Wiehe, M.D., M.S.; Shaun Grannis, M.D., M.S.; Maurizio Mattoli.
Software development by Hicapps SpA.