Regenstrief Institute hosts forum on implementing AI in healthcare
Regenstrief Institute hosted researchers, clinicians and members of the business community to discuss ideas and challenges to implement artificial intelligence in healthcare practice.
The Regenstrief Entrepreneurial Ecosystem Forum featured experts from three of Regenstrief's industry partners, Roche, Medial EarlySign and Ventech Solutions. A representative from each company explained how their business applies data to improve health and healthcare, and Regenstrief Vice President for Data and Analytics Shaun Grannis, M.D., M.S., led a panel discussion with these experts about the future of AI.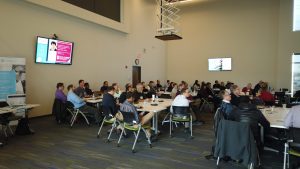 "We know there is value in healthcare AI," said Dr. Grannis. "Excitement and attention are growing, but often we get distracted by the tremendous potential. This discussion helped us focus on the real issues, not just the exciting new technologies, that we must consider when implementing sophisticated algorithms in real-world situations and how we can look ahead to anticipate the trends and prepare actionable AI solutions."
One of the topics panelists discussed was how to build clinicians' trust in AI solutions. They advocated for increasing transparency, allowing clinicians to see the methodology used by the AI tool so they can understand how it arrived at its decision. The experts believe the other important factor is demonstrating evidence that AI works. In order to accomplish this, scientists must continue to test and improve interventions to create the body of evidence that is needed. All of the panelists agreed the road to creating trust will be a long one.
This forum is part of a continuing series led by Regenstrief's business development team. The goal is to connect researchers, clinicians and entrepreneurs who are interested in developing solutions to improve health and healthcare. After the panel, attendees were given the chance to network and exchange ideas.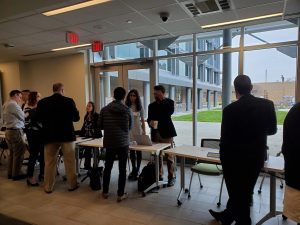 "Regenstrief is helping to shape the future of AI, and we want to establish and build relationships with like-minded individuals and companies looking to maximize the potential of this technology to improve healthcare," said Todd Saxton, PhD, Regenstrief vice president for business development. "We hope this event started conversations that will turn into meaningful partnerships and scalable solutions."
Regenstrief's research in AI includes the Uppstroms app, which gathers data on social determinants of health from several different sources to create a risk prediction score, which allows physicians to identify people who may benefit from wraparound services such as social work or a dietician consultation. The app is currently in use at Eskenazi Health clinics.
Other projects include AI tools to examine symptom clusters in cancer patients, natural language processing in public health reporting, and predictive modeling tools to identify people with diabetes who are at risk for hypoglycemia.
About Regenstrief Institute
Founded in 1969 in Indianapolis, the Regenstrief Institute is a local, national and global leader dedicated to a world where better information empowers people to end disease and realize true health. The Regenstrief Institute and its researchers are responsible for a growing number of major healthcare innovations and studies. Examples range from the development of global health information technology standards that enable the use and interoperability of electronic health records to improving patient-physician communications, to creating models of care that inform practice and improve the lives of patients around the globe.
A key research partner to Indiana University, Regenstrief Institute is celebrating 50 years of healthcare innovation. Sam Regenstrief, a successful entrepreneur from Connersville, Indiana, founded the institute with the goal of making healthcare more efficient and accessible for everyone. His vision continues to guide the institute's research mission.
More about Shaun Grannis, M.D., M.S.
In addition to his role as Regenstrief vice president for data and analytics, Shaun Grannis, M.D., M.S., is a research scientist in the Regenstrief Clem McDonald Center for Biomedical Informatics and a professor and Regenstrief Chair in Medical Informatics at the Indiana University School of Medicine.
More About Todd Saxton, PhD
Todd Saxton, PhD, is the vice president for business development at Regenstrief Institute, in addition to being an associate professor and Kelley Venture Fellow at Indiana University Kelley School of Business.