Regenstrief Institute scientist Teresa Damush, PhD, received the Research Career Scientist Award from the U.S. Department of Veterans Affairs. The five-year award recognizes the VA's most accomplished non-clinician scientists. The Health Services Research and Development Service only has 14 other current awardees across all of its research centers nationwide.
Dr. Damush focuses her research on the design and evaluation of patient-centered programs that empower the patient to modify controllable factors that may improve quality of life in both primary and specialty care areas.
"Dr. Damush's work has been instrumental in improving the lives of veterans across America," said Mike Weiner, M.D., director of Regenstrief's Center for Health Services Research. "She has advanced many aspects of understanding how to improve the way we care for our patients, and her work enables veterans a chance at a better, faster recovery."
"This is a significant honor for Dr. Damush, and we are proud to have her on our team as a Regenstrief investigator," said Peter Embi, M.D., M.S., president and chief executive officer of Regenstrief Institute. "It is gratifying to see her receive national recognition for her excellent work, which has made a significant impact on countless lives. Her work exemplifies the strength of the long-term Regenstrief-VA partnership that continues to be an extremely valuable and important relationship."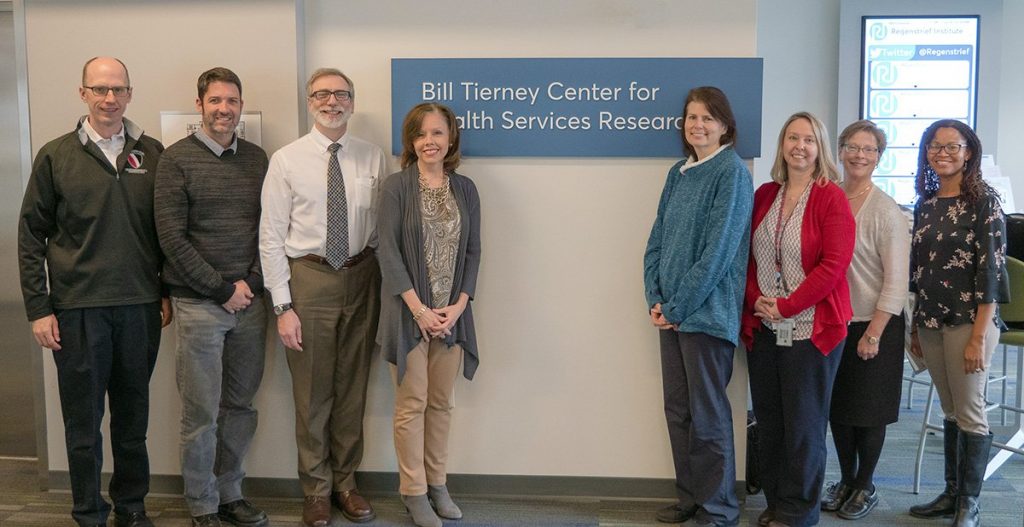 Her research efforts helped improve the care and outcomes of patients with stroke through the development of the VA Stroke Quality Enhancement Research Initiative (QUERI). That national program coordinated the strategic plan for improving the quality of stroke across the continuum of care within the Veterans Health Administration. Dr. Damush served as an implementation scientist coordinator alongside fellow Regenstrief scientist, Edward Miech, EdD, on the Stroke QUERI Center. The center was led by stroke neurologist, Linda Williams, M.D., and clinical coordinator, Dawn Bravata, M.D., both of Regenstrief. Key highlights from the VA Stroke QUERI Center included the assessment of the quality of inpatient stroke care throughout the VA, the quality of post-stroke risk factor management, and the quality of care for veterans with transient ischemic attack. It reduced the risk of stroke and fostered system, provider and patient processes resulting in improved outcomes for veterans.
The program has transitioned to the Precision Monitoring to Transform Care (PRIS-M) QUERI Center. Dr. Damush is co-principal investigator. The team's research focuses on designing and evaluating implementation strategies and implementation success across a series of quality improvement projects which apply an overarching theme of activating change through the use of data feedback. In addition, Dr. Damush has developed and evaluated patient self-management interventions to improve the quality of life of veterans with pain and veterans recovering from stroke and TIA. Dr. Damush is also a member of the VA HSR&D Scientific Merit Review Board for The QUERI Implementation Initiatives.
"This award allows me to expand my work into new areas," said Dr. Damush. "I hope to do more research on helping patients manage their conditions. In addition, I will also get the opportunity to mentor junior researchers from around the country."
In addition to her roles at Regenstrief and the VA, Dr. Damush is also a senior research professor of medicine for Indiana University and a research scientist for the Indiana University Center for Health Services and Outcomes Research.