Aging and In-Home Services of Northeast Indiana (AIHS) presented Regenstrief scientist Malaz Boustani, M.D., MPH, with its "Communities for a Lifetime — Awards of Excellence" honor for his work improving the lives of older adults and their family caregivers.
The annual awards recognize people and organizations who contribute to building a livable community for older adults.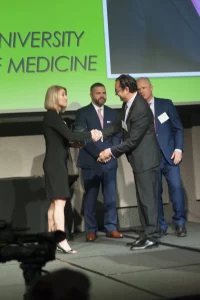 Dr. Boustani works to develop tools, processes and strategies for implementing healthcare solutions. He combines community and healthcare system resources to provide holistic care for individuals and their families. An example of this work is the evidence-based collaborative care model for Alzheimer's disease at the Sandra Eskenazi Center for Brain Care Innovation. Dr. Boustani hopes everyone will be able to benefit from models like this.
"We must create market demand for the Collaborative Alzheimer disease care model, so every patient and family living with Alzheimer's disease have access to this model in their rural, suburban, and urban communities," said Dr. Boustani. "We need to use the tools of implementation science to make sure none of our evidence-based solutions stay on the bookshelves for 17 years."
Dr. Boustani is also an advocate for family caregivers, pushing for Medicare to expand the scope of services covered for both patients and their caregivers.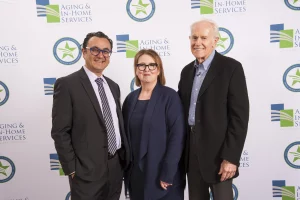 The award was given during the AIHS's annual meeting on Oct. 25 in Fort Wayne, Indiana. Actor Mike Farrell was the special guest speaker at the event. Farrell is best known for his role as Captain B.J. Hunnicutt in the TV series M*A*S*H. He is also a family caregiver and an activist in support of other caregivers.
About Regenstrief Institute
Founded in 1969 in Indianapolis, the Regenstrief Institute is a local, national and global leader dedicated to a world where better information empowers people to end disease and realize true health. The Regenstrief Institute, a key research partner to Indiana University, and its researchers are responsible for a growing number of major healthcare innovations and studies. Examples range from the development of global health information technology standards that enable the use and interoperability of electronic health records to improving patient-physician communications, to creating models of care that inform practice and improve the lives of patients around the globe.
A key research partner to Indiana University, Regenstrief Institute is celebrating 50 years of healthcare innovation. Sam Regenstrief, a successful entrepreneur from Connersville, Indiana, founded the institute with the goal of making healthcare more efficient and accessible for everyone. His vision continues to guide the institute's research mission.
About Malaz Boustani, M.D., MPH
In addition to his role as a research scientist at Regenstrief Institute, Dr. Boustani is the founding director of the Center for Health Innovation and Implementation Science and a professor and the Richard M. Fairbanks Chair in Aging Research at Indiana University School of Medicine.
Dr. Boustani's work is focused on developing tools, processes, and strategies for rapid implementation of evidence-based solutions with the ultimate goal of building an accountable health community. He has integrated the resources of community-based organizations to manage social determinants of health with the resources of the healthcare system to manage medical determinants of health. Such an integration has been manifested in developing, evaluating, implementing, and sustaining the evidence-based collaborative care model for Alzheimer's disease at the Sandra Eskenazi Center for Brain Care Innovation. Such a model has been able to accomplish the quadruple aim of better health, excellent quality, great experience at a lower cost for patients and families living with cognitive impairment, particularly Alzheimer's disease and other related dementia.