Regenstrief Institute welcomed informatics expert James Cimino, M.D., for its January SAM (Scientists Advancing Medicine) Talk, presented in collaboration with the Indiana University School of Informatics and Computing at IUPUI Colloquia Series. Dr. Cimino has been a clinician, an informaticist, a systems architect and an educator for more than 30 years. His specialty is clinical decision support.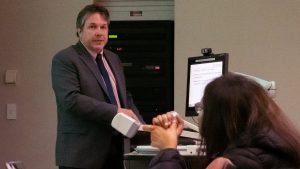 During his presentation, "Putting the 'Why' in 'EHR': Toward the Development of an Ontology for Representing Clinical Reasoning in Clinical Notes," Dr. Cimino spoke about the complaints clinicians have regarding electronic health records. Some of those criticisms include issues with information retrieval, information overload and alert fatigue.
Dr. Cimino shared his belief that those issues can be addressed by including clinicians' reasoning regarding patient conditions and care decisions as structured, controlled statements in the EHR. He called this the "why" of patient care, advocating for providers to answer questions such as: "Why do I think the patient has this symptom?" and "Why am I ordering this test?". He went on to discuss the underlying informatics research queries that must be answered to determine how to best capture and represent this information in the record.
Dr. Cimino is a professor of medicine and the inaugural director of the Informatics Institute at the University of Alabama-Birmingham School of Medicine. He previously served as chief of the Laboratory for Informatics Development at the National Institute of Health Clinical Center and the National Library of Medicine.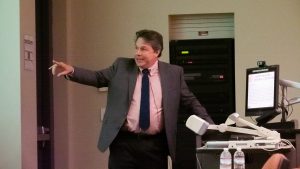 His work aligns closely with much of the decision support research that is conducted at Regenstrief. These SAM Talks are an opportunity for Regenstrief faculty, staff and guests to learn from national and international experts in fields of research related to the work of the institute.
SAM Talks were named for institute founder Sam Regenstrief. He was a successful entrepreneur who ran Design & Manufacturing (D & M) Corporation in Connersville, Indiana. He perfected the performance and manufacturing of the automatic home dishwasher. He also firmly believed that everyone should have access to the best healthcare and that healthcare should function more efficiently. Alongside his wife, Myrtie, Sam Regenstrief founded the Regenstrief Institute in 1969 to conduct research on ways to improve the efficiency and equity of health and healthcare. Their generosity and vision have helped many scientists advance the practice of medicine over the last 50 years.
SAM Talks are taking place throughout the Institute's 50th anniversary year, which lasts through June 2020, along with other celebrations to mark the achievements of the institute. The presentations will continue in the following years to foster the spirit of collaboration that was so important to Sam.