Indiana Governor Eric Holcomb declared Sept. 21-27 as Regenstrief Institute Recognition Week during a visit to Regenstrief Institute. The proclamation commemorates the 50th anniversary of the founding of the institute and celebrates its efforts to address healthcare needs and drive innovation. Regenstrief President and Chief Executive Officer Peter Embí, M.D., M.S., and other senior leadership of the institute were present to witness the honor.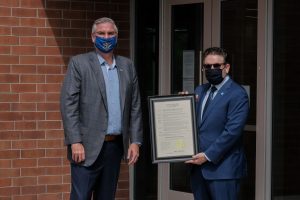 Regenstrief Institute was founded in 1969 by Indiana industrialist and philanthropist Samuel Regenstrief and his wife Myrtie. Today, more than 60 research scientists and nearly 200 staff members support the vision of innovating, applying and implementing solutions to improve human health, working in such important areas as stroke treatment, diagnosis and treatment of depression, doctor-patient relations, health disparities, nursing home care, brain health, advance care planning, electronic medical records, health information exchange, disease surveillance, social determinants of health, opioids and artificial intelligence applications.
While the proclamation from Governor Holcomb focuses on Regenstrief's five decades of achievements, it also highlights the institute's recent collaborative work to develop a dynamic dashboard providing data on COVID-19 cases and trends, as well as continual faculty and staff expertise and support in the effort to address the pandemic in Indiana and beyond.
About Regenstrief Institute
Founded in 1969 in Indianapolis, the Regenstrief Institute is a local, national and global leader dedicated to a world where better information empowers people to end disease and realize true health. A key research partner to Indiana University, Regenstrief and its research scientists are responsible for a growing number of major healthcare innovations and studies. Examples range from the development of global health information technology standards that enable the use and interoperability of electronic health records to improving patient-physician communications, to creating models of care that inform practice and improve the lives of patients around the globe.
Regenstrief Institute is celebrating 50 years of healthcare innovation. Sam Regenstrief, a successful entrepreneur from Connersville, Indiana, founded the institute with the goal of making healthcare more efficient and accessible for everyone. His vision continues to guide the institute's research mission.