INDIANAPOLIS – The OPTIMISTIC study, an innovative program developed and implemented by clinician-researchers from the IU Center for Aging Research at Regenstrief Institute to prevent unnecessary hospitalizations of long stay nursing home residents, has been recognized by the Journal of the American Geriatrics Society as one of 20 articles published from 2000 to 2015 that have shaped the field of geriatrics — the medical care of older adults.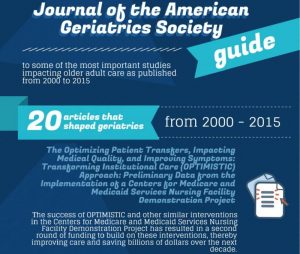 The aim of OPTIMISTIC — an acronym for Optimizing Patient Transfers, Impacting Medical quality and Improving Symptoms: Transforming Institutional Care — is to improve care and communication within nursing facilities and between these facilities and acute-care institutions so problems can be caught and solved, improving quality of care and reducing unnecessary hospital transfers.
Earlier detection and prevention are key to OPTIMISTIC. If not addressed and prevented, problems such as medication errors, lack of advance care planning and delayed recognition of changes in medical status could result in health decline and hospitalization of the nursing facility resident.
The article honored by the journal, "The Optimizing Patient Transfers, Impacting Medical Quality, and Improving Symptoms: Transforming Institutional Care Approach: Preliminary Data from the Implementation of a Centers for Medicare and Medicaid Services Nursing Facility Demonstration Project," was published in Jan. 2015 and focuses on the first years of the initial phase of OPTIMISTIC.
Throughout the initial phase, nurses stationed at the 19 participating nursing facilities in central Indiana provided direct support to long-stay residents and their families as well as education and training to the facility staff. OPTIMISTIC nurses led care management reviews to optimize chronic disease management, reduce unnecessary medications and clarify goals of care.
"OPTIMISTIC is about systems change," noted first author Kathleen T. Unroe, M.D., MHA, Regenstrief Institute investigator, IU Center for Aging Research center scientist and IU School of Medicine assistant professor of medicine. Dr. Unroe is co-director of Phase 1 and director of Phase 2 of OPTIMISTIC. "The recognition of our 2015 OPTIMISTIC study by the leading geriatrics journal is a testament to the hope of leaders in the field that our model will lead to real impact on improving care for nursing home residents."
The IU Center for Aging Research and Regenstrief Institute clinician-researchers chose the acronym OPTIMISTIC to set a tone for how they feel about the potential to improve care for frail older adults. Working with their colleagues and community partners, they are providing education and training in real-world environments, developing a new model of care, and putting increased resources into nursing homes, which they hope will result in system change regionally and across the nation.
"Long-stay nursing facility residents are high-need and high-risk individuals who, before OPTIMISTIC, received insufficient attention in the research arena and have been overlooked to a great extent by health care reform," said Greg A. Sachs, M.D., project co-director of the first phase of OPTIMISTIC and director of the IU School of Medicine's Division of General Internal Medicine and Geriatrics. Dr. Sachs is also a professor of medicine, an IU Center for Aging Research center scientist, a Regenstrief Institute investigator and senior author of the commended study. "With OPTIMISTIC, we work with the residents in the nursing homes where they live to improve many aspects of their lives including chronic disease management — especially for dementia, which affects about half of long-stay residents — as well as ensure that the medical care they receive matches the goals of the residents and their families."
In addition to Dr. Unroe and Dr. Sachs, co-authors of the honored study included Laura R. Holtz, B.S. of the IU Center for Aging Research and the Regenstrief Institute; Ellen Miller, Ph.D. of University of Indianapolis; Susan E. Hickman, Ph.D., of the IU School of Nursing; and Greg Arling, Ph.D., formerly with the IU Center for Aging Research and the Regenstrief Institute and now with Purdue University School of Nursing.  All continue with OPTIMISTIC.
OPTIMISTIC is expected to receive more than $30 million of Centers for Medicare and Medicaid Services funding from the start of the project in 2012 through its projected conclusion in 2020.  This includes $16.9 million awarded earlier this year for the second phase of OPTIMISTIC commencing in October.
At that time, the 19 central Indiana nursing homes that participated in the project's initial phase will be joined by 25 additional nursing homes from across Indiana. Phase 2 will continue phase 1 clinical interventions in the existing facilities and, additionally, test a new CMS payment model that incentivizes nursing facilities and their medical staffs to provide higher levels of care on site rather than sending residents to the hospital. OPTIMISTIC's goal remains the improvement of the health and health care of long-term nursing home residents and ultimately reduction of potentially avoidable hospital admissions of older adults.
OPTIMISTIC is one of 7 demonstration projects nationwide funded by the CMS Innovations Center through the Initiative to Reduce Avoidable Hospitalizations among Nursing Facility Residents.
The authors of "Influence of Studies Published by the Journal of the American Geriatrics Society: Top 20 Articles from 2000–2015" wrote that selection of a study as one of the top 20 articles was based on study objective, relevance of the findings, and effect on current practice.