The Indianapolis Business Journal (IBJ) honored Regenstrief Research Scientist Kurt Kroenke, M.D., MACP, as a Health Care Hero at a breakfast event today, March 9. This yearly award is given to individuals or organizations who are significantly improving the quality of healthcare in Central Indiana.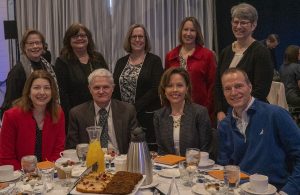 Dr. Kroenke was recognized for his work in the Innovations in Health Care category and was honored as a doctor whose performance on the job is considered exemplary.
He almost single handedly created the field of symptomology to help physicians help their patients confront and conquer often debilitating pain, depression, anxiety and other symptoms. His work is benefiting Indianapolis, the surrounding counties and millions across the country and around the world.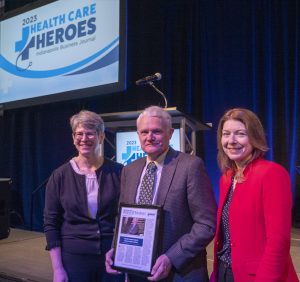 An internationally recognized expert in his field, Dr. Kroenke, has had, and continues to have, a leadership role in the design of simple, yet amazingly effective brief questionnaires for patients that help identify a range of symptoms and issues. Each is only a few questions on paper but are effective on the front line of primary care physician's offices, including those in central Indiana. These succinct instruments have been translated into more than 100 languages. The forms were created with grant dollars and are provided free to any clinician who would like to use them.
In addition to his Regenstrief Institute appointment, he is a professor at IU School of Medicine and Chancellor's Professor of Medicine at IUPUI. He formerly was also a research scientist at Richard L. Roudebush VA Medical Center in Indianapolis.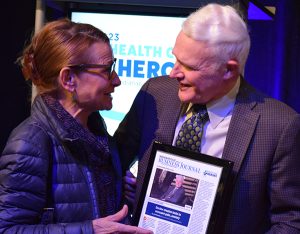 Two of these questionnaires created by Dr. Kroenke are used by the Centers for Medicare and Medicaid Services, the Department of Veterans Affairs and the U.S. Food and Drug Administration and serve as national guidelines in electronic health records and in research and clinical practice settings.
An award-winning mentor, Dr. Kroenke has guided and counselled an entire generation of central Indiana clinical researchers. He believes that true mentorship is a close, dynamic, meaningful reciprocal work relationship benefiting the mentor as well as the mentee.
Dr. Kroenke is appointed to the Psychological Health Subcommittee Health Board at the U.S. Department of Defense. He serves on editorial boards for JAMA–Internal Medicine, General Hospital Psychiatry, Psychosomatic Medicine, and Psychosomatics. In 2018, he was the recipient of the Society of General Internal Medicine's Robert J. Glaser award, the organization's highest award. He has more than 360 articles in peer-reviewed research publications.
IBJ has included a special publication honoring all 2023 Health Care Heroes. The 2023 class of IBJ Health Care Heroes can be found here.
Kurt Kroenke, M.D., MACP  
In addition to his role as a research scientist with the William M. Tierney Center for Health Services Research at Regenstrief Institute, Dr. Kroenke, is also a Chancellor's professor at Indiana University Purdue University Indianapolis and a professor of medicine at Indiana University School of Medicine. 
About Regenstrief Institute 
Founded in 1969 in Indianapolis, the Regenstrief Institute is a local, national and global leader dedicated to a world where better information empowers people to end disease and realize true health. A key research partner to Indiana University, Regenstrief and its research scientists are responsible for a growing number of major healthcare innovations and studies. Examples range from the development of global health information technology standards that enable the use and interoperability of electronic health records to improving patient-physician communications, to creating models of care that inform practice and improve the lives of patients around the globe.  
Sam Regenstrief, a nationally successful entrepreneur from Connersville, Indiana, founded the institute with the goal of making healthcare more efficient and accessible for everyone. His vision continues to guide the institute's research mission.