Regenstrief, Indiana University host National Library of Medicine conference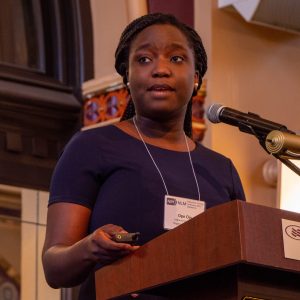 More than 200 biomedical informatics fellows showcased their research and shared ideas at the annual National Library of Medicine Informatics Training Conference. This year's conference was hosted by Regenstrief Institute and Indiana University in downtown Indianapolis, Indiana.
The National Library of Medicine (NLM), an institute of the National Institutes of Health, funds research, development and training in biomedical informatics as well as data science at 16 universities and institutions across the United States. Regenstrief, in collaboration with the IU Richard M. Fairbanks School of Public Health at IUPUI and the IU School of Medicine, manages a program that specializes in public and population health informatics.
Every year, the NLM sponsors the conference, which gathers informatics fellows from all of the training sites. The day-and-a-half conference includes presentations, posters and discussions from trainees in all specialties – healthcare informatics, translational bioinformatics, clinical research informatics, public health informatics, and environmental exposure informatics.

"These trainees are the future leaders of the informatics field. This conference gives them a chance to showcase their work and connect with other trainees as well as faculty from across the country," said Brian Dixon, MPA, PhD, a co-director of the Indiana Training Program in Public and Population Health Informatics at Regenstrief and IU. "I was excited to see all these projects that are on the cutting edge of biomedical informatics." Dr. Dixon is also the public health informatics director at Regenstrief Institute and Fairbanks School of Public Health and an associate professor of epidemiology.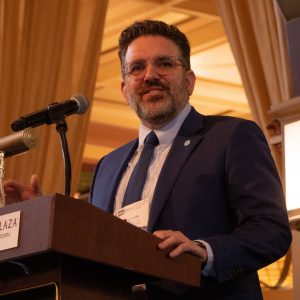 Regenstrief President and Chief Executive Officer Peter Embí, M.D., M.S., and Paul Halverson, DrPH, the founding dean of the Fairbanks School of Public Health, welcomed attendees to the conference. Dr. Embí gave an overview of Regenstrief's accomplishments in the area of biomedical informatics over the last 50 years. Dr. Halverson spoke about the role informatics plays in building the nation's public health infrastructure.
National Library of Medicine Director Patti Brennan, R.N., PhD, spoke to the trainees about the importance of their participation in the national policy conversation on health informatics.
Dr. Brennan said this conference is crucial to building the foundation that leads to career engagement with trainees.

"Every time I come to this conference, I think the future of the NLM is brighter and brighter because we have more young people thinking critically about how to best use data, how to make sure technological advances are well apprised to the problems of health and healthcare, and importantly, thinking about the intersection of biomedicine, health and consumer health concerns with technology and emerging futures," Dr. Brennan explained.  "From this meeting, we see research ideas that we will be funding for years to come."

"At this conference, we are creating the future of computer use in healthcare," said Titus Schleyer, DMD, PhD, co-director of the Indiana training program based at Regenstrief and IU. "A lot of the innovations we hear about here will eventually become innovations in the marketplace. It's a great thing to be at the source of innovation in healthcare." Dr. Schleyer is a professor at IU School of Medicine and a Regenstrief research scientist.
Informatics fellows say they enjoyed the chance to share research with their contemporaries. "It's been nice to meet other trainees. I really learned a lot listening to them talk about their research," said Opeyemi Ojo, MPH, a pre-doctoral fellow at IU and Regenstrief. "I feel charged up after this conference. I'm excited to do more research and maintain the relationships I've developed."
"This event gives us the opportunity to celebrate what we're all doing as biomedical informaticists. You get ideas from other areas of informatics outside of your area of study. It's a great way to exchange ideas within the world of biomedical informatics," added Nate Apathy, a pre-doctoral fellow at IU and Regenstrief.
The event was hosted at Union Station in downtown Indianapolis. As part of the event, participants also got the chance to tour and dine at Lucas Oil Stadium.
Learn more about the Indiana Training Program in Public and Population Health Informatics here.