Republished from News at IU
In response to the COVID-19 pandemic, the Indiana State Department of Health has formed a partnership with Probari Inc., a Central Indiana startup committed to improving the overall health care experience of residents at nursing homes and long-term care facilities.
The agreement was reached to provide training and support to more than 500 nursing homes across the state, working alongside staff at the ISDH.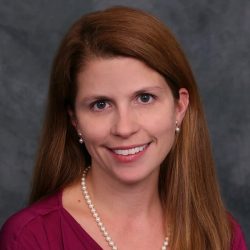 "We're honored to be able to support the state in its effort to fight the COVID-19 pandemic," said Probari CEO Kathleen Unroe, M.D., MHA, an associate professor in the Indiana University School of Medicine and a scientist at the IU Center for Aging Research at Regenstrief Institute. "With information changing so rapidly, it's critical that the most up-to-date treatment and prevention methods are communicated quickly and efficiently to facilities across the state."
Over the next weeks, Probari registered nurses will be in contact with assisted-living facilities and nursing homes where residents or staff have already tested positive for COVID-19 or are at high risk for outbreaks. These nurses will educate staff in the latest guidance from the ISDH and the Centers for Disease Control and Prevention.
Supported by the Probari team's daily conversations with ISDH, the Probari RNs will elevate the quality of care for all residents by bringing the most up-to-date training on infectious disease control and prevention.
The eight-year initiative that led Probari to market was originally supported by $30.3 million in funding from the Centers for Medicare and Medicaid Innovation. That support went to a partnership between the IU School of Medicine, IU School of Nursing and IU Center for Aging Research, along with the Regenstrief Institute and the University of Indianapolis, that developed the OPTIMISTIC Care Model.
The OPTIMISTIC model is designed to reduce avoidable hospitalizations and better provide personalized care in the nursing home. Nineteen nursing homes participated in Phase 1 of the project from 2012 to 2016 and saw exceptional results, including a 33 percent reduction in the relative risk of hospitalization for residents of these facilities.
Those outcomes demonstrated to Unroe and the rest of the team how essential and needed the program was. In 2018, IU Ventures helped Unroe develop a go-to-market plan for a startup — now known as Probari — that would continue working to reduce the number of unnecessary transfers from nursing homes to emergency rooms and hospitals. Regenstrief Institute invested in Probari and holds a stake in the company. In addition to its operational investment, Regenstrief also is assisting in the development of a companion app for the Probari program. The startup also received a $150,000 investment from the IU Philanthropic Venture Fund.
"It is a privilege for our fund to be among the founding investors in Probari and have this opportunity to support Kathleen and her talented, determined team and board as they make such an important impact during this difficult time," said Teri Willey, fund manager and IU Ventures executive director.
While Probari founders and staff never anticipated their skills would be called on during a pandemic, it's a crisis that isn't too far beyond the scope of their typical services.
"The goal of reducing avoidable hospitalizations starts with early detection of the onset of symptoms, with a swift and appropriate response," Unroe said. "The same vigilance will help facilities across Indiana control the pandemic within their walls, while the resulting training will have benefits far beyond this crisis."
About IU Ventures
IU Ventures is a Code Section 501(c)(3) organization dedicated to empowering Indiana University faculty, alumni and friends to support and invest in IU-affiliated innovation. Through the IU Philanthropic Venture Fund and the IU Angel Network, IU Ventures works to provide opportunities for individuals affiliated with IU to network with fellow entrepreneurs; build innovative new businesses; and support growing enterprises through donations, investments, time and talents.