Regenstrief research scientists shared their research and thoughts about the future of healthcare in Indiana at the annual BioCrossroads Indiana Life Sciences Summit. Former Regenstrief leader, Clem McDonald, M.D., gave the keynote address and was also honored for his contributions to health information technology.
McDonald Awarded Watanabe Life Sciences Champion of the Year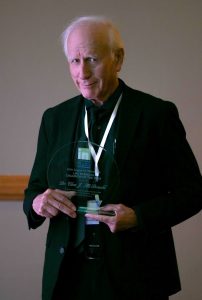 BioCrossroads awarded Dr. McDonald the 2019 August M. Watanabe Life Sciences Champion of the Year Award for his unprecedented impact on HIT and digital health in Indiana and around the world. During his time at Regenstrief, Dr. McDonald developed one of the nation's first electronic medical record systems and community-wide clinical data repositories. He also led the development of Logical Observation Identifier Names and Codes (LOINC), which is the world's most widely used coding system for identifying medical tests, observations and documents.
Dr. McDonald is currently the chief health data standards officer at the National Library of Medicine. He was the director of Regenstrief Institute before joining the NLM, and the Regenstrief Center for Biomedical Informatics is named after him.
BioCrossroads presents the Watanabe Award annually to an individual or organization that has made or enabled unique achievements in the development of Indiana's life sciences and healthcare research, clinical, educational or economic advancement. The award is named after the late chairman of the BioCrossroads board of directors and a former leader of Regenstrief Institute.
During his keynote address at the Life Sciences Summit, Dr. McDonald reflected on the successful health IT innovations he has developed throughout his career and how they've helped to improve healthcare.
Regenstrief scientists present contributions to life sciences
Three Regenstrief research scientists led discussions on Indiana's life sciences industry.

Christopher Callahan, M.D., gave a presentation on the collaborative care model for Alzheimer's disease and related dementias that is used at the Sandra Eskenazi Center for Brain Care Innovation. Through this approach, a team of providers works with the patient and his or her family and caregivers to provide holistic care. The team includes physicians, nurses, psychologists, care coordinators and social workers.
This model has proven to significantly improve patient and caregiver outcomes and reduce costs. In addition to his role at Regenstrief, Dr. Callahan is a professor at Indiana University School of Medicine and the chief research and development officer at Eskenazi Health.

Regenstrief researcher Malaz Boustani, M.D., spoke on the obstacles to properly screen and diagnose Alzheimer's and dementia. He said current research finds there is neither harm nor benefits to screening for cognitive impairment during primary care visits, but he says other settings and methods may be more promising.
He also spoke about the common reasons that people avoid dementia screenings. Those include fear of diagnosis, fear of quality of life changes, and stigma associated with Alzheimer's disease. Dr. Boustani is also a professor at IU School of Medicine and the founding director of the Center for Health Innovation and Implementation Science.

Artificial intelligence is a field in which Regenstrief is doing a significant amount of work. Researcher Joshua R. Vest, PhD, participated in a panel discussion with leaders from Eli Lily, Roche and Simplex on the role of AI and automation in healthcare. They talked about the possibilities for advancement that the technology offers, as well as the importance of data standards. Dr. Vest is also an associate professor and the director at the Center for Health Policy at the Indiana University Richard M. Fairbanks School of Public Health at IUPUI.
The Indiana Life Sciences Summit is organized by BioCrossroads, an Indiana initiative to grow, advance and invest in life sciences in the state.