Regenstrief Institute research scientist Sarah E. Wiehe, M.D., MPH, will co-lead the Indiana Clinical and Translational Sciences Institute (CTSI) along with Sharon M. Moe, M.D. Indiana CTSI is focused on improving health in Indiana through a research partnership among the state's leading research universities of Indiana University (IU), Purdue University and the University of Notre Dame.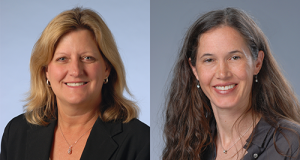 The co-leaders are splitting their leadership responsibilities across the translational research spectrum. Dr. Moe is directing the earlier stages of research as it advances from the lab to the patient, and Dr. Wiehe is focusing her attention on the later phases, directing research from the patient to the general population.
Dr. Wiehe is a pediatrician and public health researcher. Her research focuses on how poverty, associated social determinants of health and context influence health-risk behaviors and outcomes for children, adolescents and young adults. She leverages existing data to identify mechanisms and opportunities for intervention to improve health among vulnerable populations.
She has spent six years as director of the Community Health Partnerships program of the Indiana CTSI. She is carrying that experience into her new position by sharing research from the Indiana CTSI on a national scale.
Dr. Wiehe is associate dean for community and translational research at Indiana University School of Medicine and an associate professor of pediatrics.
Dr. Wiehe and Dr. Moe are taking over for Indiana CTSI founding director Anantha Shekhar, MD, PhD, who – after 36 years of service – retired as IU Distinguished Professor Emeritus.
About Regenstrief Institute
Founded in 1969 in Indianapolis, the Regenstrief Institute is a local, national and global leader dedicated to a world where better information empowers people to end disease and realize true health. A key research partner to Indiana University, Regenstrief and its research scientists are responsible for a growing number of major healthcare innovations and studies. Examples range from the development of global health information technology standards that enable the use and interoperability of electronic health records to improving patient-physician communications, to creating models of care that inform practice and improve the lives of patients around the globe.
Regenstrief Institute is celebrating 50 years of healthcare innovation. Sam Regenstrief, a successful entrepreneur from Connersville, Indiana, founded the institute with the goal of making healthcare more efficient and accessible for everyone. His vision continues to guide the institute's research mission.
About Indiana CTSI
The Indiana Clinical and Translational Sciences Institute (CTSI) was founded in 2008 by Anantha Shekhar, M.D., PhD. Recognized as a statewide institute supported by a Clinical and Translational Science Award from the National Institutes of Health's (NIH) and the National Center for Advancing Translational Science.
Indiana CTSI has research partnerships with Indiana University, Purdue University, and the University of Notre Dame which also includes life sciences, businesses and community organizations. Furthermore, Indiana CTSI engages with the public at every level of research from basic science to patient care.