Ground-breaking work of more than a dozen Regenstrief Institute, Indiana University School of Medicine and Indiana University Richard M. Fairbanks School of Public Health at IUPUI researchers was presented at this year's annual American Medical Informatics Association (AMIA) Symposium, Nov. 3-7. Regenstrief experts participated in presentations, panels, poster sessions and learning showcases.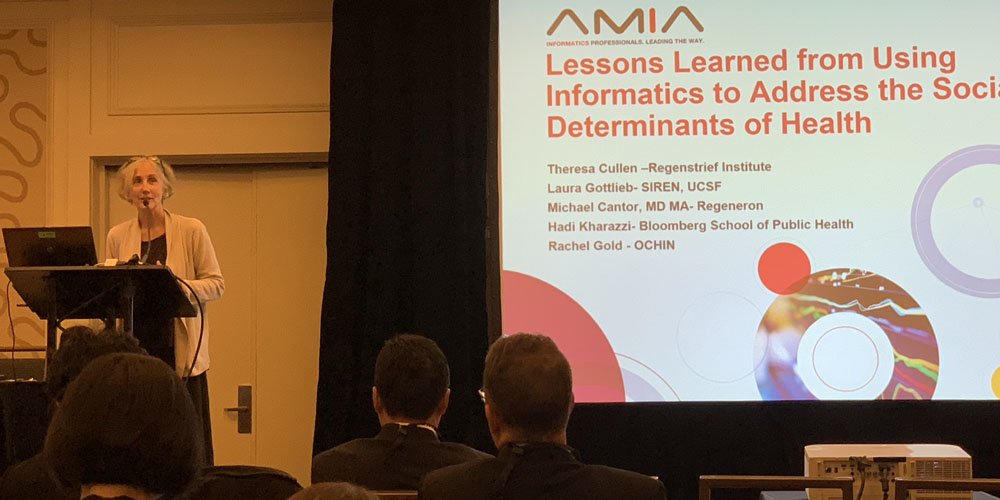 Among the topics for oral presentations were identification, management and mortality prediction information needs and requirements for clinical decision support in primary care, HIV case-based surveillance in Africa using medical and health records from OpenMRS and Open HIE and genetic mutations associated with histopathology changes in kidney cancer.
Regenstrief researchers also participated in several panels, including sessions on lessons learned from using informatics to address the social determinants of health, challenges and solutions to patient record matching and implementation science for global health informatics projects.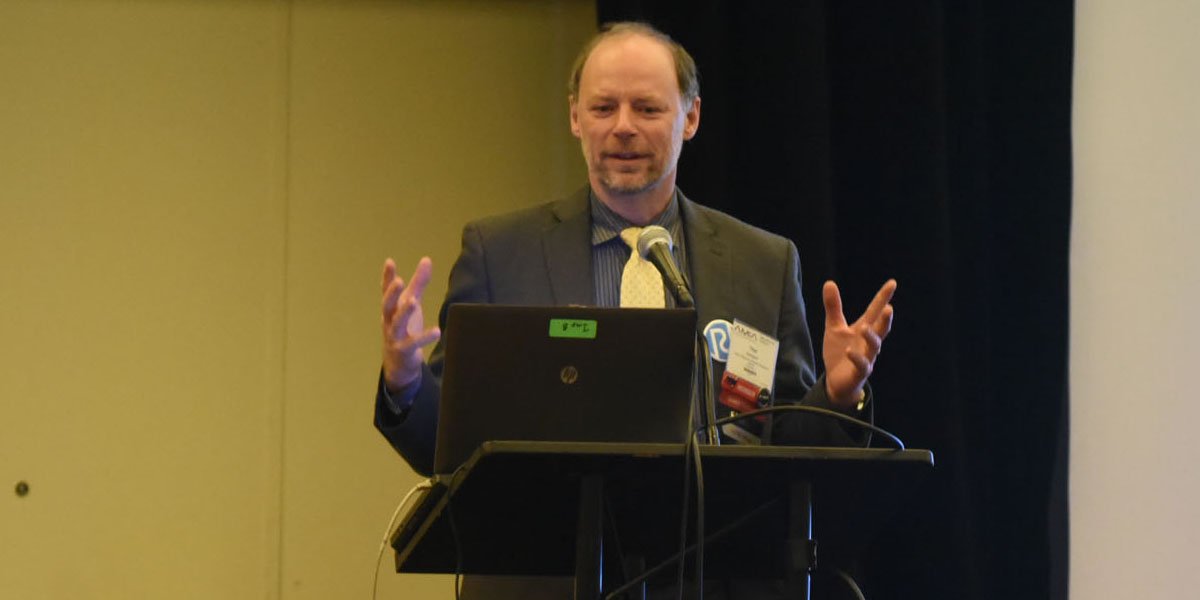 Regenstrief investigator Titus Schleyer, D.M.D., Ph.D. led a FHIR® application showcase. AMIA and Health Level-7 International partnered for the fast-paced presentation showing cutting-edge apps in practice. Some of the presenters included the MITRE Corporation's Pain Management Summary: A SMART on FHIR Dashboard for Managing Pain and Emory University's DeepAISE on FHIR — an Interoperable Real-Time Predictive Analytic Platform for Early Prediction of Sepsis.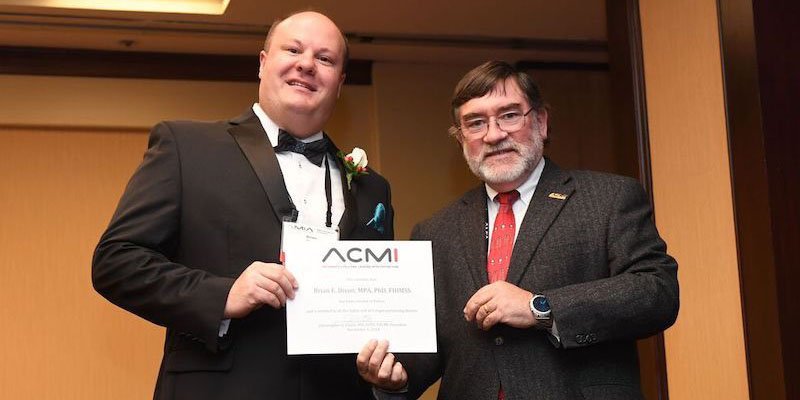 In addition, Brian Dixon, Ph.D., was inducted as a new American College of Medical Informatics fellow at the conference.
Uppstroms, an app created by the team from Regenstrief and IU Fairbanks School of Public Health won first place in the AMIA Pitch IT competition. It uses social determinants of health to identify patients in need of social services. The team was led by Regenstrief scientist and IU Fairbanks School of Public Health Center of Health Policy Director Josh Vest, Ph.D. and included Shaun Grannis, M.D., Suranga Kasthurirathne, Ph.D., Nir Menachemi, Ph.D. from Regenstrief and Paul Halverson, DrPH, the founding dean of IU Fairbanks.
AMIA is the leading professional association for informaticians, and its mission is to use informatics to transform health care. AMIA and its members play a leading role in assessing the effect of health innovations on health policy and advancing the field of informatics. Three Regenstrief Institute faculty sit on the organization's board of directors, including Peter Embi, M.D., who is the chair.
The AMIA annual symposium brings together informatics professionals from diverse backgrounds. It is the premier informatics event.
Regenstrief researchers lead the way in informatics research. Their work is widely recognized for its global role in improving quality of care, efficiency of healthcare delivery, reducing medical errors and enhancing patient safety.
Regenstrief Oral Presentations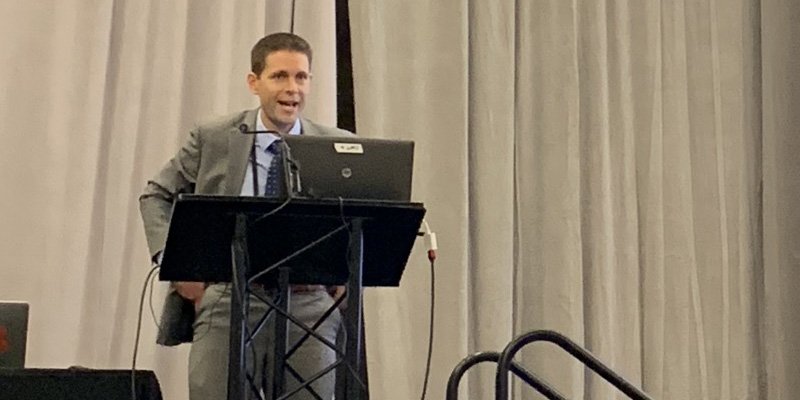 Identification, Management, and Mortality Prediction Information Needs and Requirements for Decision Support in Primary Care: An Analysis of Chronic Pain Care
Christopher Harle, Nate Apathy, and Burke Mamlin
Presenter – Dr. Harle, graduate of Carnegie Mellon University; University of Florida; Rockledge High School, Rockledge, FL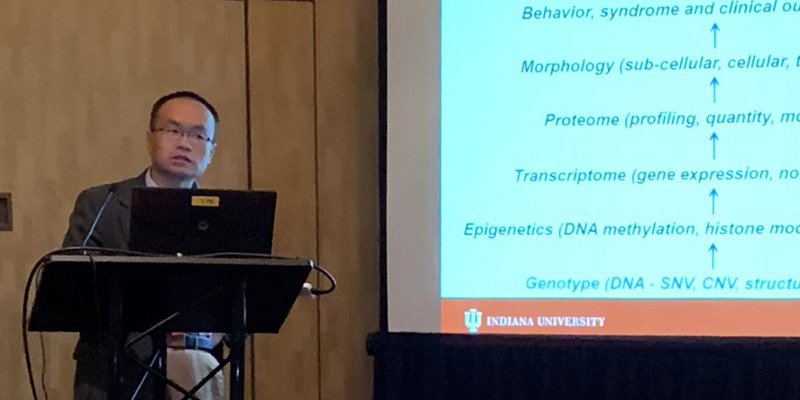 Genetic Mutations Associated with Histopathology Changes in Kidney Cancer
Kun Huang and Zhi Han
Presenter – Dr. Huang, graduate of University of Illinois at Urbana-Champaign; Tsinghua University (School of Life Sciences), Beijing, China; No.1 High School in Zhengzhou, Zhengzhou, Henan Province, China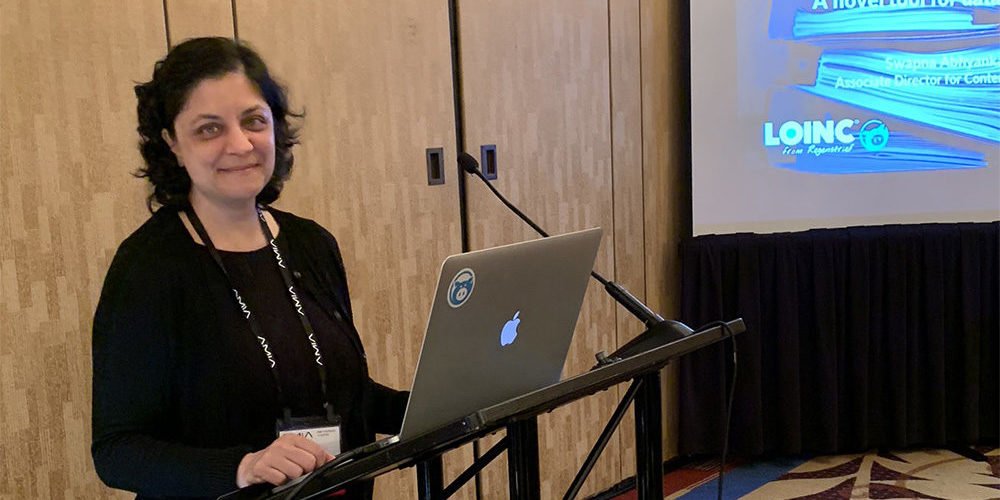 LOINC Groups: A novel tool for data aggregation
Swapna Abhyankar, Mary Zabriskie, John Hook, Timothy Briscoe, John Finnell, and Dan Vreeman
Presenter – Dr. Abhyankar, graduate of University of Michigan Medical School; Stanford University; Walt Whitman High School, Bethesda, MD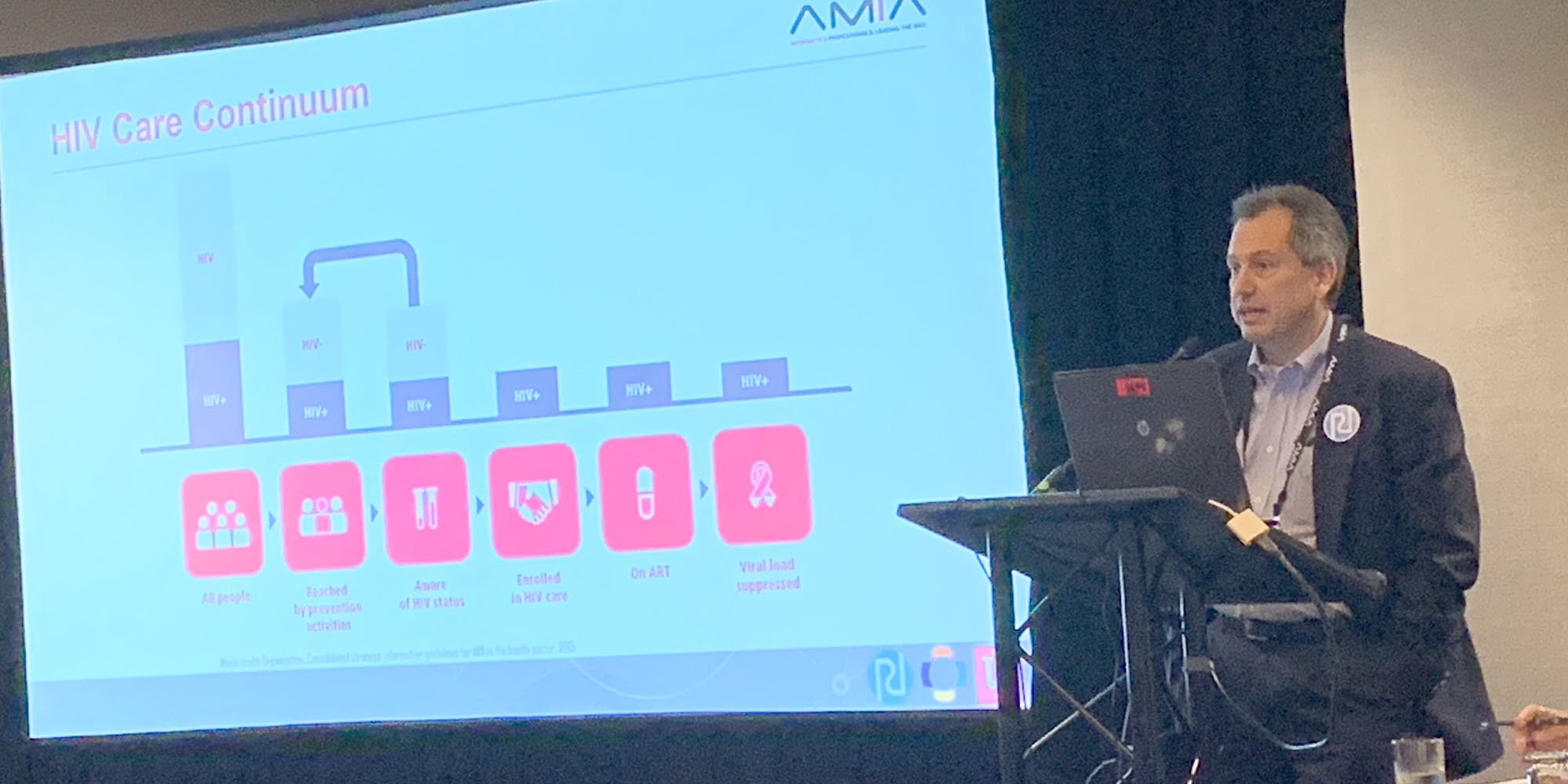 HIV Case-Based Surveillance in Africa Using OpenMRS and Open HIE
Burke Mamlin and Theresa Cullen
Presenter – Dr. Mamlin, graduate of Indiana University School of Medicine; Wesleyan University; Northfield Mount Hermon (NMH), Gill, MA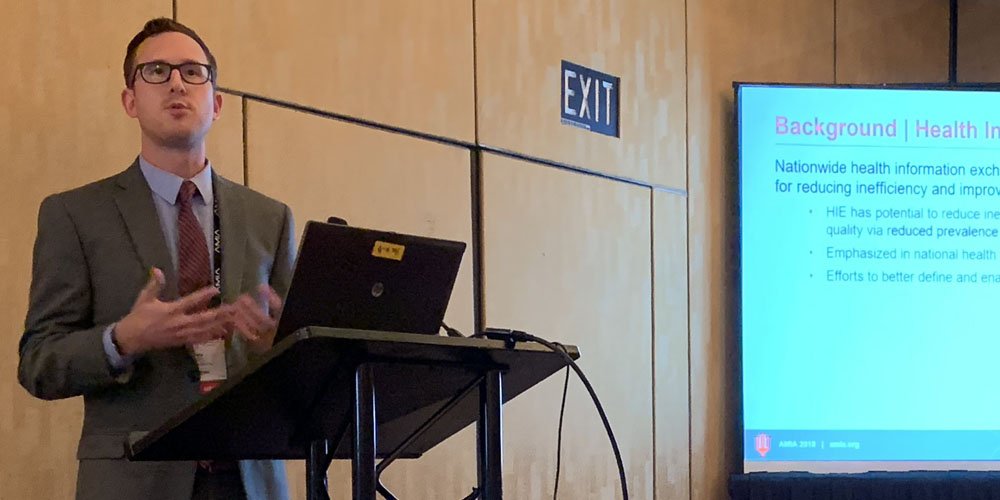 Patient consent policies for state health information exchange and level of provider exchange
Nate Apathy and Chris Harle
Presenter – Nate Apathy, graduate of Creighton University; Rockhurst High School, Kansas City, MO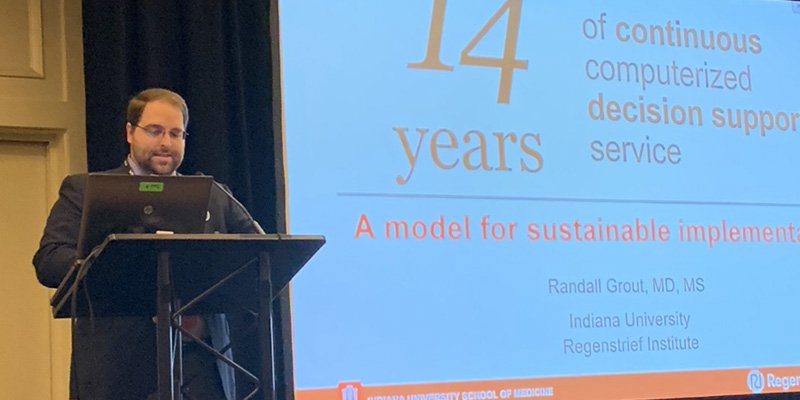 Fourteen years of continuous computerized decision support service: A model for sustainable implementation
Randall Grout and Stephen Downs
Presenter – Dr. Grout, graduate of University of Iowa; Missouri State University; Mount Vernon High School, Mount Vernon, MO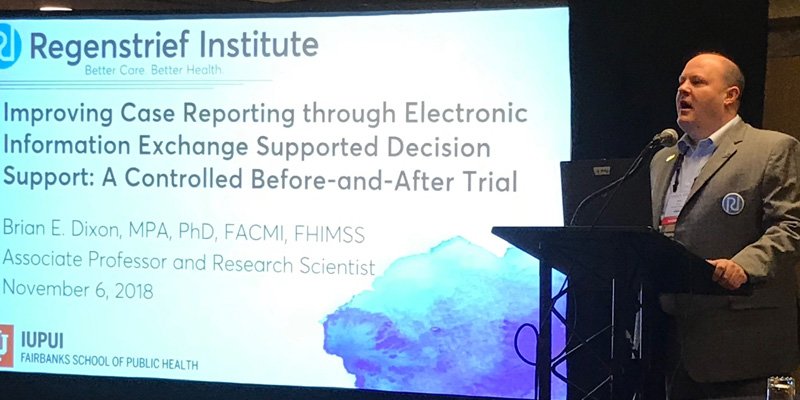 Improving Population Health Reporting through Information Exchange Supported Decision Support: A Controlled Before-and-After Trial
Brian Dixon, Zuoyi Zhang, and Shaun Grannis
Presenter – Dr. Dixon, graduate of Indiana University School of Informatics and Computing; Indiana University School of Public and Environmental Affairs; DePauw University; William Henry Harrison High School, Evansville, IN
Assessing Information Congruence of Documented Cardiovascular Disease between Electronic Dental and Medical Records
Jay Patel (SOIC) and Thankam Thyvalikakath
Presenter – Dr. Patel, graduate of Rutgers School of Health Professions; A.J. Institute of Dental Sciences Karnataka, India; Divan Ballubhai High School, Gujarat, India
Identifying dominant inpatient trends leveraging electronic physician orders: The Medical Gopher 1993-2016
Paul Dexter, Jeff Warvel, and Blaine Takesue
Presenter – Dr. Dexter, graduate of Indiana University School of Medicine; Carleton College
Scientific Evidence Now Links Health Information Exchange to A Wide Range of Benefits
Saurabh Rahurkar, Joshua Vest, Chris Harle, and Nir Menachemi
Presenter – Dr. Rahurkar, graduate of University of Alabama at Birmingham School of Public Health; Maharashtra University of Health Sciences; Atomic Energy Junior College, Mumbai, India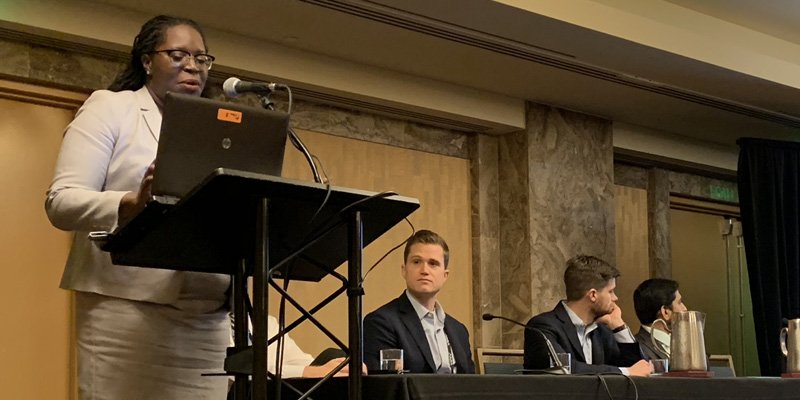 Examining the Heartland Region Pilot: First Look at the Patient-Centered Data HomeTM Framework
Karmen Williams and Shaun Grannis
Presenter – Dr. Williams, graduate of Georgia Southern University Jiann-Ping Hsu College of Public Health; Georgia Southern University College of Business Administration; Prairie View A&M University; Meharry Medical College; Northeastern State University; Muskogee High School, Muskogee, OK
Regenstrief Panel Participants
Lessons Learned from Using Informatics to Address the Social Determinants of Health
Theresa Cullen – Panel Member, graduate of University of Wisconsin; University of Arizona College of Medicine; Johnston College
The Linchpin of Interoperability: Challenges and Solutions to Patient Record Matching
Shaun Grannis – Panel Member, graduate of Indiana University Richard M. Fairbanks School of Public Health, Michigan State College of Human Medicine, Massachusetts Institute of Technology
Improving Longitudinal Care Coordination with Person-centered Electronic (e-)Care Plans: Lessons from Efforts in Chronic Kidney Disease
Theresa Cullen – Panel Member, graduate of University of Wisconsin; University of Arizona College of Medicine; Johnston College
Implementation Science for Global Health Informatics Projects
Paul Biondich – Panel Member, graduate of Indiana University; University of Florida College of Medicine; Emory University
Development and Implementation of HIT to Support NCDs in Low and Middle Income Countries
Theresa Cullen – Panel Member, graduate of University of Wisconsin; University of Arizona College of Medicine; Johnston College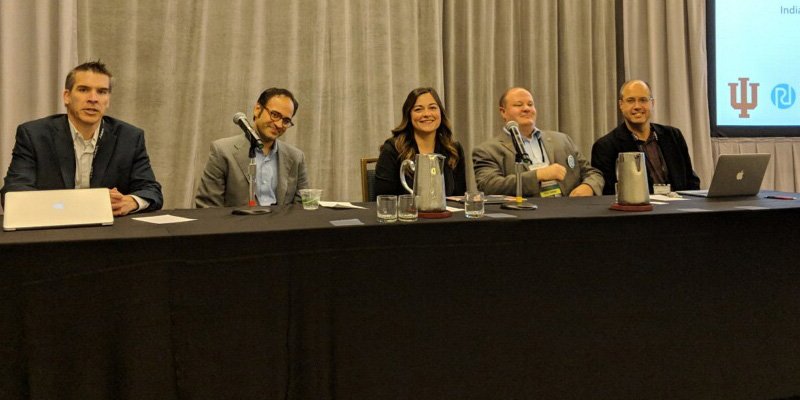 Navigating the Exposome: Real-world Experiences Connecting Environment, Community, and Behavior to Health
Panel Members:
Brian Dixon, graduate of Indiana University School of Informatics and Computing; Indiana University School of Public and Environmental Affairs; DePauw University; William Henry Harrison High School Evansville, IN
Joshua Vest, graduate of Texas A&M School of Public Health; St. Louis University; Truman State; Parkway West High School Ballwin, MO
Shaun Grannis, graduate of Indiana University Richard M. Fairbanks School of Public Health, Michigan State College of Human Medicine, Massachusetts Institute of Technology
Informatics Needs and Solutions to Support Safe Opioid Prescribing and Effective Pain Care
Chris Harle – Panel Member, graduate of Carnegie Mellon University; University of Florida; Rockledge High School, Rockledge, FL
Regenstrief Poster Presentations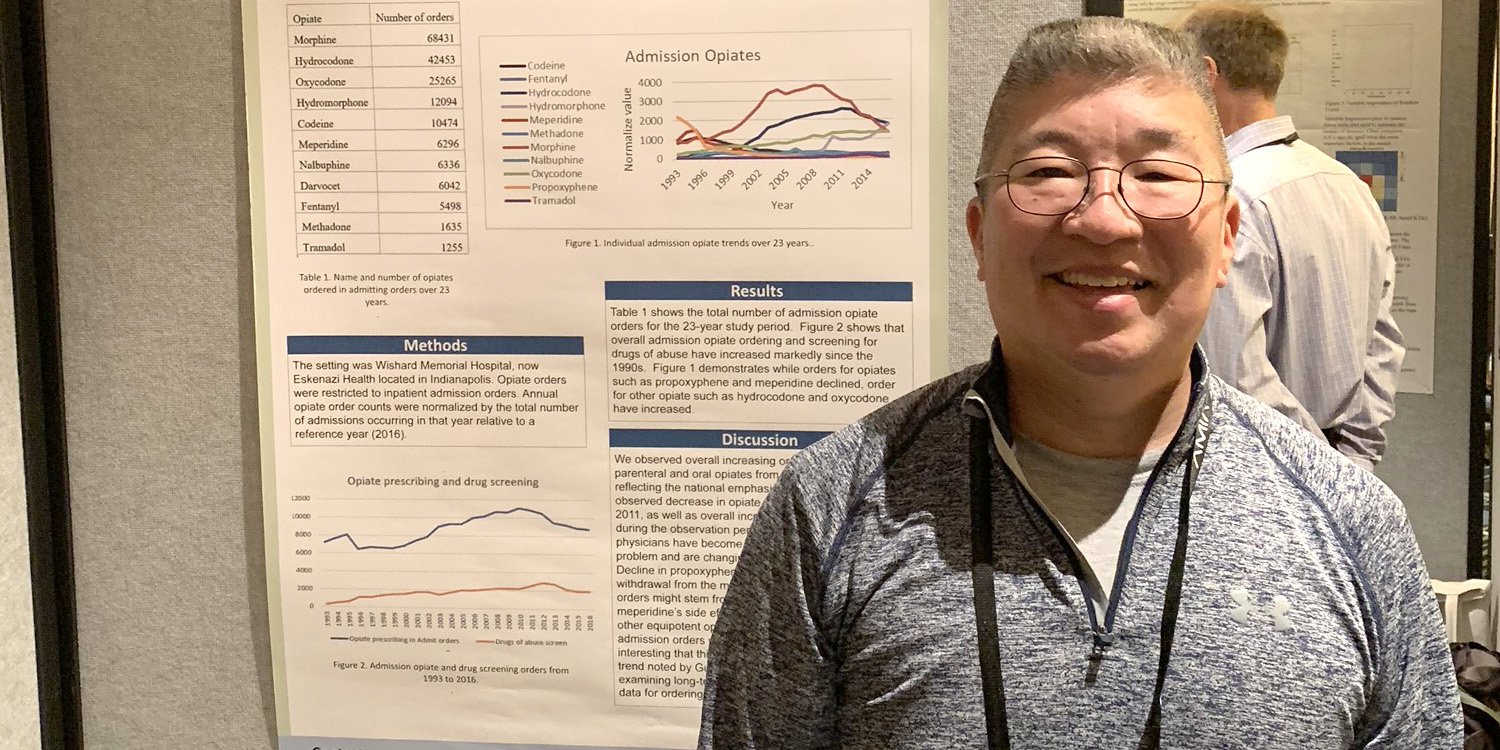 Admission opiate ordering patterns over 23 years: analysis of electronic health record data from the Regenstrief Gopher
Blaine Takesue, Jeff Warvel, and Paul Dexter
Presenter – Dr. Takesue, graduate of University of Illinois at Chicago; Muhlenberg College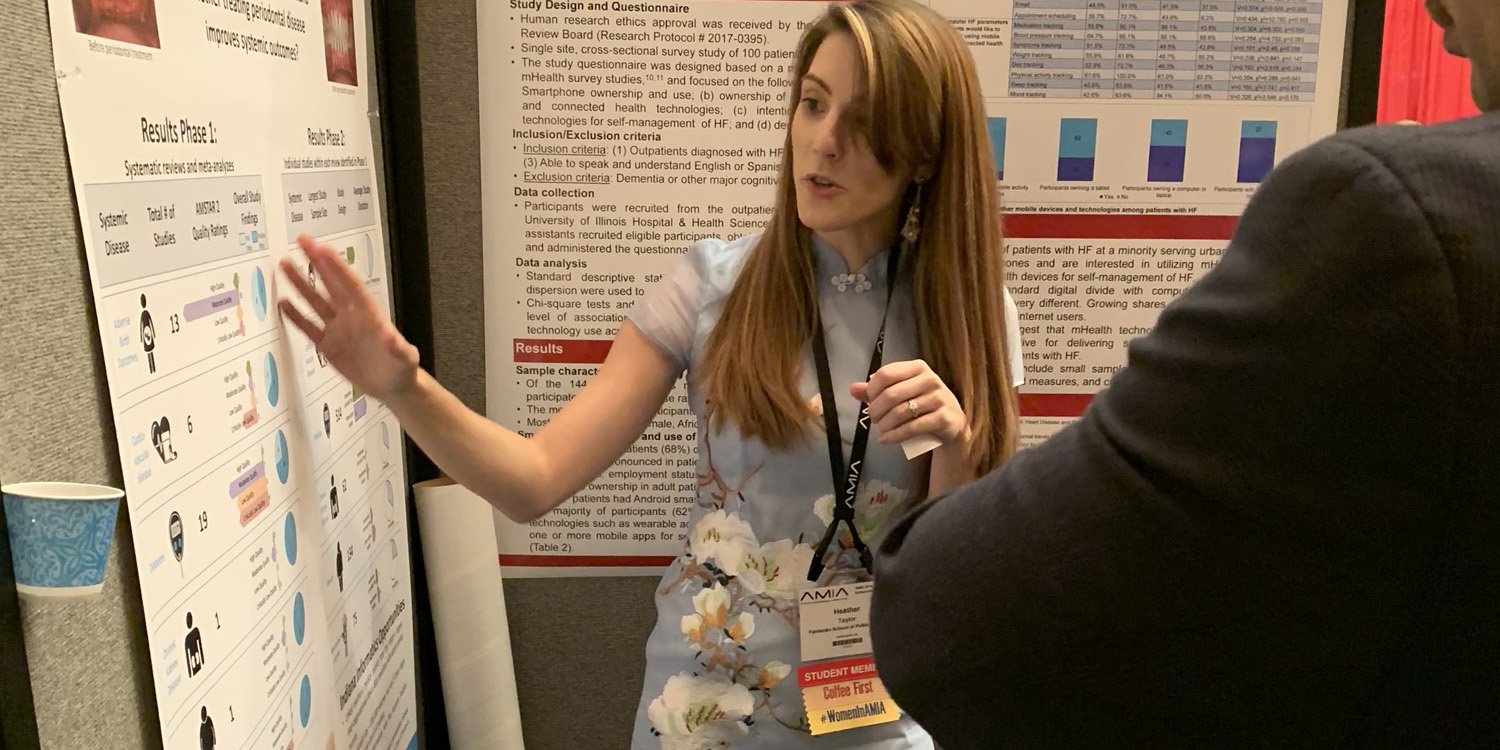 Does treating periodontal disease improve the risk for and outcomes of systemic disease? An opportunity for public health informatics research
Heather Taylor and Titus Schleyer
Presenter – Heather Taylor, graduate of Indiana University Richard M. Fairbanks School of Public Health; Indiana University School of Dentistry
Developing a national dashboard to help manage the opioid epidemic using toxicology laboratory results data
Presenter – Titus Schleyer, graduate of Goethe Universität, Frankfurt, Germany; Temple University; Celtis Gymnasium, Schweinfurt, Germany
A Systematic Review and Proposed Validation Study to Evaluate the Accuracy of ICD Codes for the Identification of Chlamydia, Gonorrhea, and Syphilis
Saurabh Rahurkar, Yenling Ho, Brian Dixon
Presenter – Dr. Rahurkar, graduate of University of Alabama at Birmingham School of Public Health; Maharashtra University of Health Sciences; Atomic Energy Junior College, Mumbai, India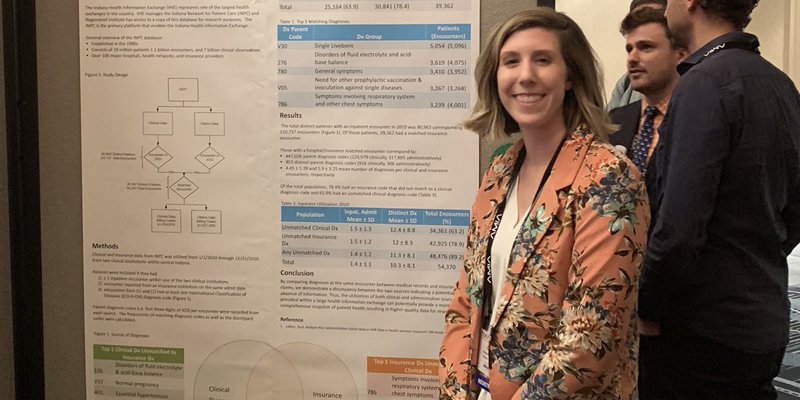 Comparing Frequency of Diagnoses from Electronic Medical Record to Insurance Institutions
Katie Bickett and Tim Imler
Presenter – Katie Bickett, graduate of University of Louisville School of Public Health and Information Sciences; University of Southern Indiana; Gallatin County High School, Junction, IL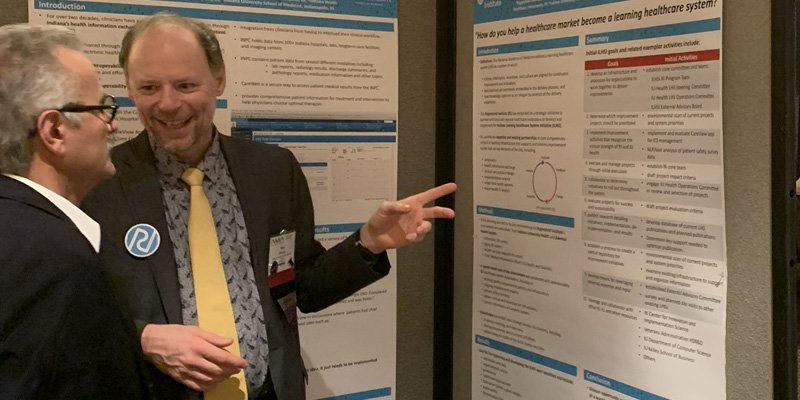 Developing the Indiana Learning Health System Initiative
Titus Schleyer, Christopher Callahan, Linda Williams, Christopher Frederick and Peter Embi
Presenter – Dr. Schleyer, graduate of Temple University; Goethe Universität, Frankfurt, Germany; Celtis Gymnasium, Schweinfurt, Germany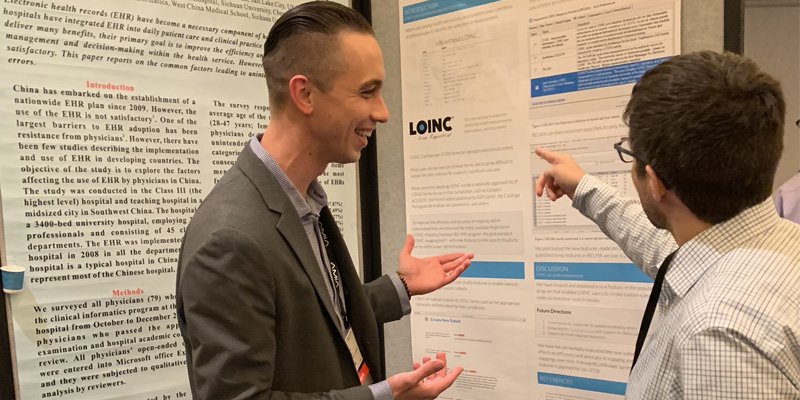 Improving LOINC Mapping through Targeted Subsets
Daniel Vreeman, John Hook, Timothy Briscoe and Swapna Abhyankar
Presenter – Dr. Vreeman, graduate of Duke University; Cornell University; Grand Rapids Christian High School, Grand Rapids, MI
Improving Mapping Accuracy with a Guide for LOINC Microbiology Terms
Swapna Abhyankar, Mary Zabriskie, Katie Allen and Daniel Vreeman
Presenter – Dr. Abhyankar, graduate of University of Michigan Medical School; Stanford University; Walt Whitman High School, Bethesda, MD
Leveraging FHIR to integrate information from a health information exchange directly with the clinical workflow in Cerner
Titus Schleyer, Jason Schaffer
Presenter – Dr. Schleyer, graduate of Goethe Universität, Frankfurt, Germany; Temple University; Celtis Gymnasium, Schweinfurt, Germany
Notifying VA Primary Care Providers of Acute Care Events outside the VA Health System: Perceptions from Veterans
Brian Dixon
Presenter – Dr. Dixon, graduate of Indiana University School of Informatics and Computing; Indiana University School of Public and Environmental Affairs; DePauw University; William Henry Harrison High School, Evansville, IN
Physician prescribing and patient usage patterns of sleeping medications: Opportunities for clinical decision support
Paul Dexter, Siu Hui
Presenter – Dr. Dexter, graduate of Indiana University School of Medicine; Carleton College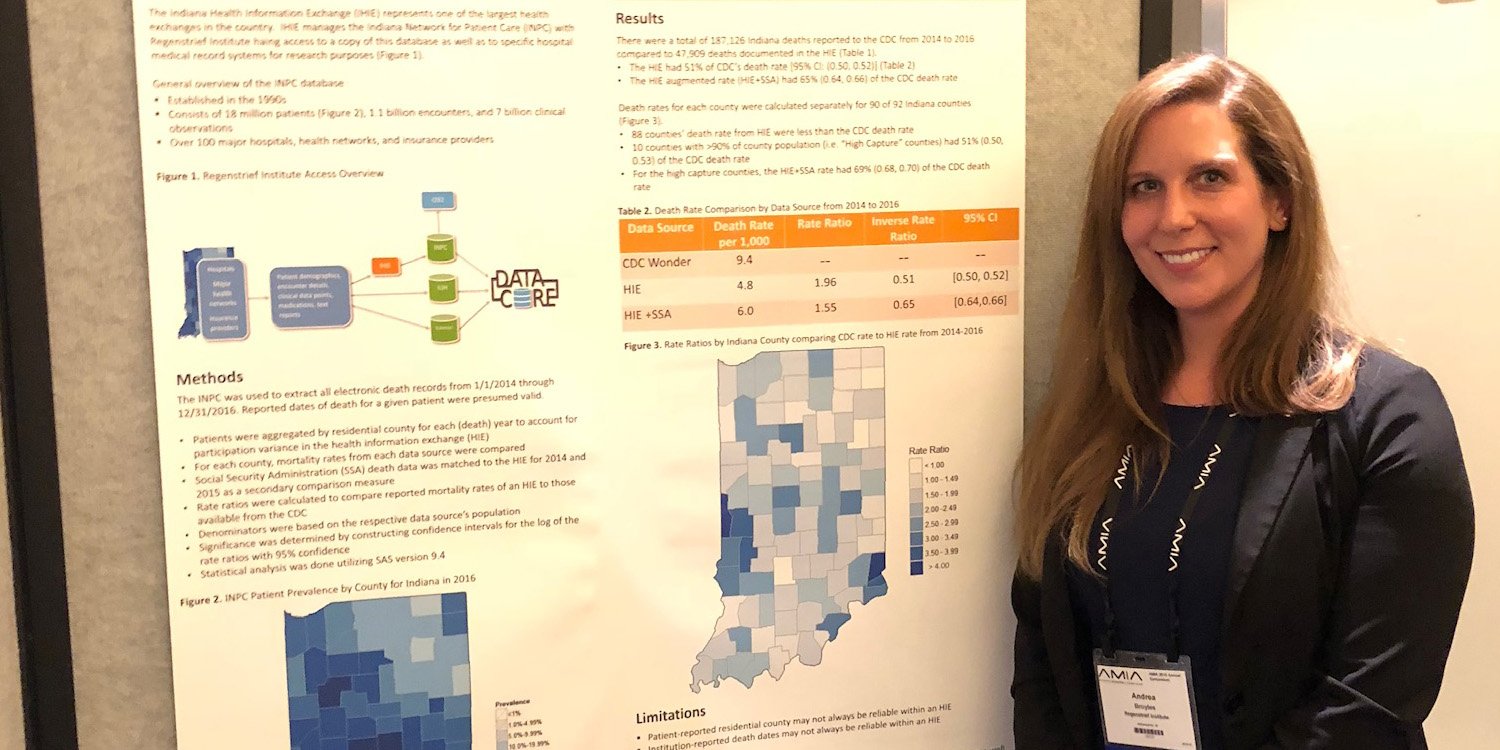 Mortality Reporting Completeness in a Health Information Exchange
Andrea Broyles, graduate of Indiana University Richard M. Fairbanks School of Public Health; Purdue University; North Montgomery High School, Crawfordsville, IN