Eskenazi, Regenstrief, IU School of Medicine professionals discuss groundbreaking operations
A representative of the Centers for Medicare and Medicaid Services (CMS) Innovation Center visited Indianapolis to talk with groundbreaking collaborative dementia care professionals and their work that's influenced a shift in a national program and payment model.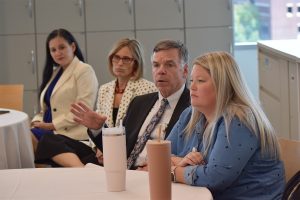 In July, CMS announced a voluntary national program that will test alternative payment for participants who deliver key supportive services to people with dementia. The Guiding an Improved Dementia Experience (GUIDE) program addresses the needs of unpaid caregivers for individuals with Alzheimer's disease and related dementia. The model will run for eight years beginning July 1, 2024. GUIDE is the first model established by the Innovation Center that directly addresses the needs of unpaid caregivers, usually family, of individuals living with Alzheimer's disease and related dementia.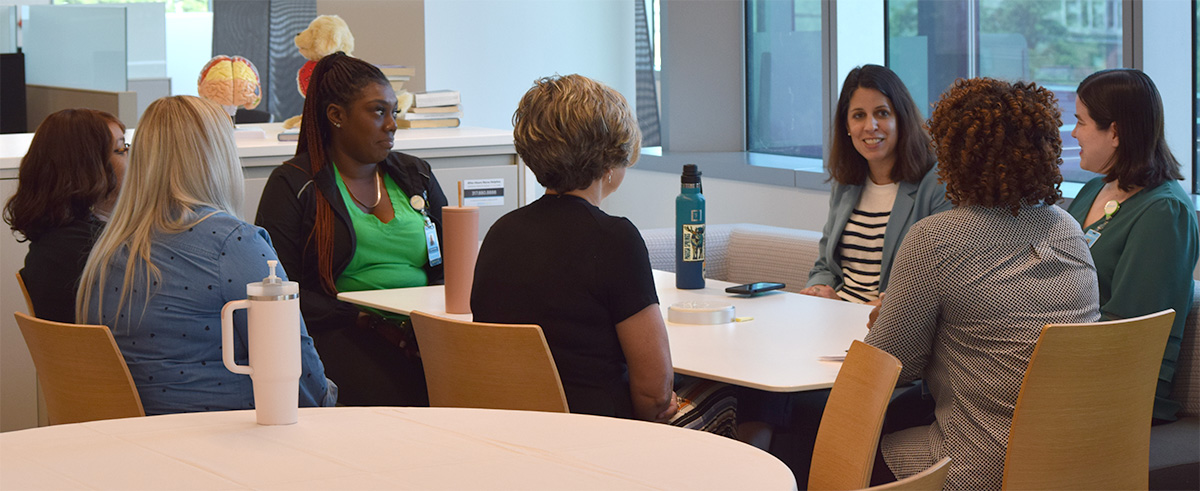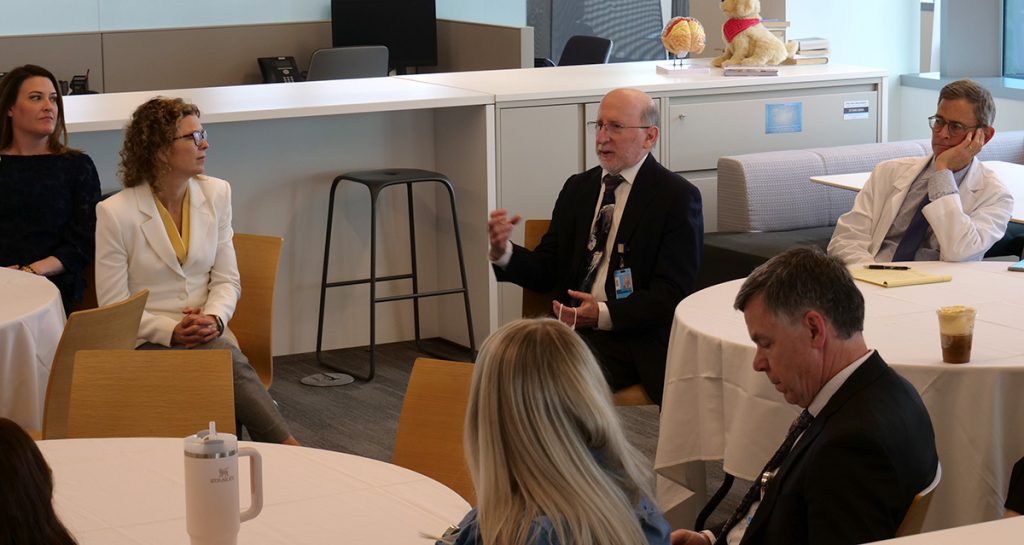 Researcher-clinicians who developed, validated, deployed and scaled the novel dementia care coordination model serving both patients and caregivers include Dr. Boustani and Christopher M. Callahan, M.D. The brain care center has served as the lab and proving ground of the Indiana team's work.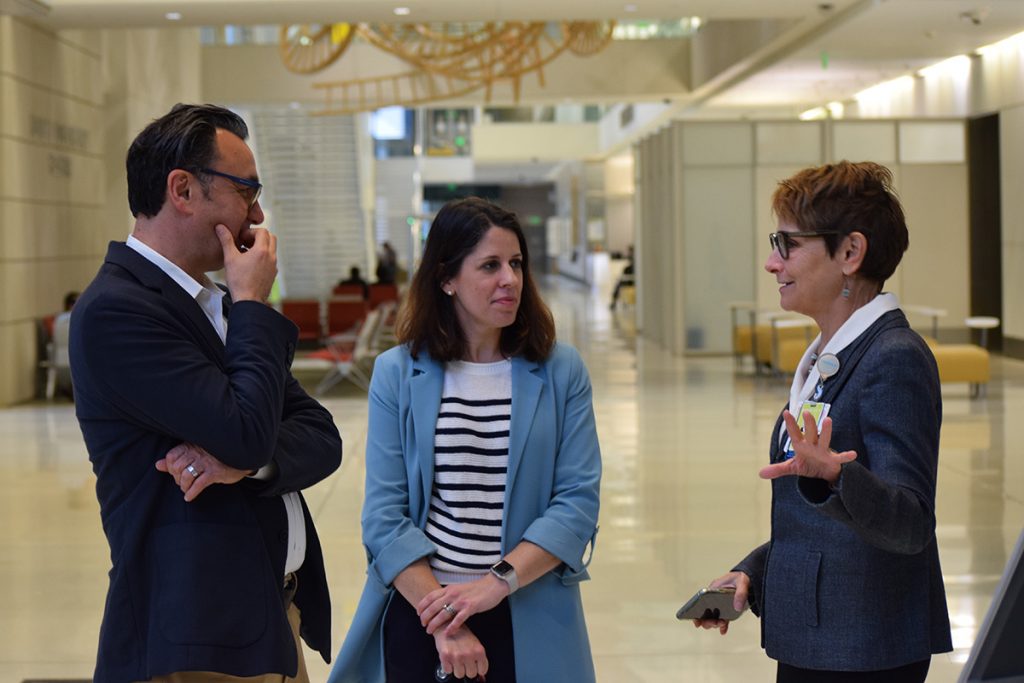 The visit featured a tour of the Eskenazi Hospital with Dr. Boustani and Lisa Harris, M.D., chief executive officer at Eskenazi Health. The tour included opportunities to converse with caregivers and shadow a physician in the clinic.
A previous Regenstrief press release about the announcement is here. The press release from July 31 and associated materials from the Innovation Center are here.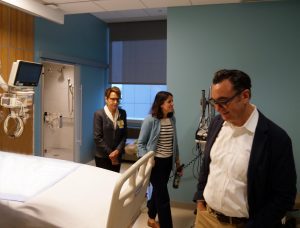 Sandra Eskenazi Center for Brain Care Innovation at Eskenazi Health
The Sandra Eskenazi Center for Brain Care Innovation at Eskenazi Health is the new destination of hope for people and families living with Alzheimer's disease and other forms of dementia, late-life onset of depression and anxiety, early schizophrenia and those recovering from time in an intensive care unit. It is the first center of its kind in the United States to combine pioneering research and clinical care, yielding faster and more effective outcomes for the patient and caregiver. The patient and caregiver are treated as a team, with caregivers and family members becoming active participants in care and having significant responsibility for the overall success of treatment. While it primarily involves patients and their families in Indianapolis and Central Indiana, the Sandra Eskenazi Center's model will be scalable for national locations, age groups and diseases.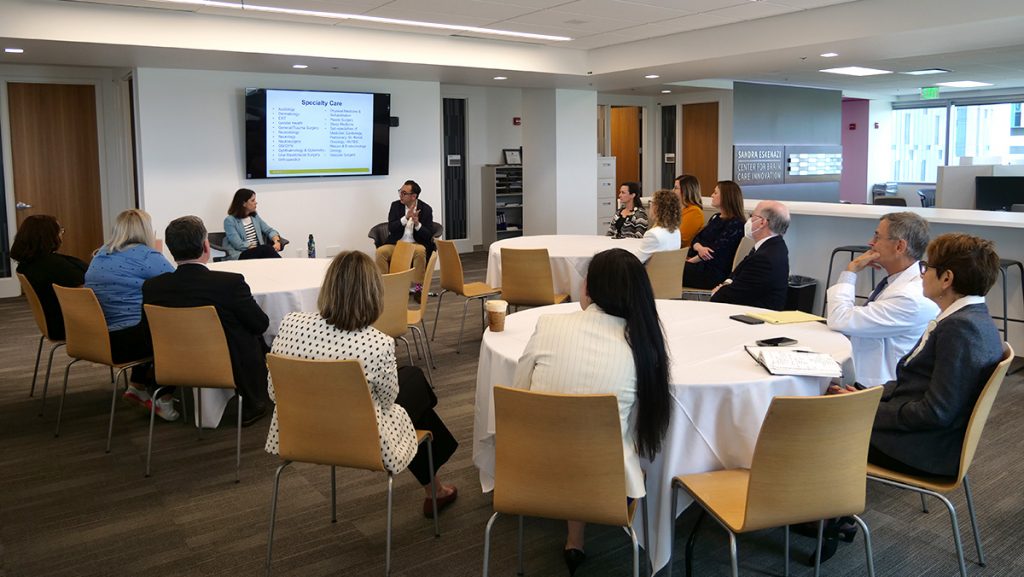 About Regenstrief Institute
Founded in 1969 in Indianapolis, the Regenstrief Institute is a local, national and global leader dedicated to a world where better information empowers people to end disease and realize true health. A key research partner to Indiana University, Regenstrief and its research scientists are responsible for a growing number of major healthcare innovations and studies. Examples range from the development of global health information technology standards that enable the use and interoperability of electronic health records to improving patient-physician communications, to creating models of care that inform clinical practice and improve the lives of patients around the globe.
Sam Regenstrief, a nationally successful entrepreneur from Connersville, Indiana, founded the institute with the goal of making healthcare more efficient and accessible for everyone. His vision continues to guide the institute's research mission.
About IU School of Medicine
IU School of Medicine is the largest medical school in the U.S. and is annually ranked among the top medical schools in the nation by U.S. News & World Report. The school offers high-quality medical education, access to leading medical research and rich campus life in nine Indiana cities, including rural and urban locations consistently recognized for livability.