Medical doctors enrolled in an MBA program at the Indiana University Kelley School of Business visited Regenstrief Institute to learn more about the institute's history and some of its innovative projects. The students who attended the institute are a part of the Business of Medicine program, which is specifically for physicians. Through this training, physician students get the chance to integrate their medical knowledge and skills with an understanding of business. The students had the opportunity to work with projects such as Uppstroms and Probari while networking with professionals in their field.
"As a member of life sciences in Indiana, I want to expose people to what's going on in the field of data analysis and technology. There have been countless innovations created here for decades and this kind of exposure can ensure that it continues," said Todd Saxton, PhD. Dr. Saxton is the vice president for business development at Regenstrief Institute, in addition to being an associate professor and Kelley Venture
Fellow at the Kelley School of Business.
Uppstroms and Probari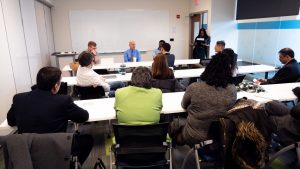 Uppstroms is an app focused on helping providers better understand their patients. It accesses information on social determinants of health, such as where a patient is living or access to healthy foods. The algorithm uses that information to create a risk prediction score, letting providers know if a patient might benefit from social intervention. Regenstrief Institute and Indiana University Richard M. Fairbanks School of Public Health at IUPUI researcher Joshua Vest, PhD, MPH, led the research team that developed this app.
The other project the MBA students worked with, Probari, is a medical startup focused on allowing nursing home residents to be treated in the familiar setting of the facility more often, rather than be transferred to the hospital. The goal is to reduce trips to the hospital, control the cost of care, and improve care at nursing facilities. Probari is led by Kathleen Unroe, MD, MHA, of Regenstrief and Indiana University School of Medicine.
The Day
During the visit, students toured Regenstrief's different departments of research including Indiana University Center for Aging Research, the Clem McDonald Center for Biomedical Informatics, and the William M. Tierney Center for Health Services Research. Following the tour, students met with representatives from Uppstroms and Probari and talked about updates that have happened within these programs.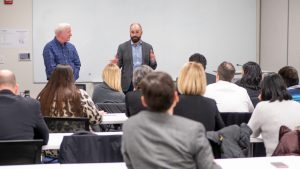 The Impact
The physician students got the chance to experience the institute on a deeper level than
they did while working with the programs. They were able to see the faces behind the
ground-breaking work. "Because we are physicians, we see the problems that patients
and doctors face on a daily basis," said one student as he commended the work that Regenstrief does.