Researchers and staff share health startup ideas
Regenstrief Institute has supported its researchers in creating and implementing healthcare innovations for five decades, and that effort continues with new vigor as the institute marks its 50thyear. Leaders hosted the inaugural Regenstrief Institute Startup Exploration (RISE) session on July 10.
Faculty and staff gathered to hear early-stage health innovation ideas from their colleagues. A panel of four entrepreneurial experts asked questions and provided feedback on the ideas. Those experts included Barb Cutillo, co-founder and chief financial officer of Stonegate Mortgage and VisionTech angel investor; Dave Wortman, co-founder and CEO of Diagnotes and serial tech entrepreneur; Ben Pidgeon, executive director of VisionTech Angel Partners; and Wayne Patrick, serial health tech entrepreneur and angel investor.
Innovation ideas
Care Revolution
Kathleen Unroe, M.D., MHA, presented her new venture, Care Revolution. Care Revolution was born out of the success of the Optimizing Patient Transfers, Impacting Medical Quality, and Improving Symptoms: Transforming Institutional Care (OPTIMISTIC)program. The care model embeds a specially trained nurse into each nursing home, providing direct support to long-stay residents and staff. The first phase of the study led to a 33 percent decrease in avoidable hospitalizations of long-stay nursing home residents. The goal of Care Revolution is to teach and help implement the model at nursing homes across the country.
Dr. Unroe hopes Care Revolution will enable the model to make an even bigger impact.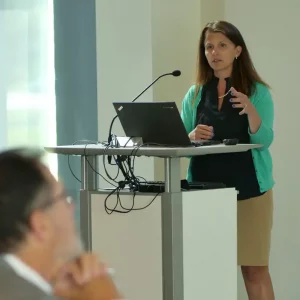 "OPTIMISTIC has been such a success at improving care and quality of life for vulnerable adults, I want to make sure that progress continues even after the demonstration project ends," said Dr. Unroe. "This session helped inform me about factors to consider as we move forward."
Dr. Unroe is a research scientist in the IU Center for Aging Research at Regenstrief and a professor at Indiana University School of Medicine.
Uppstroms
The entrepreneurial experts learned about Uppstroms, a predictive modeling algorithm that analyzes social determinants of health to help clinicians identify patients who might benefit from wraparound services, such as a social worker or dietician. These services can help avoid some preventable utilization of the health system and can reduce costs and improve outcomes. The application was developed by a team from Regenstrief and IU Richard M. Fairbanks School of Public Health at IUPUI.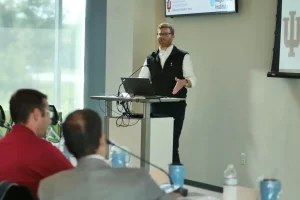 Uppstroms is currently in use at Eskenazi Health. The group hopes to expand the reach. "There is a real need to identify these issues that patients are facing and get them help before the issue turns into a crisis," said Joshua Vest, PhD, MPH, team leader for Uppstroms. "This technology can help our health system become more proactive rather than reactive. We were pleased to get feedback and leads as we explore ways to expand the reach of this application."  Luke Pittman, M.D., MBA who pitched Uppstroms, has been brought in by the Uppstroms team to help determine the path forward to commercialization.
Dr. Vest is a research scientist in the Center for Biomedical Informatics at Regenstrief and associate professor and director, Center for Health Policy at Fairbanks School of Public Health. Dr. Pittman is an IU MD/MBA board certified family physician.
Brain CareNotes
Richard Holden, PhD, shared the app his team developed to help family caregivers of people with dementia.
"Being a caregiver involves long days and nights, with patient symptoms being one of the biggest stressors. Brain CareNotes provides caregivers personalized around-the-clock advice and assistance from clinicians to manage the symptoms of their loved one," said Dr. Holden.
The app was developed through user-centered design, with input from both caregivers and clinicians. Dr. Holden and his team recently received a federal grant for a pilot clinical trial of Brain CareNotes.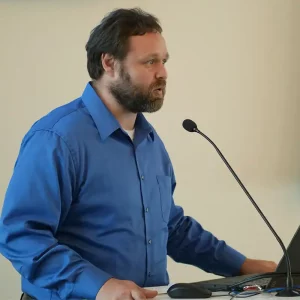 "We are hopeful Brain CareNotes will provide support and comfort to people facing the challenge of caregiving, and our new trial will test if it improves health outcomes for patients and their caregivers," said Dr. Holden.
Dr. Holden is a research scientist in the Center for Aging Research; chief healthcare engineer in the Center for Health Innovation and Implementation Science, a collaboration among IU School of Medicine, the Indiana Clinical and Translational Sciences Institute and Regenstrief Institute; and an associate professor at IU School of Medicine.
A New Decision Support Tool
Titus Schleyer, DMD, PhD, presented a suite of products that his team is working on, including a  FHIR-based decision support app that connects information from the Indiana Network for Patient Care directly with an electronic medical records (EMR) system. It allows doctors and clinicians to see relevant information from past medical encounters related to a patient's chief complaint without leaving the EMR.
At the moment, the app can retrieve key information for seven conditions. It's being used in the emergency department at Indiana University Health Methodist, but the goal is to use it in additional IU Health emergency departments over the course of the next year.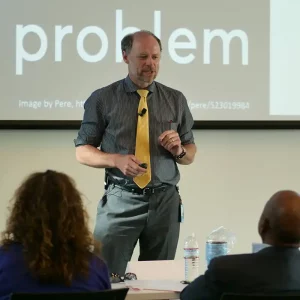 "Our real goal here is to expand the capabilities to make this even more value-added and impactful," said Dr. Schleyer. "We are already saving clinicians about 50 mouse clicks and 3-4 minutes in retrieving the information. Now, we are working to scale up the app to cover thousands of chief complaints, as well as incorporate full-text search and recommendations. It was great to have some feedback from entrepreneurs as we work to more fully develop this product that could make a huge difference in the lives of patients and doctors."
The tool was developed through a collaboration among Regenstrief, Indiana Health Information Exchange and IU Health.
Dr. Schleyer is a research scientist in the Center for Biomedical Informatics at Regenstrief and a professor at IU School of Medicine.
Future of RISE
The RISE session was organized by Todd Saxton, PhD, Regenstrief's vice president for business development, and Chris Frederick, also on the business development team. They plan to host these events quarterly, offering a venue for faculty and staff to share ideas internally.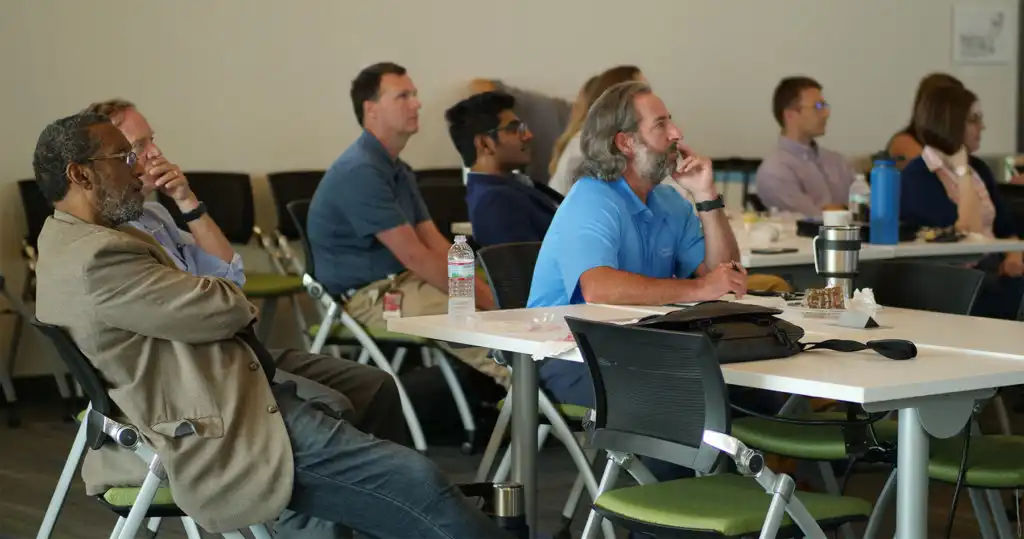 "Ideas can be in an early stage or already in development," said Dr. Saxton. "Regenstrief's goal is to get evidence-backed science off the shelves and implemented into the real world, and we hope this will be a vehicle for that. Our aim is to accelerate the speed and degree of impact Regenstrief has on the practice of healthcare. Giving a voice and exposure to our internal researchers and staff with an appetite for innovation is an important step in this process."
In addition to RISE, Dr. Saxton and team will be organizing another forum called REEF, Regenstrief Entrepreneurial Ecosystem Forum, for externally generated innovations.