National Guard activating to help nursing homes address COVID-19
Regenstrief Institute research scientist and Probari Chief Executive Officer Kathleen Unroe, M.D., MHA, led the training for hundreds of Indiana National Guard soldiers as they prepared to support nursing homes amid the COVID-19 pandemic.
The soldiers will be sent to facilities across the state to help with infection control and monitoring, paperwork, cleaning and any other non-clinical tasks that might be needed.
"Staff at long-term nursing facilities have been overwhelmed with the additional work required during this pandemic," said Dr. Unroe. "The support from the Indiana National Guard will help accomplish the necessary day-to-day tasks to prevent the spread of the virus, freeing up staff to focus on taking care of the residents." Dr. Unroe is also an associate professor at Indiana University School of Medicine.
Dr. Unroe's company, Probari, has been working with the State of Indiana to help nursing homes throughout the COVID-19 pandemic. Workers have provided education and support to staff and helped with COVID-19 testing and data analysis. The Probari team worked with other nursing home stakeholders to put together the training for the National Guard.
"One of the reasons Probari was founded was to help nursing home staff and residents live healthier lives. It's gratifying to be part of the leadership for this initiative and to help provide the groundwork to set it up for success," said Dr. Unroe.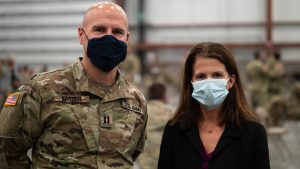 The National Guard will be in every nursing home in Indiana by the middle of November 2020. The deployment is scheduled to last through the end of the year.
About Regenstrief Institute
Founded in 1969 in Indianapolis, the Regenstrief Institute is a local, national and global leader dedicated to a world where better information empowers people to end disease and realize true health. A key research partner to Indiana University, Regenstrief and its research scientists are responsible for a growing number of major healthcare innovations and studies. Examples range from the development of global health information technology standards that enable the use and interoperability of electronic health records to improving patient-physician communications, to creating models of care that inform practice and improve the lives of patients around the globe.
Sam Regenstrief, a nationally successful entrepreneur from Connersville, Indiana, founded the institute with the goal of making healthcare more efficient and accessible for everyone. His vision continues to guide the institute's research mission.
About Probari Inc.
Probari Inc. brings years of research and expert knowledge to nursing homes across the country. Its revolutionary approach builds sustainable, cost-effective, hands-on care from highly trained medical professionals. Probari is a care model designed to work alongside staff and providers already in place to deliver needed outcomes, including enhanced ability to treat patients in place and reduce avoidable hospital transfers. It is based on the successful OPTIMISTIC Centers for Medicare and Medicaid Services demonstration project.
Regenstrief Institute invested in Probari and holds a stake in the company. Probari also received an investment from the IU Philanthropic Venture Fund.
About Kathleen Tschantz Unroe, M.D., MHA
In addition to being a research scientist at the IU Center for Aging Research at Regenstrief Institute, Kathleen Unroe, M.D., MHA, is an associate professor at Indiana University School of Medicine and a practicing geriatrician.