Regenstrief Institute Research Scientist and Indiana University School of Medicine Assistant Professor Suranga Kasthurirathne, PhD, was named as one of Central Indiana's Forty Under 40 by the Indianapolis Business Journal (IBJ).
Dr. Kasthurirathne is an expert in leveraging artificial intelligence (AI) to improve human health.  In a project called Uppstroms, he helped develop an AI algorithm to predict primary care patients' needs for social service referrals by combining data on social determinants of health, such as where they live or access to healthy food. The app is in use within the Eskenazi Health system.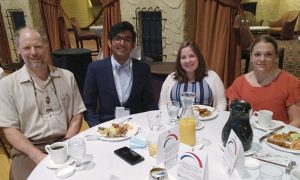 Dr. Kasthurirathne is also focused on ways to identify and eliminate bias from AI. As one of the inaugural Regenstrief Venture Fellows, he is currently developing a tool to mitigate harmful biases within existing clinical decision support models. The Venture Fellow program will help him explore the potential of bringing this tool into the commercial market where it can immediately make an impact.
He has been a long-time volunteer with OpenMRS (Open Medical Record System), which has a mission to develop open-source software to support establishing medical record systems in low resource environments. He launched OpenMRS' inaugural Google Code-in program for high school students. He also led OpenMRS Community Outreach encouraging women and men around the world to learn to write computer code and develop technical skills to be applied in the battle against HIV/AIDS, tuberculosis, malaria and other public health challenges.
The IBJ 40 Under 40 Awards recognize business and professional leaders who have excelled in their field before the age of 40 by demonstrating leadership, initiative and dedication.
About Suranga Kasthurirathne, PhD
In addition to being a research scientist at Regenstrief Institute, Suranga Kasthurirathne, PhD, is an assistant professor in the Department of Pediatrics at the Indiana University School of Medicine.
About Regenstrief Institute
Founded in 1969 in Indianapolis, the Regenstrief Institute is a local, national and global leader dedicated to a world where better information empowers people to end disease and realize true health. A key research partner to Indiana University, Regenstrief and its research scientists are responsible for a growing number of major healthcare innovations and studies. Examples range from the development of global health information technology standards that enable the use and interoperability of electronic health records to improving patient-physician communications, to creating models of care that inform practice and improve the lives of patients around the globe.
Sam Regenstrief, a nationally successful entrepreneur from Connersville, Indiana, founded the institute with the goal of making healthcare more efficient and accessible for everyone. His vision continues to guide the institute's research mission.