Search
Research

Experts

Regenstrief Research Scientist Linda S. Williams, M.D., addressed how teleneurology...

A national leader in improving the quality of healthcare provided...

Opportunities

About

Regenstrief envisions a world where better information empowers people to end disease and realize true health.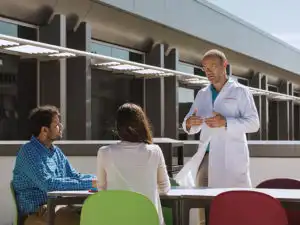 Background &
Instructions
The Learning Health System (LHS) Young Investigator Awards are designed to provide promising junior investigators the opportunity to be mentored to improve patient care and health system operations through the systematic generation, adoption and application of evidence. Clinicians and health system leaders work together to ensure that evidence is updated, disseminated to clinical teams and communicated to patients in ways that support shared decision making. Learning health systems are essential as the health care landscape becomes increasingly characterized by rich sources of information that are available in digital formats, programs, and applications.
Opportunities available to LHS Young Investigator Awardees
Up to 75% salary support (capped at $75,000).
$25,000 research funding per year of award for research, training and travel related
Participation in Project Development Team practicum to enhance protocol development skills.
Young Investigator workshops and coursework focused on research career development.
Award is for 2 years (with 2nd year of funding contingent upon satisfactory progress during year one).
Candidates must email a CV to Aaron Carroll for eligibility determination prior to a submission of a full application online.
aaecarro@iu.edu