Search
Research

Experts

Regenstrief Research Scientist Linda S. Williams, M.D., addressed how teleneurology...

A national leader in improving the quality of healthcare provided...

Opportunities

About

Regenstrief envisions a world where better information empowers people to end disease and realize true health.
Before submitting an application:
Forward a copy of your curriculum vitae to Aaron Carroll at aaecarro@iu.edu.
We will review your CV to verify your eligibility to apply for this award.
Please be advised to complete this step as soon as possible.
The application process is now open and will remain so until June 4, 2021.
Criteria for a successful application:
Candidate must have two primary mentors, one from the research domain and one from the health delivery system domain.
Candidate must have interest in using the learning health system to improve patient centered outcomes.
Training plan (e.g., proposed courses, workshops, seminars, or other formal educational experiences relevant to the proposed research). Formal coursework may be important for applicants with a clinical doctoral degree, but less formal research training, than for individuals with a PhD or masters-level research degree.
The research primary mentor must have a research program that is peer reviewed and extramurally funded.
Department Chair must provide a letter assuring that the candidate will have 75% protected time during the award period.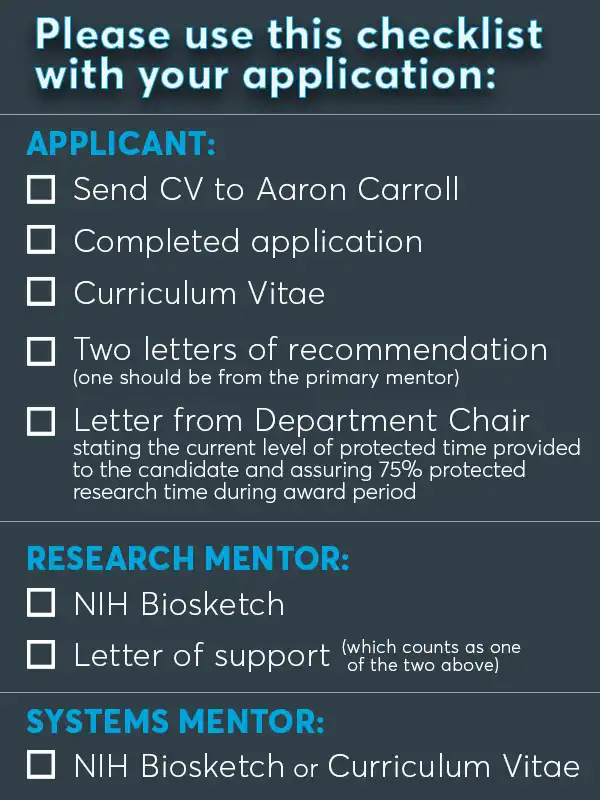 Candidates must e-mail a CV to Aaron Carroll for eligibility determination prior to submission of a full application online.
aaecarro@iu.edu