No institution, no matter how respected, should become complacent. Yet successful organizational change is challenging.
Entering its sixth decade, Regenstrief Institute is meeting the demands of advancing its mission head-on. We have established three vice presidencies and recruited individuals who are brilliant in their fields to fill these leadership positions. These highly qualified and forward-looking experts are overseeing our mission areas — faculty, research and business development.
The creation of these vice presidencies comes at a crucial time in Regenstrief's history as we position the institute to expand upon its half century of dynamic, impactful research to further connect and innovate for better health. Each vice president leads an overall mission area, and is charged with strategic leadership across the enterprise. Each relates closely with each of the institute's four centers individually and collaboratively across the organization, and the centers' areas of research focus — aging, health services, informatics and implementation science. The executive leadership helps guide the overall mission so the centers can continue to concentrate on particular topics and domains, yet benefit from the value provided by these leaders charged with support and higher-level strategy.
This means integrating research discovery, technological advances, and systems enhancement to confront today's and tomorrow's health and health-system challenges. It means recruiting, supporting and retaining outstanding research scientists and providing support through all stages of their careers. It also means successfully bringing research discovery to the marketplace and, ultimately, to improve the quality and delivery of healthcare to patients to help them lead healthier lives and to help sustain the institute financially.
Let me tell you a bit about these talented individuals and how they will help Regenstrief.
VP for Faculty Development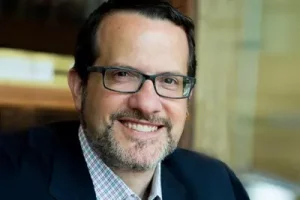 Aaron Carroll, M.D., joined us in October as VP for faculty development. He continues to serve as associate dean for research mentoring at Indiana University School of Medicine, as well as professor and vice chair for health outcomes research faculty development in the Department of Pediatrics and director of the Center for Pediatric and Adolescent Comparative Effectiveness Research. He's also a long-time Regenstrief affiliated scientist. His research focuses on using health information technology to improve pediatric care and health care policy.
You may recognize Dr. Carroll's name. It appears in the NY Times, where he is a frequent contributor, and on the covers of the several books he's co-authored including the most recent — "The Bad Food Bible: Why You Can (and Maybe Should) Eat Everything You Thought You Couldn't." Or you could be hooked on, as I am, the Healthcare Triage, his weekly YouTube series.
He is a proven leader and has hit the ground running as, among his other new responsibilities, he is overseeing an exciting new program to produce the next generation of Learning Health Systems researchers.
VP for Research Development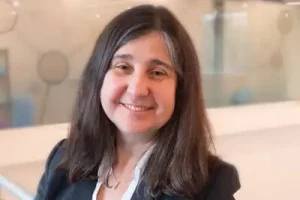 At the beginning of April, Eneida Mendonca, M.D., Ph.D., our inaugural VP for research development, joined the institute at the helm of our robust research enterprise. She's a pioneer in employing natural language processing — a major subfield of artificial intelligence — to improve health and healthcare delivery. Her expertise and vision in both applied research and research development will enable us to leverage the institute's current research strengths to be even more proactive in addressing local, national and global health challenges.
As VP for research development, she will be building upon and enhancing the successes of the institute's faculty investigators across biomedical informatics, health services research, aging research and implementation science. She will also be maintaining and growing the institute's funded research portfolio, an endeavor which is mission critical.
We are indeed fortunate to have lured Dr. Mendonca from the University of Wisconsin. In addition to her impressive track record in research and research development, she's been named the 2020 chair of the most prestigious conference in biomedical informatics, the AMIA Annual Symposium.
VP for Business Development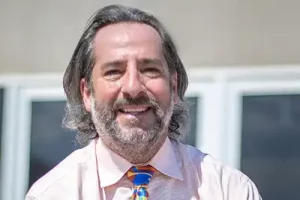 In April we also announced that entrepreneur and IU Kelley School of Business faculty member Todd Saxton, Ph.D., will serve as Regenstrief's inaugural VP for business development. He will help create and guide new business models for bringing the institute's healthcare innovations to market.
Dr. Saxton's expertise is in corporate and competitive strategy, innovation, and new venture formation and development. He has consulted with emergent and high-growth ventures on their launches and business plans. His experience with healthcare ventures will help us capitalize on our own robust research portfolio. One of his first tasks will be to devise a business development plan to accelerate Regenstrief's health innovations into actual solutions that improve health and healthcare.
As I noted in the announcement of Dr. Saxton's appointment, having a VP for business development is a critical next step to advance an aggressive, creative, and dynamic approach to translating research discoveries into practice and to bolster the continued success of the institute and its partners. Dr. Saxton plans to work closely with faculty, staff and the venture community to facilitate new partnerships and accelerate innovations.  He will continue to teach in the Kelley School's Business of Medicine MBA program for physicians as well as evening and online MBA programs.
Key Positions and Leadership Transition
Institutional growth does not occur without effective succession management. Long-time center directors Chris Callahan, M.D., of Aging Research and Mike Weiner, M.D., of Health Services Research, have stepped down. We thank Dr. Callahan and Dr. Weiner, who remain as institute research scientists, and Dr. Weiner as an associate director, for their leadership and counsel.
The search to fill Dr. Weiner's position is now underway, and the official posting is here. Please take a look and reach out to your networks to encourage great candidates to apply.
Dr. Callahan's former role was filled on an interim basis by Kathleen Unroe, M.D., MHA. Dr. Unroe has done an absolutely outstanding job. An interim leadership role can, in many ways, be more challenging than taking on a position in a permanent fashion, and I want to thank her for her exemplary service.
We are excited to have identified a final candidate to fill Dr. Callahan's former role. Look for more news once the details are completed.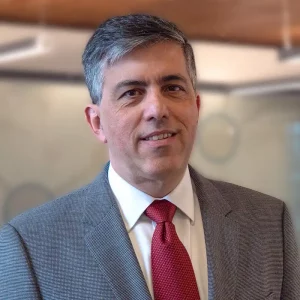 I would also like to highlight the addition of another strong, dynamic leader to our team. Umberto Tachinardi, M.D., of the University of Wisconsin, has been named chief informatics officer for the IU Grand Challenge Precision Health Initiative.
He will also serve as director of clinical research informatics for Regenstrief Institute and Indiana Clinical and Translational Sciences Institute (CTSI) and assistant dean for clinical research informatics and professor of biostatistics at IU School of Medicine. His leadership and multiple roles will help us build on the significant progress already achieved by the IU Precision Health Initiative (supported by the IU Grand Challenge), as well as further strengthen our partnership with CTSI to leverage data and technologies to accelerate translational research and improve health.
Dr. Tachinardi has technical expertise, administrative experience and leadership skills that will benefit us all. He is, as I am, a strong proponent of the Learning Health System model, in which research informs clinical care and clinical care informs research.
In Conclusion
Our VPs oversee mission focus. Our center directors are highly valued leaders in specific topics and domains of importance to the institute. Regenstrief's investigators are among the most distinguished, accomplished and respected research faculty in the nation. We are excited to have Dr. Carroll, Dr. Mendonca and Dr. Saxton join the institute's senior level leadership and look forward to having a full complement of four center directors later this year.
An organization is better equipped to take advantage of opportunity when it's proactive. With our new leadership, we are constructing the pathways to take a mature institute into our second half century of improving healthcare and its delivery locally, nationally and internationally.